A lot of Pixel 4 owners haven't received the November security update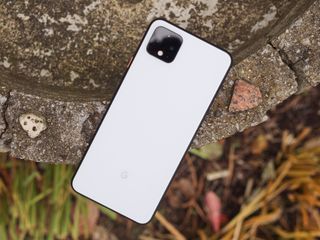 (Image credit: Joe Maring / Android Central)
What you need to know
Google began rolling out the November 2019 security patch on November 4.
However, a lot of Pixel 4 owners still haven't gotten it.
A Google rep says you should "see it in the next few weeks."
One of the perks of buying a Pixel phone is that it's first-in-line for major software updates and security patches. Once Google rolls a new OTA update out, Pixels get it before anyone else. At least, that's supposed to be how things work.
Google began rolling out the November 2019 security patch on November 4, and for the most part, it was a pretty generic update. Some people in our forums reported getting it on their devices, but as the days have gone on, more and more people have been speaking out about still not seeing the update — including yours truly.
It's 12:22 PM on November 5 and my Pixel 4 still hasn't received the November security patchIt's 12:22 PM on November 5 and my Pixel 4 still hasn't received the November security patch— Joe Maring (@JoeMaring1) November 5, 2019November 5, 2019
After a heap of complaints started piling up in Google's official Pixel Phone Help forums, a rep from the company reached out with the following response:
That's...odd. Security patches are usually available on Pixels shortly after the new security bulletin is published, so what's causing the holdup this time around?
Some people on Google's support forums are reporting that their old Pixels have gotten the November patch, but their new Pixel 4 is still stuck on the October one. For the Pixel 4 and 4 XL, in particular, the November update also includes changes to the way Google's Smooth Display feature works — allowing the 90Hz screen to be enabled more often.
Perhaps Google's testing the waters with small groups of Pixel 4 owners with this patch to see how things shake out before pushing it to everyone? Whatever the reason is, rest assured that you aren't the only one with outdated software on your shiny, brand-new Pixel 4.
Joe Maring was a Senior Editor for Android Central between 2017 and 2021. You can reach him on Twitter at @JoeMaring1.
Got mine on November 1st! .....wait that's on Note 10 haha suckers...just trolling. But it's still funny that Samsung seems to get updates faster then Google

Samsung has a long line of history with being the worst manufacturer ever on updates.

That's obviously not case, since I am getting updates on Note 10 faster then Pixel 3 and Pixel 4. Samsung released security update for finger print sensor within 24 hours of it being reported. Probably going to take 3+ months for Google to release update for face unlock that works with eyes closed.
It also clearly says on their website which phones will get monthly updates and which phones quarterly.

LG is much worse than Samsung as far as updates. Ask anyone who owns a LG.

I have a Note 10 + and I am still on the September 1st patch.

Since September I got October update, then Camera and Performance improvements update, then November update, and just yesterday some Bluetooth sound improvements. This is with zero bugs. When I had Pixel 2, it took Google 6 months to fix broken Bluetooth
Maybe your carrier is blocking it...I don't know. I have unlocked

Is it unlocked or a carrier version? I got a Verizon Note 10 in September, and it's had 3 updates since then.

I have the November update on my 4 XL. Still more secure than the BlackBerry phones.

I am pissed. I can't sleep without my update.

Then learn how to use adb it's not hard and if your that lazy then stop *******

My unlocked 4xl hasn't gotten it yet but my wife's Verizon 4xl got it immediately as usual.

My P3XL got it.
My P4XL has not yet.

Anyone who has used Chrome OS over the last couple of years could tell you with sincere enthusiasm that it's better to wait until Google gets it right. I'd rather have the stable and fast October version of the software on my 4XL I have now, than a buggy, unstable November update. It's great if that November update is up to the standard today, but I don't mind Google taking a little extra time to make sure that's the case.

Me either but they should make a public announcement.

I would consider being early a risk, not a perk. Posting from a phone that gets less buggy updates, and after a hard day of watching movies in direct sunlight, still has 50% battery 😁

Are you serious?
You are posting from a phone that gets less buggy updates?
I guess no updates is less buggy updates huh?
And you make it perfectly clear you only watch movies in DIRECT sunlight and still have battery for days.
That is the dumbest crap I have ever heard. Get a life, and a real phone. HTC sucks ass

AppleIncider - I'm former beta tester for Apple OS. What Apple doing right now with updates is laughable, and if WE turned out the buggy mess that Apple is putting out right now, there would have been heads rolling. Google has done little better.
You better believe I'd rather wait until they get it right. Yes, HTC is far slower than they used to be, but when I do get the updates, they install smoothly and work right. Who said I only watch movies in direct sunlight? And I didn't say I could do that and have battery for days either. If I'm picking up a kid from school and she wants to play with her friends afterwards, I'll pull up a movie and enjoy it sitting in the sun, and I don't have to fret about my battery running low because of that. Where I NORMALLY watch movies is on the big screen, but if I'm relaxing in my room, on a road trip and the hotel does not have an HDMI port for me to plug into, sitting at the park watching kids play, or have to intentionally distract myself at the beach... then the phone does a good job. Also, I own the iPhone 11, XS, 7, 6S, 6, 5S, 5C, 4S and even have the 3GS on the nightstand.
I put the iPhone 11 through its paces, decided to give it to one of my older kids, and kept the U12.
If I had gone for the 11 Pro Max, it might have been different, but the regular iPhone 11 is not a better phone than the U12 Plus, nor is it faster except in a few apps.

Yeah I do all that too.
Anyone can be a beta tester, it's not a magical power.
I have all those too including first gen and 3g. Its funny that every comment you post, every phone including future releases can't compete with an HTC phone. Even though you don't mention the brand your comparing.vWe can only assume it an HTC ++12u++ or some B's like that.
You are the new Beno HTC fanboy.
Congratulations And you have mentioned several times that you watch movies in direct sunlight through your comments of several topics.
That may be the cause of your dementia. See, you don't remember what you posted.. HTC getting it right? That's why they're dead ?
Too much getting it right? All of my updates go smoothly too. Big deal....
HTC sucks. Simple as that

By the way... "HTC camera update surpasses Apple Deep Fusion in detail" https://photos.app.goo.gl/Z4Mbe9ojaNDD6VXb8

Some more of your bullschit expert photography at work

This your eternal HTC obsession is getting worrying. You might need to get some help.

Eihcawa - Dude, you need to stop following me around. It's getting creepy.

I did the OTA with adb sideload on the 4th early morning on my 4XL. With a couple simple lines of code you can always be up to date. If you can't figure out how to install platform tools and learn a few adb and fastboot commands either stfu and wait or buy an iTurd.

It's not an issue of can't figure it out; I shouldn't have to. The whole point of OTA is so updates can be delivered quickly and seamlessly. When it's easier to sideload than get an OTA, that's a problem.

My 3a and 4 received the November security patch last night here in Canada.

They are probably getting other fixes before the update is released

Seems like there is little benefit in getting the Google phone now if they don't offer free unlimited original resolution photo and video backups nor do they offer monthly security patches.

So here it is on the 14th, early evening, and still no Nov. update on my Pixel 4XL. ;/
Android Central Newsletter
Thank you for signing up to Android Central. You will receive a verification email shortly.
There was a problem. Please refresh the page and try again.