Looks like the OnePlus 8 is the phone that will make me leave the iPhone for good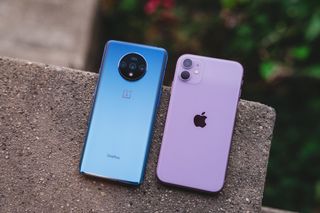 (Image credit: Hayato Huseman / Android Central)
Like many of my colleagues here at Android Central, I'm psyched about the forthcoming OnePlus 8 and 8 Pro smartphones. We all have our favorite devices and companies that we root for, but OnePlus has always had a special place in my heart as that scrappy upstart that is able to deliver high-quality devices at more reasonable prices than its competitors (yes, I know they're owned by a massive corporation). I have also always loved that the company is genuinely engaged with its fan base and takes direct feedback from them to innovate its hardware and software, not only year-over-year but from release to release.
It is this admiration for the company, and many impressive and exciting leaks, that has me seriously considering ditching my daily carry for the latest and greatest from OnePlus. So what, you ask? Oh yeah, did I not mention? My daily carry is an iPhone (gasp!).
Elephant in the room
Ok, let's get this part over with, intervention-style. Yes, I am an iPhone user. Yes, I write for an Android website. No, I don't feel conflicted about it — that much.
The simple fact is, I've used an iPhone as my primary mobile device for over ten years. My family is exclusively on iOS. Most of my friends are, too. I love iMessage and the build quality and interoperability of Apple devices and the Apple ecosystem. That lock-in is real, y'all.
That being said, I've always considered myself an open-minded technology enthusiast, and have been a regular user of Android devices and Chromebooks for years. Even before coming to work at Android Central, I could tell you just as much about the newest Pixel, Galaxy, or OnePlus phones as I could the latest iPhone (thanks in large part to reading about those devices here on AC).
Actually, over the years I've owned or used Android handsets from the likes of HTC, Motorola, Samsung, OnePlus, Asus, and even more obscure manufacturers such as Nextbit and Fairphone. I bet a lot of our readers can't even say that. In fact, I use a Galaxy Note 9 every day, and probably more during the workday than I do my iPhone XR.
As time has gone on, however, I've found the confines of Apple's walled garden less and less of an obstacle to completely branching out. Even on my Apple devices, I mostly use Google apps, including Google Calendar, Google Photos, Gmail, and Tasks. I find myself using messaging apps like Telegram, WhatsApp, Messenger, and even Signal just as much, if not more so, than iMessage. Even a great service like Apple Pay doesn't have a stronghold on me, as I'm perfectly comfortable using Fitbit Pay on my Charge 3 or using Google Pay on my Android phone for contactless payments.
Long story short, it's time for a full iOS to Android migration. I'm ready. But now the biggest question: What will be my next phone after the iPhone?
Looking for the one... plus
So, what is it about the OnePlus 8 and 8 Pro specifically, and OnePlus and Oxygen OS generally, that are likely to pull me out of iOS for good? As with any good product, it's not any one specific feature, but rather the totality of features that make the OnePlus 8 the right choice for me.
The things that have kept me in the iOS and iPhone world for so long are, among other things, the phones' build quality, solid software experience, good cameras, great support, and nearly seamless integration (at least with other Apple devices). Therefore, for me to switch off the iPhone, I need an Android phone that can hit all of these points. This is where I think the OnePlus 8 wins out over the other Android phones, at least for me.
For starters, OnePlus phones have always had an excellent reputation for build quality, with stunning displays and unibody construction. With different materials and color choices, they've also managed to stand out against a sea of samey slabs. The company was one of the first to feature 90Hz displays on its phones and pushed others in the industry to up their screen game. It's rumored that the OnePlus 8 Pro will even have 120Hz display to compete with the likes of Samsung and some of the high-end gaming phones. That's something I've never experienced on an iPhone, and I'm really looking forward to it.
OnePlus phones have always had decent battery life, but even better than that has been the company's approach to fast charging, through their proprietary Warp Charging technology. It's also been confirmed that the highest-end OnePlus 8 Pro will be the first OnePlus phone to support wireless charging.
The cameras have generally been a bit of a let down with OnePlus phones, at least in comparison to the Pixels, Samsungs, and iPhones of the world. Despite the opinion of my reviewer colleagues, though, I've always thought that the pictures from OnePlus phones looked fine. The camera on the 7T was (to me) as good, if not better, than that on my iPhone XR, and rumblings are that the 8 series will be another step or two beyond that. Honestly, that is good enough for my needs and tastes.
The biggest hurdle that I would need to clear coming from iOS to Android is the feel and performance of the software experience. Not that iOS is perfect by any means, but it is generally consistent, coherent, and easy to use, and I would want for my Android daily carry to match or exceed that. I've heard reviewer after reviewer rave about Oxygen OS, and how it's their favorite implementation of Android (even over Google's). People I respect and trust, like my colleague Hayato Huseman, has even said so in his videos, and that carries a lot of weight in my book.
Signs point to eight
Call it a funny coincidence, karma, or fate, but just as I set down to write this article, I checked my email, and the first thing in there was the message above. Was I procrastinating? That's not important right now. The important thing is that the universe appears to want me to get a OnePlus phone.
As someone coming from an iPhone XR and Galaxy Note 9, I'm not necessarily as concerned with the top-of-the-line specs. I've tended to eschew "Pro" devices in favor of more mainstream offerings, and I also don't feel like forking over nearly $1,000 (or whatever the Pro version will cost), especially during these tough economic times. In that spirit, I think the "regular" OnePlus 8 is probably the right choice for me (thanks to Joe Maring for the nudge). I'm already on T-Mobile and eligible for an upgrade, so that's one less hurdle.
Stay tuned for future updates on how the transition worked out for me!
OnePlus 8: News, Leaks, Release Date, Specs, and Rumors!
Current champ
(opens in new tab)
A great phone at an even better price
The OnePlus 7T is the newest phone in OnePlus's lineup right now, and it continues to deliver an excellent Android experience. There's a 90Hz AMOLED display, Snapdragon 855+ processor, and a decent array of three rear cameras. Plus, thanks to the $100 discount offered right now, the 7T is a better deal than it's ever been.
Jeramy is proud to help *Keep Austin Weird* and loves hiking in the hill country of central Texas with a breakfast taco in each hand. When he's not writing about smart home gadgets and wearables, he's defending his relationship with his smart voice assistants to his family. You can follow him on Twitter at @jeramyutgw.
One plus fans have been begging for wireless, & IP-68. Well here ya go. But I'm certain you weren't begging for the 9oo.oo-1,ooo price tags? The Qualcomm 5g modem is two hundred extra then add wireless & IP-68. It appears the flagship killer days are a thing of the past. Are consumers willing to pay the higher prices? Plus will the 📷's actually compete with the likes of 🍎, Samsung & the pixals also Huawei? That's the million dollar question?

Have OnePlus fans been begging though? The only times I've seen these things mentioned are by people saying stuff like "if it had wireless charging and an IP rating I'd buy, but this phone is DOA" they're not fans lol. Also, 0 is the number zero, o is the 15th letter of the alphabet.

I'm a OnePlus fan and I couldn't care less about water resistance and wireless charging.

Same here, OnePlus phones are pretty water resistant already without the need of some silly IP rating. With that said I'll be switching back to iPhone as my main phone in the summer but OnePlus will remain my main Android phone as I love the speed and fluidity of Oxygen OS and 6 months on, my 7T still files the main reason I'm going back to Apple as my daily driver is to do with the app experience which is better on iOS and as a visually impaired person, Apple servers me better than Android does.

Don't forget you won't have to upgrade every year to get the latest software updates, and even after 5 years of them, your iphone will still be as fast as the day you bought it. Just as my 6s is. There is little difference in the 6s and 8 for overall speed and fluidity. My 13 year old son has my 6s now and it works perfect, and my 8 is still perfect too. I think I am going to buy the 9/se just because it gives me a couple of extra years of software updates with still having a home button and fingerprint scanner instead of FARCE ID.

Correct Kojackjku, I really enjoyed not having to upgrade every year on iPhone and their customer service was second to none and not only that, when Apple drops iOS updates we ALL get it, unlike on Android and all iOS games can have the option of iCloud saves which Android still doesn't have in 2020 and it doesn't look like Google is addressing that glaring issue either.

There are lots of glaring issues with android. I would only use an android phone that was 300 bucks or less since you are essentially buying a disposable phone.

Agreed @Kojackjku but I've come to really like my OnePlus 7T which is so smooth and yeah even my OnePlus 7T had issues, with the awful standby time I which my phone would use nearly 15% of my battery with the phone just being idle which they eventually fixed and that's another thing about iOS which is better than Android, you don't wait for long until Apple sends an update to mostly fix any bugs that plague every new version of iOS early on.

Looks like it'll be another phone I DON'T get thanks to the ridiculous hole punch

If you already have a Note 9 what is it about that phone keeping you from making it your main phone?

Yes, even the Note 9 launched at $1000 base model. Yet the author doesn't "feel like forking over nearly $1,000" for an 8 Pro. Not sure I understand the logic here.

Clearly from reading the article it is a work phone, I'm sure he didn't pay for it.

For two weeks until you go back.

It is chinese. Bound to have a virus.

No worse than an american phone. Every one of those are "dumb" phones if you get my drift.

I don't think many people want to buy Chinese stuff right now, and with good reason. China needs to be punished for the devastation they've caused

America caused more damage than every other country combined since that ******* orange shitgibbon has been presi.....i mean supreme ruler. BTW danny, where is your precious iphone, ipad and macbook made? GIIINA like the oragne peice of **** says.

Ha ha, No name 11, Make america a greater shithole...that's about it. I love the trumpanzees. so clueless. All have iq of approximately 20, He can't run in 2024 moran!

No, he can't run in 2024. But, his son or daughter can. Any Trump is much much better for our country than anything the dummycrats have to offer. MAgr8er2020/2024/2028/2032........

Ha ha ha. yep. dictator in chief will love you. what has he done for YOU? please tell us. NOTHING. except send the entire world into a tail spin. you are just to stoopid to understand. But hey god and trump love you right.

Yes, God loves me and he even loves you. And I don't care if Trump does or not. I could list the things Trump has done for our country but you are too blinded by TDS to see, believe or appreciate them. Pitifully, some in this country would rather see it fail than have someone they disagree with doing right by it.

It has been said that those who rely on name calling and profanity do so because of their low IQ and inability to say something logical or factual.

What would that be the economy? security? what? please tell us. Economy, thank obama for that. It has NOTHING to do with the orange shitgibbon. You have had more devistation in your country since the orange dumbfuck has been in office than any other president before him. Please. You have your head in your ass. Just listen to him speak. He can't string a sentence together to save his life. BIGLY!

I agree. The disease may have originated in China but that's no reason to believe they should be held accountable. DannyJJK Look around you, probably 70 or 80% of the stuff you rely on on a daily basis (clothes, shoes, toaster, TV set, coffee pot, all your electronics, etc) is from China. Heck, if China quit exporting goods to the USA places like Walmart, Ace Hardware, Menards and such would have to close down. Politics aside we need China more than China needs us.

We don't need China, there are other countries that can do the same thing

TDS aside, by all objective measures, it IS China which has caused more worldwide damage in the last three years. Whether or not their phones have viruses, or people aren't willing to buy them because of anti-China sentiment is another story.
On a side note: how come calling white people monkeys isn't racist, but calling dark-skinned races monkeys is? 🤔

Because blacks don't have a long history of lynching or enslaving white people. Or did you not realize that?

Have you ever heard of the word "equality"? It's derogatory to call anyone a monkey

Sure, just remember where your orange messiahs shirts, ties, and other snake oil was made? GIIINA.....Right!

They can be produced somewhere else. People don't look for a shirt and read "Made in China", they just look for a shirt that looks nice.

It is, but I can assure you we will see more companies moving their production out of China once this is over

Not happening. The almighty dollar is too important.

Companies with enough money will do it. That way production won't be interrupted when the next crisis in China inevitably happens

If you haven't noticed, the next crisis is GLOBAL. No matter where the production facilites are located. Better not move them to the US, it's now the "american virus". or the New York Virus.

Of course this crisis is global, but China has had many viruses spread around that haven't gone global, due to poor hygiene or peculiar food choices. Better to have less disruption if possible, plus if all companies start leaving China, it might be a wake-up call for them to sort their country out

Again, not a chance. China does what it wants just as America does what it wants. Companies do what they want for MAXIMUM PROFIT. Simple.

What's with all the pro OnePlus articles suddenly near the release of their new phone? Suspicious lol 😂

Sorry, i tried to hit the text box right as an ad loaded and the screen shifted to the report button. Android central you can disregard that report. How is this any different than when Samsung is about to release their next device? The whole site is taken over by Samsung articles.

Your daily driver is not even an Android phone? I use apple at work, but that's only because they make me. This might as well be the Verge

Please, so many of these so called Android reviewers fake their allegiance to Android while secretly carrying an iPhone in their back pocket as their REAL daily driver. Don't be fooled lol

You can review Android and not prefer it, you know.

I'm retiring my Pixel 2xl. I don't need award-winning photos although the OP's wide angle lens looks intriguing. If I'm going to carry this thing around for the next 2 years, I want all the toys. 5g is in my area so I want to take advantage of that. Make mine ice-green and add the new wireless buds (black) and top it off with the new 30w charger. I'd rather have the hole punch with an IP rating than a motorized selfie cam that could break a year down the road. Lastly, if you're looking for a high-end phone that isn't made in China just what exactly are your choices?

NOkia lumias from back in the day

Old Nokia, but you also have Samsung which is made in South Korea, and HTC which is made in Taiwan.
The Nokia 1020 was amazing for its day, but they are fairly grainy by today's standards, even with the ISO set to 100. Yes, the iPhone is assembled by Foxconn in China, but it's not likely that would affect the software.

One+ is not worthy of flagship prices with mediocre cameras in the past. Whatever happen to flagship killer prices. At the leaked prices mentioned, I might as well buy Sammy or Apple with solid reputation of name and brand including trading/resale value. One+ at those prices will remain at the kiddie table wishing they were at the grown up table with Samsung and Apple. Next.

Ian B, I respectfully disagree. I've owned Galaxies and Notes and those products drove me to the Pixel line of products. After doing extensive research, I believe there is enough proof out there that OnePlus 8 Pro just completely blows everyone away. Read the articles, especially those that show actual lab numbers, that's why OP is referred to as "frankenstein" phones............ There's an old saying among hot rodders, speed costs money, how fast do you want to go?

OnePlus will never "blows everyone away" unless they get top-tier specs.

OnePlus already has top tier specs and are the only Android phones that age as well as the iPhone over time.

I wish OnePlus would make a mini for us users that don't care for a display over 6". I would love to get my hands on one, but their phones are just so big. Come on, some of us users want premium compact phones.

Will the Oneplus 8 make more options for cases and/or accessories?

No the ios lock in is not real, not more than the android lock in... it is in your head! iMessage ? There arr many other alternatives and i don't know any people that don't have a second messaging app... Continuity features ? Sure, very nice to have but you can still use your other apple products. The only lock in may be itunes movie you eventually bought.. And i still don't think the oneplus is a superior phone than iphone but that's an opinion. And when you talk android oneplus is far from being the best, it is the worst. It may listen to its customer (lack of vision?) but it also listen to them in many ways... Are you aware of their many privacy woes related by this website?! How can they have any trust left!

The OnePlus 8 photos look nice, but we will have to see what the real photos look like.
A company photographer spending hours to optimize every photo is a bit different than a user snapping a shot.
I have to admit I'm not a fan of the "alien landscape" look. It may be cool once in a while, but one look at this and I'm already tired of the weirdness. The iPhone 11 takes well exposed but more realistic night shots, as does the U12+. I don't think the "other" photo OnePlus used is an iPhone, unless they used an iPhone 8.

I guess I'm to opposite of the author. I've owned pretty much every iPhone, but it's been years since they have been my daily driver. Bought the XS and was disappointed in the performance, bought the 11 and the camera failed to match what I already had. Apple's meh audio quality doesn't help either.

You're kidding right? Apple has the best audio quality with only LG being equal to Apple and Apple has long since had the best video recording quality of any smartphone. That's not an opinion, that's a fact.

Own OnePlus7T and totally satisfied. Moved up from pixel 2 and didn't know what to expect despite positive reviews. Glad I did. I am also impressed with OnePlus "can do" approach and how they solicit user input for further improvements. The OS is simple and unbloated android. Hope they continue on this path of offering great hardware at a very competitive price and don't overprice their products.

For the 1006 Euro price tag I'll rather last years Note 10 plus 5G with an additional 256gb SD card and a few hundred still to spare

You're better off buying an iPhone if you want the spend over a grand on a phone because Samsung cannot justify their high price like Apple because they don't support their phones as long as Apple does the app experience is better on iPhone over Android in general although things are better on Android than before but still not as good as on iPhone.

I think you forgot "in my opinion". I've used both, extensively, and have determined, IN MY OPINION, that iPhones are ridiculously overpriced, and iOS is unintuitive and annoying.

I have used Android, and found it unintuitive and annoying, so it's just what you prefer really. I agree that iPhones are overpriced

Exactly, it's opinion. iPhones aren't the only overpriced devices, either.

They aren't overpriced since they get software support for 5 years. How many Android phones get that kind of support? Hint: 0.

That's your opinion, and I disagree. I don't keep a device for more than about two years anyway.

Now that is what i agree with in my opinion.... I don't keep a phone longer than two year either. In my opinion the tech enthusiast vouch for those who don't care about security updates and OS updates because they have a feeling of deep concern over the naive non techies and don't what them being taken advantage of by predators.

That's an important concern to have. I know a lot of older people who keep their phone longer than 2 years, for them their smartphone isn't their life and is a tool to do what they need it to do, so if it still does what it needs to do after 2 years they have no reason to replace it. For them it's probably worth having an iPhone so their phone will keep working for as long as possible, with little worry about losing security updates or application support

All phones are overpriced these days but the iPhone goes a lot further to justifying it's price than similarly priced Android phones thanks to Apple's unrivalled support and cohesive software experience, sat what you want about iOS but at least the experience is consistent and the app experience is better with more features in the iOS versions of the same app than their lazy Android equivalents. I'm not going to drop a grand on a phone with only 2 years of platform updates and again only Apple can justify its prices even if Samsung has the better hardware.

I don't like iOS, and don't find the app experience to be any better. The build quality, as well as overall operating system performance on Apple devices, are overstated, in my opinion. So, overpriced. Also, this is Android Central. Quit trying to convince me that iPhone is better. I can get that on iMore.

He's just giving his opinion. From what I can tell, the performance of iOS compared to Android is better, this was very evident on older Android phones when compared to a similar specced iPhone, and is still evident today if you compare an Android phone that has similar specs as an iPhone. This is why Android phones generally have higher specs than the iPhone, because they need higher specs to operate at the same speed. The evidence is all online, but ultimately the consumer wants a fast phone so they won't care about the operating system performance so long as the phone is fast. As for build quality, Apple has had some mishaps along the years, but generally build quality is very good. I've owned iPhones from the iPhone 3G to the iPhone XS Max I have today, and I've only ever had two issues. One was the infamous iPhone 4 antennagate, which was thankfully easily fixed by using a case as most people did, and the second one is that the earpiece speaker overtime gets clogged with dust and reduces the volume, but it just needs cleaning although I don't remember this being a problem before the iPhone 6 (you can see the change in design in the earpiece speaker). Their charging cables are awful but luckily you can get alternatives. In terms of the actual iOS experience and app quality, that's really a case of YMMV and what apps you use or rely on. There are terrible apps on iOS and terrible apps on Android, it used to be that Snapchat ran awful on Android, but that was solely down to the developer doing a bad job, not Android. There used to be a time on Android where many apps had different layouts and no standardised design, but this has been fixed now. Some Android apps when used on a tablet don't rotate to landscape for some bizarre reason, again most likely a developer problem, but this doesn't seem to happen on the iPad or at it's limited to a very small number of apps, but it does seems to work fine on Android smartphones. My simple mantra is: pay for apps, the paid ones are usually very good quality. There are some great paid apps exclusive to Android, and some great paid apps exclusive to iOS, and some that are on both, but in general paid apps are very good quality, and you have more flexibility on Android as to where you get these apps from. At the end of the day Android and iOS both have upsides and downsides to them, but it mostly comes down to what works for you

I'm not trying to convince you to get a iPhone, when did I say you should buy an iPhone? I'm giving my opinion as someone who's used both iOS and Android and until recently I vowed I'd never go back to iPhone but I'm seeing a lot of improvements in iOS and the core things that i like about iPhones haven't changed, there's simply nothing on Android that compares to iMessage and facetime and there's no denying the fact that most apps are still better on iOS than their Android counterparts in my opinion and Apple is down on privacy and security remember Google can still track you even if you turn of location services on Android, Apple cannot if you do the same on iOS. And I like the simplicity of the camera on iOS as well as I've never cared about manual modes on smartphones cameras either and let's not forget that Apple's A series SoCs are 2 years ahead of Qualcomm's Snapdragon series even if Qualcomm is closing the gape now. Stick with what works for you.

Gotta love this pandering piece.

Honest question as someone who is considering moving to iPhone: how do you plan on handling WhatsApp message transfer specifically? My S10+ has five years of chat data that probably isn't transferrable?

Winston. We just switched to iPhone pro max. I was a little hesitant about the switch being on Android so long. I am glad I did. These phones are beasts and they just work right out of the box. The camera is awesome to

Winston - You can use "iTransor for WhatsApp". It's specifically made for transferring WhatsApp messages from Android to iOS devices. Carbon Vapor - The iPhone 11 series is probably my favorite. I've had mine for about 6 months, and aside from the camera not being as good as the U12+, it's been a good value.

Too big, too heavy, it would be a great boat anchor.
Android Central Newsletter
Thank you for signing up to Android Central. You will receive a verification email shortly.
There was a problem. Please refresh the page and try again.