Lookout Security lands on all Android tablets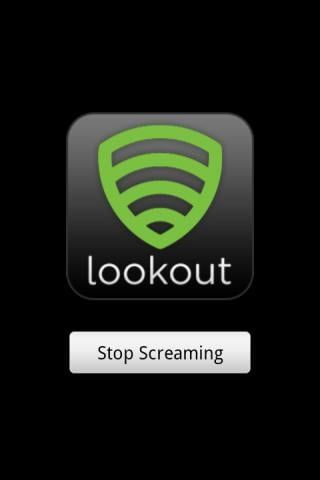 Lookout Security & Antivirus is one of the most popular security apps for the Android platform. Whether you're installing apps from suspect third-party app stores or just want to ensure that the Android Market is secure, Lookout will scan apps upon installation to make sure they will not harm your device. Lookout has been available for phones and some tablets up until today, but now all Android tablets are supported. They have said every version of Honeycomb and even Ice Cream Sandwich will be supported.
Other than security, Lookout provides a Find My Phone feature that uses Google Maps as well as Backup and Restore for some of your most sensitive data such as contact information.
There is a free and a premium version of the app. The premium version includes: safe browsing, advanced privacy protection, remote lock & wipe and enhanced backup. The cost is $2.99/month or $29.99/year. If you have a phone and tablet using Lookout, you can register both under one account.
Great news for the millions of tablet users out there who have been pining to get Lookout on your device. If you want to check it out, please see the Market links after the break. Please also find the press release after the break.
Lookout Mobile Security Announces Complete Protection to Keep Any Android Tablet Safe
Lookout's Web App Makes It Easy to Manage All Your Mobile Devices From One Destination
SAN FRANCISCO—Oct 26, 2011—Today Lookout Mobile Security, the leader in mobile security, introduces comprehensive protection for all Android tablets. Since launching in 2009, Lookout now protects more than 12 million people against mobile threats including malware, spyware and unsafe websites. Today, Lookout extends the same security protection and find-my-phone functionality to all tablet devices, including all Honeycomb and Ice Cream Sandwich Android devices, in addition to those that are WiFi only.
Lookout users can now easily protect and manage multiple mobile devices from a single online destination at mylookout.com, regardless of platform, including Android phones and tablets, and iPhones, iPads, and iPod touches. Lookout enables people to back up their precious data, find a missing device when it is lost or stolen, and manage their phone security remotely. Lookout also automatically updates over-the-air, making it easier than ever before to instantly keep devices and data safe.
With global tablet sales estimated to tally 63.6 million units in 2011[1], people across the globe will use their tablets as miniature computers to share, store and transmit valuable information, making it paramount that people take steps to protect these devices.
"Mobile devices are now the dominant computing platform in the world," said Kevin Mahaffey, co-founder and CTO of Lookout. "As people opt to use smartphones and tablets instead of PCs, they want peace of mind—and Lookout gives it to them."
In addition to the security, data backup, and find-my-phone features offered in Lookout's free Android app, Lookout Premium provides comprehensive security and privacy protection that is now also available for Android tablet and smartphone owners. People can register both their smartphone and a tablet under one account and pay the standard price of $2.99/month or $29.99/year. For more information on Lookout, visit www.mylookout.com/premium.
Lookout created its mobile threat protection to meet the unique needs and challenges of mobile devices and networks. Balancing computing power between the device and the cloud, Lookout provides always-on protection that doesn't interfere with device performance. Lookout's Mobile Threat Network scans hundreds of thousands of apps a month and is the largest database of smartphone applications available. Lookout has also extended the protection available to mobile devices to any app store or download site through its Lookout API.
About Lookout Mobile Security
Lookout is a mobile security company dedicated to making the mobile experience safe for everyone. Lookout delivers award-winning protection from the growing threats facing mobile users today, including malware, phishing, privacy violations, data loss, and loss of the phone itself. Cross-platform, Lookout is designed from the ground up to provide advanced mobile protection while remaining lightweight and efficient on the phone. With 12 million users across 400 mobile networks in 170 countries, Lookout is the world leader in smartphone security. Headquartered in San Francisco, Lookout is funded by Accel Partners, Andreessen Horowitz, Index Ventures, Khosla Ventures and Trilogy Equity Partners. For more information and to download the application, please visit www.mylookout.com.
Android Central Newsletter
Get instant access to breaking news, the hottest reviews, great deals and helpful tips
a little inaccurate.
I have a Lenovo ThinkPad Tablet, and I've had Lookout on my tablet since I got it a month ago. I got it easily from the Lenovo App Market, which is a collection of apps that have been optimized/designed for tablets and tested by Lenovo to make sure they actually work on the ThinkPad Tablet. Perhaps this was their testing ground, but nothing indicated otherwise in it's presentation in the app store.

Has anyone ever had lookout alert about an unsafe app, virus, or malware? Anyone? Anyone? Bueller? I love it for the Find My Device capability, but my tablet won't get lost in the couch cushions unlike my phone. But 29 bucks a year for the premium version seems a bit stiff.

How reliable is the find my tablet feature gonna work with only Wifi and tablet speakers?

Try it out an let us know. If you set your WIFI disconnect policy to NEVER, I don't see why it should be any less reliable. Tablet speakers are a whole lot louder than phone speakers. The GPS is just as reliable as well, so the software can email you the location if it gets stolen. Of course, its the first app a thief uninstalls.

The initial location was off by a city block. Subsequent attempts were spot on. The scream feature would certainly work in my house. Here's a YouTube of it in action: http://www.youtube.com/watch?feature=player_embedded&v=N0q7LnNCXS0

Yes. Lookout has found two for me, this past year (12-14 months). One was some type of a 'YouTube' video finder app I think? And I don't recall the other one at the moment. I do remember one was from the Amazon App Store. I have been bugging them monthly, to take care of my tablet('s) Samsung 7" & 10.1". But the final sticking point and delay. Has been the 'find my phone' feature. Because the lack of sms on wi-fi only versions. They finally must have gotten this figured out. I was on the 'available' Beta testers list. But never heard anything, until today.

I was not able to register to android devices under a single email address / login. This may have been an inaccurate assessment.
Android Central Newsletter
Get instant access to breaking news, the hottest reviews, great deals and helpful tips
Thank you for signing up to Android Central. You will receive a verification email shortly.
There was a problem. Please refresh the page and try again.