Logitech debuts new lineup of Android tablet accessories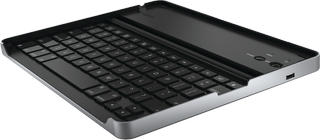 Logitech has launched a new line of Android tablet accessories today. Some of the highlights in the lineup include:
Logitech Wireless Speaker: Eliminate cables and listen to your music from up to 50 feet away from your tablet with Bluetooth connectivity. The speaker delivers rich stereo sound and its rechargeable batteries last up to 10 hours.
Logitech Tablet Keyboard: This keyboard comes in two models — one for Android-based tablets and one for iPad — and the carrying case converts to a stand when you're ready to type.
Logitech Tablet Mouse: Pairing to your Android 3.1 + tablet using Bluetooth, this mouse delivers laser-precise tracking, smooth cursor control and easy up-and-down scrolling.
Anyone interested? I know products like the Motorola Atrix 4G and the Eee Pad Transformer have an edge with their dedicated keyboard docks, but will this pull anyone away? I for one think the keyboard would look great with a Galaxy Tab 10.1.
Source: Blog.Logitech (opens in new tab)
Android Central Newsletter
Get instant access to breaking news, the hottest reviews, great deals and helpful tips
From the picture, it looks like the keyboard is designed to have the tablet snap in. Is that the case? (pun intended?)

Nope.. for some reason, this Android-related article is using the Logitech Keyboard for iPad. The Android version is not intended to snap in, but is intended to be carried "with" it, in it's own protective case. I'd much prefer to see the actual Android 3.0 compatible keyboard as the main image for this story. https://www.androidcentral.com/e?link=https2F2Fcli...

I'm curious as to how a tablet like the Samsung 10.1 would stand up? Would it be sturdy and stable?

The atrix's keyboard dock is not an 'edge'. It's a serious ripoff.

Logitech makes great products, never had a problem with anything Logitech I have purchased and I've purchased alot.

but do we have to wait 6months for it to hit the stores

The new bluetooth profiles in 3.1 are going to open a lot of possibilities. If these third party docks can hold the tablet securely they will actually work better than the native docking connector on some of these tablets. One less set of pins to be messed up over time, and one additional degree of freedom about where you place the screen when using the keyboard. The Tablet that owners love, but which Android Central won't even review might also be a candidate for this type of accessory.

So, why would anyone be interested in a mouse for a touch screen tablet?

Touch screens aren't very usable in an upright position. If I'm docking my tablet, i'd wanna be able to mouse on it.

Because men may have large fingers that make closing tabs on the internet very difficult. I bought a stylus for that reason but I also considered a mouse which are expensive.

Why don't they make the wireless speakers for Android PHONES?

Well, join tonights podcast and maybe you will win a set.... http://www.androidcentral.com/tonight-android-central-podcast

They're bluetooth, so they'll work with your phone as well.

I have this keyboard/case for my iPad2 (sorry everyone, but despite my devotion to Android phones--going back to the original release of the G1--it's a better tablet for my needs), and it's terrific. It doubles as a case, since the iPad pops right into it. i don't really understand how it can do that for the Android world, since the dimensions aren't uniform--will they make one for each model?

I thought the same thing. I have an iPad (don't use it) and a Transformer (yes this fits MY needs better, though I can see how an iPad is better for others). I've been comparing dimensions of all the tablets (for case reasons) and nothing is even close to being the same. I can't fathom any company, even Logitech, coming out with a model for each one especially when Android tablets start seeing new releases every few days like Android phones do now.

Androidcentral, I think you posted the wrong photo for the product. This looks like the ipad cover/keyboard (only for ipad), not the Android keyboard, which is flat (no frame with a ridge) and has a rounded 'bump' along the top edge. The Andoid version slips into a protective sleeve, and that sleeve turns in to the stand for your tablet.

SHIPPING!!!! I just got my shipment confirmation for the Android keyboard and mouse. It better not disappoint!!
Android Central Newsletter
Get instant access to breaking news, the hottest reviews, great deals and helpful tips
Thank you for signing up to Android Central. You will receive a verification email shortly.
There was a problem. Please refresh the page and try again.