Link Bubble updated with several improvements, bug fixes and Android Wear support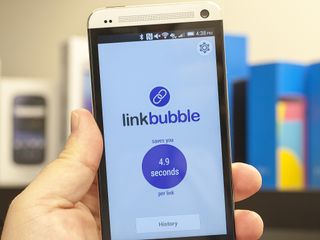 Link Bubble is an awesome app that helps you surf the web better and now, the latest version has arrived on the Google Play Store. Released as v1.3, this update is pretty hefty on improvements, bug fixes and changes.
We've got the full change log for you to look through but before we get into that, it has to be noted that v1.3 also brings support for Android Wear. You might be asking yourself, why does an app that preloads links from other applications need Android Wear support? Well, luckily, Link Bubble developer Chris Lacy has noted why it's included for us.
The Android Wear support is a highlight and awesome but for most folks right now, it'll be the bug fixes and improvements that catch the attention and as we mentioned, we've got the full change log for everyone, so have a look through.
NEW: Text content from a link can be displayed on Android Wear devices (requires Pro). Links can also be opened/closed on your device via Wear.
NEW: Link Bubble can now be 'hidden' via the notification. When hidden, the app will still be running, just no longer visible (thus enabling background YouTube playback or similar).
IMPROVEMENT: Much smoother animation when web content slides on/off screen.
IMPROVEMENT: Restore slide-in animation when the first link begins to load.
IMPROVEMENT: Add hack to stop Pocket from displaying when you add links to it.
IMPROVEMENT: Link Bubble is minimized when links are sent to external apps when running the L Preview.
IMPROVEMENT: "Intercept links from" works correctly for Android 4.4 and below.
IMPROVEMENT: Cookies are now enabled in Incognito Mode, but cleared at the end of the session.
IMPROVEMENT: Changing the Incognito Mode setting forces open bubbles to be reloaded.
CHANGE: Tabs from the previous session are no longer automatically restored. A prompt is now displayed requiring confirmation to restore these tabs.
CHANGE: Periodically empty cached web data.
CHANGE: The "Intercept links from" option has unfortunately been disabled for those running the L Preview due to the Android API required for this functionality being depreciated by Google.
BUG FIX: Fix rare issue where no tabs would display and pressing the device's Home button failed to close Link Bubble.
BUG FIX: Fix issue where web content sometimes failed to slide on screen.
BUG FIX: Fix issue where bubble favicon is not updated after the Pro trial has finished.
BUG FIX: Fix issue where "Unable to launch 3rd party application" toast erroneously displayed.
The update is live right now if you have the app installed and if you've been waiting to grab Link Bubble Pro, now is the time to do so as it's currently on sale for 50 percent off.
Source - Chris Lacy
Get the Android Central Newsletter
Instant access to breaking news, the hottest reviews, great deals and helpful tips.