LG Vu 3 announced for Korea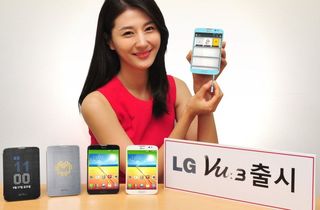 LG has announced a new device in its quirky 4:3 aspect ratio Vu product line, the Vu 3. Initially headed to the company's native South Korea, the Vu 3 will pack a 5.2-inch, 1280x960-resolution display and run Qualcomm's latest Snapdragon 800 chip. There's a built-in stylus this time too, an improvement upon earlier Vu handsets which provided a pen that couldn't be siloed away. The appears to be running LG's software tricks, which we've recently seen on the G2, so it's likely running at least Android 4.2.
Other highlights include a 13-megapixel camera and LTE-A support for super-fast Korean mobile networks, as well as a range of optional "QuickView" covers, just like the G2. The Vu 3 will arrive in Korea from this Friday, Sept. 27; there's currently no indication as to whether a wider international launch is planned.
Source: LG (Korean)
Alex is global Executive Editor for Android Central, and is usually found in the UK. He has been blogging since before it was called that, and currently most of his time is spent leading video for AC, which involves pointing a camera at phones and speaking words at a microphone. He would just love to hear your thoughts at alex@androidcentral.com, or on the social things at @alexdobie.
Interesting. Posted via Android Central App

aah my eyes! Posted via Android Central App

Does it have stitching at the back too?

Lol Posted via Android Central App

Is it me but its seem that LG is copying everything Samsung has..... Posted via SGS4 GPE

My thoughts exactly Posted via Android Central App

Nahh..they copy Samsung and then make it more "innovative" ⓖ◎◎ⓖⓛⓔ†ⓝⓔⓧⓤⓢ

Not sure of the point. I get it has a stylus but isn't 5.2 the same size of the g2? Posted via your wifes, girlfriends phone

This Vu would keep drivers from texting while driving as it would be pretty hard to do

So they will still try whilst driving with their elbows. Trust me I have seen it. |❌_❌|

Disowned ugly cousin Posted via your wifes, girlfriends phone

LG is copying everything Samsung does... their phones and tablets look like Samsung devices... their software looks like TouchWiz... what the hell man? And couldn't they have found a better looking model? Atleast she would distract you from how ugly the phone is!

my stepmother recently got Mercedes B-Class Electric Drive Hatchback from only workin parttime on a home pc. Web Site... http://ur1.ca/flhh2

I could see this as being useful for people who read lots of ebooks on their phones (yes, I know some people who do that) - 4:3 is nicer for large blocks of text than 16:9 for most people. That is why the Kindle, Kobo, and Nook e-ink readers are 4:3. And LG makes the G2 for every else, with the more normal 16:9 screen. Choice is good to have.

Honestly. If it has features of the G2, I would use it. It is a bigger step from the previous Vu phones.

Is this phone selling that well that they keep coming out with new ones? I'm not sure about the usability :S

What's wrong with the model? I think she's cute. As for the phone, is it me or does the Vu3 look more elongated? The first two Vu was too squarish for me, but this one looks like it's closer to Note3 in terms of screen size. Might be worth a look, although I'm not all that crazy about LG quality ever since my LC Choco filphone broke on me after two years while the Samsung flip phone lasted forever.
Android Central Newsletter
Get the best of Android Central in in your inbox, every day!
Thank you for signing up to Android Central. You will receive a verification email shortly.
There was a problem. Please refresh the page and try again.