LG V60: News, Leaks, Specs, and Rumors!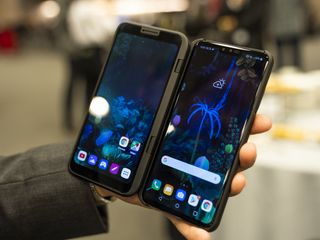 (Image credit: Android Central)
LG's V-series has changed a lot over the years. With the V10 and V20, LG set out to create phones that appealed to power-users and photography nuts — offering removable batteries, high-quality headphone jacks, and powerful camera features. The V30 and V40 shook things up, opting for a premium glass/metal design and aiming for a more mainstream market.
The LG V50 was just announced earlier this past February at MWC, and it's proven to be the oddest entry in the V-series yet. The V50 is a 5G-capable phone with a (bad) video blur effect and has an optional case that adds a second screen.
With the V50 appearing to be a flop, LG's trying its hand again with the V60. The V60 is expected to be announced during IFA 2019, and this is everything we know about the phone so far.
5G flagship
5G, five cameras, and two screens (kind of).
The LG V50 is an...interesting phone. It's LG's first 5G-capable smartphone, has a total of five cameras (two on the front, three on the back), and can be used with an accessory that adds an additional screen. All of that's neat, but if you're interested, you'll be paying a pretty penny.
Expect the LG V60 to have two displays
Although we've yet to see a leaked render or hands-on image of the V60, a teaser from LG has given us an idea of what to expect from the phone's design. Specifically, it looks like the LG V60 will have two main displays.
In the image above, we can see the outline of two screens that are likely connected by some sort of hinge that can be folded together. LG's "Dual, the Better" text also reiterates this idea.
When the V60 is closed, there also appears to be a smaller third display on the front that'll show the time, date, and other important information.
This idea lines up the most with Samsung's Galaxy Fold, but that phone has one large folding display on its inside with an outer display that has a fully-functioning Android interface. Based on what we've seen so far, it seems more likely that the V60 will have two separate displays that work on conjunction with one another — not unlike what we've previously seen with phones such as the ZTE Axon M (opens in new tab).
Then again, it's also possible that the V60 will just support an upgraded version of LG's Dual Screen attachment that it offered for the V50. Who knows at this point 🤷‍♂️.
Flagship specs should be present
Similar to the V60's design, little is known about what sort of specs will be present on the phone. However, while we may not have specifics, it's safe to assume that the V60 will come equipped with the usual array of flagship goodies.
Qualcomm's Snapdragon 855 processor will likely power the phone, along with at least 6GB of RAM. LG's phones also typically come with expandable storage and a 3.5mm headphone jack, but it remains to be seen if those will stick around considering the V60's potentially radical design.
We can also look forward to multiple rear cameras, AMOLED screen technology, and LG's impressive BoomBox external speaker.
LG will announce the phone on September 6
The LG V60 will be here before you know it. LG has confirmed that it's announcing the phone at the upcoming IFA 2019 trade show, meaning we don't have much longer to go before the device is made official.
LG's press event during IFA takes place on Friday, September 6, and we'll be there to share all of the latest information about the phone as it's announced.
You'll likely need to pay a lot for it
LG's V-series smartphones have never been cheap, and with the V60, we aren't expecting that aspect to change in the slightest.
For comparison's sake, the LG V50 costs a hefty $1000 through Sprint while an unlocked V40 (which was launched in October 2018) still carries a retail price of $950.
That means we can expect the V60 to be either near or cross the $1000 threshold, especially if it ends up having a dual-screen design.
Will the V60 make the V50 irrelevant?
Lastly, let's take a step back from all this talk about the V60 and remember that the V50 is still a relatively new phone. In fact, it just made its way to Verizon in late-June of this year.
LG's playing a pretty aggressive game by announcing a successor to the V50 this early on, and depending on what the V60 brings to the table, could make the V50 irrelevant just months after it launched.
Then again, we can't really say for sure until we know more about the V60.
If the V60 does have a true dual-screen design and implements it well, it'll undoubtedly be a much more exciting and interesting phone. Then again, if it's essentially the same phone as the V50 but can be used with a fancier dual-screen accessory, the V50 will more than likely continue to exist just fine — especially if it receives price cuts following the V60's release.
5G flagship
5G, five cameras, and two screens (kind of).
The LG V50 is an...interesting phone. It's LG's first 5G-capable smartphone, has a total of five cameras (two on the front, three on the back), and can be used with an accessory that adds an additional screen. All of that's neat, but if you're interested, you'll be paying a pretty penny.
Joe Maring was a Senior Editor for Android Central between 2017 and 2021. You can reach him on Twitter at @JoeMaring1.
Not a smart move to "just now" announce this new model....
They should have leaked it BEFORE I and a lot of folks ordered new Note 10's.
I could have waited another month or so.
As you say in the article, the V50 is expensive and for me the N10+ has almost everything I want (less the headphone jack) for close to the same payments.
So maybe the V60 will be more head to head with the N10???

Seriously, no V60 presented before end of 2019. Stop speculating like that.
I have some further info about the event of September, you'll see something related to G8 series technology (a device between V50 dual screen version and G8s camera quality (improved) + HandID/Air Motion).

Until LG commits to releasing OS and security updates on anywhere near I timely basis, or even supports them with security updates for any reasonable period of time, they will remain irrelevant in my book. Heck, Samsung and Huawei always have something better for the same money anyway.

For my needs, LG's hardware is better than Samsung's but I agree with you about updates. Samsung has proven themselves to not be as bad as LG.

You guys need to take off ads that play music on your app. Not cool

Give the V60 dual screens, a real stylus & I might give it a try

I do like that LG are actually being brave with their design.
I find most phones a tad boring. To temp people past the OnePlus price point and specs, we need innovation with no compromise, and not merely regurgitation of last years tech, a la de Apple and Samsung .

LG and Sony are both descending into smartphone irrelevancy. Let's see which company will be the first to call it quits. Both companies: Needless 6-month product cycle, half-hearted attempts at making a flagship phone, annoying software, average to poor cameras.

Who writes this Garbage. Try writing an article with less opinions and more statement of features and upcoming new releases. Just because many things might not be an advantage to you can be for other people. Hell You could be a complete Moron. Definitely Not someone who went to school fpr journalism that's for sure.

I wish LG would make a modern version of the V20 - improve the glass, keep the removable back but make it plastic for wireless charging, increase the size of the removable battery and size of the screen and you'll get at least the same crowd that bought the V20 back and people who are gun shy who've dropped their designed to break glass back galaxy and apple phones. Sure make your $1000 glass back model for people who have to have the latest status symbol, but make a V25 just like the V20 but with a 6.5" screen, newer processor, a 4000mah REMOVABLE battery and you can have my $500 which is far more than LG will get from most people as they'll get a Samsung or Apple if they are paying $1000 for a phone.

Yes. Yes. A thousand times yes! I'm still running my V20 simply because everything out since then has been too much of a downgrade. That may be changing, though. My V20 is getting into rough shape, and now I'm heavily eyeballing the new Asus ROG Phone 2. It has several tradeoffs, but is otherwise shaping up to be a beast of a phone, and not just a cookie cutter design.

Dual screen is dumb. I hope the V60 is just a solid phone with a lower price and the dual part is an add on like the 50
Android Central Newsletter
Thank you for signing up to Android Central. You will receive a verification email shortly.
There was a problem. Please refresh the page and try again.