LG V35 ThinQ coming to AT&T on June 8 for $900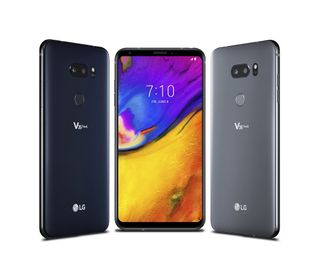 Shortly after the LG G7 was announced, it was said that AT&T wouldn't be carrying/selling the phone in the U.S. and would instead offer "a new LG device this summer only from AT&T." Now, it's been confirmed that that phone is the LG V35 ThinQ.
AT&T and LG recently announced the new handset, and it lines up perfectly with a leak that surfaced in early May. The V35 ThinQ is essentially a modernized version of the LG V30 from last year and offers almost all of the same specs found with the G7.
The front of the V35 is home to a 6-inch 18:9 Quad HD+ (2880 x 1440) display, but it swaps out the G7's LCD panel for an OLED one. Even better, there's no notch to be found.
Around back are the G7's excellent dual 16MP rear cameras, the primary one using a standard 71-degree angle with f/1.6 aperture while the second one is a 107-degree wide angle sensor with f/1.9. For the selfie camera, you've got a single 8MP 80-degree sensor with f/1.9 for the aperture.
Under the hood of the V35 ThinQ is the Snapdragon 845 CPU, 6GB RAM, 64GB of expandable storage, and a 3,300 mAh battery. Android 8.0 oreo is present out of the box, there's support for Band 14 for lightning-fast data speeds, and is AT&T's latest phone to support the FirstNet service for first responders.
LG has also confirmed that the V35 will be available on Project Fi, and according to the Project Fi website, will cost the same at $899 (or $37.46/month for 24 months with 0% interest).
Pre-orders for the LG V35 ThinQ open up this Friday, June 1, with official sales opening online and in-stores Friday, June 8. The phone will cost $30/month for 30 months on AT&T Next, bringing the final price to a staggering $900.
Now that everything's official, do you feel like spending that kind of cash for the V35?
LG G7 ThinQ hands-on preview: All about that bass
Joe Maring was a Senior Editor for Android Central between 2017 and 2021. You can reach him on Twitter at @JoeMaring1.
Great price 😉 LG couple of months back - we will reduce our product portfolio and only release products when we think there is something substantial. Later, what the heck just slap ThinQ branding out there, new internals and done. Oh while we are at it let's bend over more and do exclusive carrier deals. This feels like a better product than G7, but at the same time expensive and carrier exclusive in US.

At $900, this phone is DEAD ON ARRIVAL.

For sure. I think LG and carriers are well aware of this. That's why they're going to promote it with $300-400 off through bill credits, BOGO new line offer, smart devices (Google Home), midrange televisions, ect. The fact of the matter is that this is no more than a $500-$600 phone that carries 2018 ThinQ branding. LG wants the customer to believe they're getting a $900 phone that is in the same boat as the iPhone X, Pixel XL, S9+ for a great deal. The ThinQ campaign is more important than the devices they are releasing. I imagine the mindset at LG is "Everyone is doing AI stuff, so we need to offer it too."

Wtf? Who is seriously buying this?

I'd rather take the G7 for $700ish, Atnt.

Hmm interesting this video from digital trends said available on at&t and project fi? Not sure it's it's a mistake or if it's indeed available on Fi. https://youtu.be/N_1UlSXMays

The V35 is coming to Project Fi! We just caught wind of that recently and updated the article accordingly. Not sure yet if pricing will be the same as AT&T, but we should hopefully know soon.

For that price, it is going to be a hard sell, especially with that small of a battery

But the V30 with that same battery capacity beat out the Pixel 2/XL, Samsung Galaxy S9/+, Note 8 and iPhone X in terms of endurance so don't judge it just by the 3300mAh.

A potato beats iPhone X in battery endurance.

Depends on the potato. Idaho potatoes? No. Floorboard potatoes? Yes.

When are companies gonna stop with this exclusive baloney? I really hate them. Wouldn't your product sell much better if not exclusive to one particular carrier or region? What's a matter you!

That's the mystery to me too, if the device is available to everyone everywhere, then for sure the chances of selling in large numbers are high. That's part of how Apple and Samsung sell so many devices.

It is a "chicken or egg" thing. Companies can either spend a lot of money to market a phone that is not well known or make a deal with a carrier to promote the phone for them. The iPhone and the latest Galaxy phones don't have this problem because they are already popular and carriers need them to keep customers. Sprint will run iPhone ads on their own without any exclusivity. Remember all of those Pixel ads with Verizon around the holidays?

If it were on T-Mo, I'd actually get it. I love everything about my V30 except the front facing camera. So it's a faster phone with more memory and 3 better cameras. Take my money LG, but not on AT&T, lol. Seriously though, the V30 is awesome. It's light, the battery lasts and I have no issues with the screen honestly plus I'm a music nerd so the audio hardware make LG's must haves for me at the moment.

I already owned an overpriced V30 with tons of ATT bloatware on it.. and buggy camera software...NO THANKS..not gonna pay out the AZZ for that privilege again... You can fool me once... Sold it, got an S9+ unlocked. The only thing remotely interesting is potential inclusion in project FI.

AT&T is the worst carrier firmware for the last couple of years. But doesn't matter since normal users don't care or bothered unfortunately.

Think that should be ¥900?

Wow, that's a lot of $$$ for a retread phone. I love my v30, but this not a $900 phone, more like $700 one at best...

900.00 banana's for an LG phone. Holy Toledo, they have been in the mushroom patch way too long. You better stick to what carrys your mobile division, appliances & TV'S. Your phones ain't cutting it anymore. Plus the V35 is exclusive to AT'T? Another failed effort, exclusive phones never sell that well. Why limit your market, the price about as ridiculous as the notch on the g7!

I will not leave T-Mobile for this but this is pretty much everything I wanted the V30 to be. Stupid LG.

I won't be buying this, but I do like it better than the G7.

Sales will be in the dozens.
LG is such a lost company.

$900 is way too much. Can't you just get an unlocked G7 and use it on AT&T?
Android Central Newsletter
Get the best of Android Central in in your inbox, every day!
Thank you for signing up to Android Central. You will receive a verification email shortly.
There was a problem. Please refresh the page and try again.