LG V30 specs: Snapdragon 835, dual cameras, Quad DAC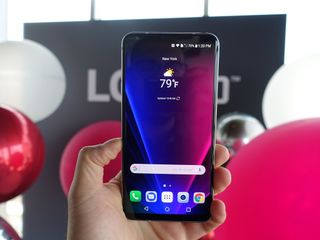 The LG V30 is one of the most exciting fall launches, featuring everything you come to expect from a high-end smartphone plus a few tricks no other device has.
The core specs are familiar to anyone watching the smartphone market in late 2017: a Qualcomm Snapdragon 835 processor and 4GB of RAM, along with 64GB of storage and a 3300mAh battery. But the V30 differentiates itself with its unique camera setup, its focus on high-end video capture, and its excellent sound quality from the included Quad DAC.
Swipe to scroll horizontally
Category
Specification
Operating System
Android 7.1.2
Display
6-inch OLED, curved edges
2880x1440 resolution
Gorilla Glass 5
Processor
Qualcomm Snapdragon 835
RAM
4GB (6GB in some markets)
Storage
64GB (U.S.)
128GB (Korea, some other markets)
microSD card slot
Battery
3300mAh
Non-removable
Wireless charging
Quick Charge 3.0
Rear cameras
16MP f/1.6, OIS, 71° FOV
13MP f/1.9, 120° FOV
Front camera
5MP f2.2, 90° FOV
Audio
32-bit Quad DAC, high-sensitivity microphones
Water resistance
Yes, IP68 water resistant dustproof
MIL-STD 810G certified
Dimensions
151.7 x 75.4 x 7.4 mm
Weight
158 grams
Colors
Silver, Black
Daniel Bader was a former Android Central Editor-in-Chief and Executive Editor for iMore and Windows Central.
Sounded good until I got to 4GB RAM :-( The Note 8 is getting more likely day by day, the only thing holding me back (apart from price) is the lack of updates from Samsung... Anyone know if you can put an alternative ROM on Notes and still have full stylus and camera support?

LG is great at updates right?

There is going to be V30+ with 128gb with 6gb ram wait and buy that one

Why no deets on the V30 Plus so far today? Odd. that's the device I'm interested in.

Lack of updates from Samsung? Have you ever owned an LG phone? I have an old Note 4 that still gets monthly security updates. My V20 gets updates whenever they feel like it. Not consistent at all. The V20 came out of the box with 7.0. Almost a year later, where is the V20? Still on 7.0. Take your pick.

I never said I would be happy with LG updates either... All I want is a phone that someone (possibly me via ROM) updates fairly regularly.

Both of you are clueless. My S7 Edge is still on 7.0 -- is Samsung guilty of sporadic releases, then? Also, at what point did 4 Gigs of RAM become insufficient to run modern Android? Get real.

I think you may be the clueless one, Android may need 1 or 2 GB at most.

Really impressed by the move to f/1.9 on the wide angle lens. Although not telephoto this will make the second lens better in low light than what others are doing.(theoretically) Can't wait to get my hands on it.

Is this still the crappy 5MP front camera like the G6?

Amazingly LG manages to have a better front facing camera (actual results, not numbers) than S8 or Note 8!

No it doesn't, I'm using a G6 right now and it doesn't compare even close to the S8/S8+ or Note 8, the front facing camera on the G6 and V30 are the exact same and it's their weakest part of the device easily.

Really what made you think it'll ship with Oreo? I know V20 shipped with Nougat but there was no indication or leaks about V30 and Oreo.

Obviously because V20 was shipped with the latest Android when it came out. Chill dude. It's not that serious.

Well this makes deciding between the V30 and the Mate 10 a hell of a lot easier. Mate 10 it is for me

Any news on lg pay and wireless transmission communication?

So on the podcast, portrait mode was voted useless by 2 out of 3 participants because "no one stages photos." Do you even selfie Bro? I have Fracture prints of my kids that were taken with my 7 Plus hanging on a wall at my house and get compliments on them all the time. Almost everyone I know takes pictures of other human beings and unless they are "capture the moment" shots there is almost always (to varying degrees) some amount of staging. Just look at Facebook, or Snapchat, or Instagram, or again, duck faced selfies. Now here is what no one actually does: tweaks the settings on their quad DAC before going to the gym to build gains to AC/DC and Daft Punk. It just doesn't happen. It would help the site greatly to stop taking these fringe viewpoints as common truths just because some of the writers border on being contrarian about anything that is popular. Its a major downer and sounds like whining at times. In the real world 2 generations of consumers were smoked by LG bootloops. And I can attest to the fact that first and foremost on a front line level LG needs to repair the brand image from that more than anything else if they want to see sales go up. Imagine you a sales rep selling LG after living through 2 generations of bootloops being asked by a customer for your personal opinion on LG Vs. Samsung or Apple. Many if not most sure as hell aren't going to say LG.

Their job is to give their opinions not to parrot mainstream group think. I'm sure you can find other writers that agree with your opinions if it's confirmation bias you are seeking.

Within this group (AC) that viewpoint is the mainstream group think. Well rounded would include perspectives from both sides of the table. But sure, you didn't just suggest doing the opposite of what you suggested. Besides, if they didn't want reader opinions they wouldn't have posted a 45 minute survey asking for them. Kobe!

You say "both sides" like there are only 2 sides to everything. I was suggesting that you go somewhere else if all you're looking for is opinions that agree with yours. Why don't you go fill out a survey then instead of complaining in the comments. Jordan!

There's my White Knight riding his trusty steed named Strawman into a glorious internet battle of "hurr your wrong, go to Elsewhere." My points are valid and you've still not addressed a single one. So lets work on understanding two (2) sides to a story before unpacking bolder more explorative ideas. Kobe!

I think your opinion is one thing. Sharing with the world how butt hurt you are is another. No manufacturer is perfect and no blog is 100% unbiased.
LG Bootloop
Samsung explosions
Apple Huge battery issues
Just don't get so butt hurt and you're gonna be alright!

The specs seem underwhelming because this is what the LG G6 should've been.

And the G7 is what the V30 should've been. V40 is what G7 should've been. Yeah ..

Your comment would've been great if it wasn't regurgitated from the guy who regurgitated it from the guy who regurgitated it from well... You get the point, stop regurgitating!!! It makes you feel like a lower life form.

If you're going to list phone specs - it would be beneficial to inlude the list of supported networks - especially since this phone is the first to support LTE 71 (T-Mobile 600Mhz)!

I like what I'm reading about this phone. If the 128gb comes to us I would be very happy

Maybe I missed it, but I didn't see anything about wireless charging. Any word on that?

Yes. It's in the battery section.

Yes, it has Qi wireless charging. Listed in battery category in specs.

It's a cool phone but it won't get much attention

Which is great because the price will drop after a few months like all other LGs before. I know lots of people who go for the cheaper high end phones who are happy with them. Coming soon will be either $1000 iphone or $900 note 8 or $700 V30(possibly $500 after 3-6months lol)
Android Central Newsletter
Thank you for signing up to Android Central. You will receive a verification email shortly.
There was a problem. Please refresh the page and try again.