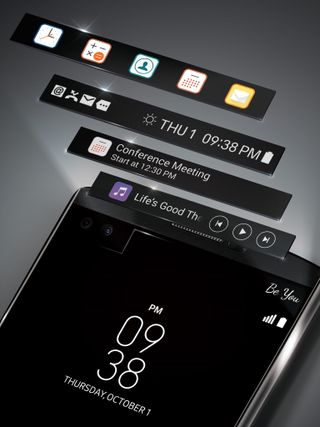 The LG V10 is the start of a new series of phones for LG, to live alongside its storied "G" brand of Android smartphone. The initial offering sports a 5.7-inch display, dual front-facing cameras, a secondary display next to them, and a rear fingerprint scanner and power button combination.
Let's take a look at the full specs.
Swipe to scroll horizontally
| Category | Features |
| --- | --- |
| Processor | Qualcomm Snapdragon 808 Processor |
| Main display | 5.7-inch QHD IPS Quantum Display (2560 x 1440/513ppi) |
| Secondary display | 2.1-inch IPS Quantum Display (160 x 1040/513ppi) |
| Memory | 4GB LPDDR3 RAM / 64GB eMMC ROM/microSD (up to 2TB) |
| Rear camera | 16MP with F1.8 Aperture/OIS 2.0 |
| Front camera | 5MP Dual Lens (80-degree Standard Angle/120-degree Wide Angle) |
| Battery | 3,000mAh (removable) |
| Operating system | Android 5.1.1 Lollipop |
| Size | 159.6 x 79.3 x 8.6mm |
| Weight | 192g |
| Network | LTE-A Cat. 6 |
| Connectivity | Wi-Fi 802.11 a, b, g, n, ac, Bluetooth 4.1, NFC, USB 2.0 |
| Colors | Space Black, Luxe White, Modern Beige, Ocean Blue, Opal Blue |
Get the Android Central Newsletter
Instant access to breaking news, the hottest reviews, great deals and helpful tips.
Just, no. It wasn't a good idea when Samsung did it, it's still not a good idea. Posted via the Android Central App

What isn't a good idea? Posted via the Android Central App

Gonna go out on a limb and say the secondary display... Wubba lubba dub dub!

Yeah that's just seems completely useless in my opinion. Posted from the Nexus 7 (2013) via Android Central App

It could be a cool idea if it was an e-ink type thing like pebble does. That way there would be a minimal impact on battery life. Sony Xperia Z2
Nvidia Sheild
Xperia Z3 Tablet Compact

even then, why not use an amoled panel and just make it a software feature for the normal display. a whole second display seems pointless. the main draw is the ticker, i don't see even one person giving a crap about a shortcut bar.

Even more laggy LG software to add to the mix = no bueno

I have a Verizon G4 with zero lag. I know there are people who have lag, I just don't see it.

I'm running a G4 rom "Cloudy 3.3" and can say that the thing Flys. No lag issues for me and I'm using older hardware than the G4. Posted via the MATERIAL AC App

But isn't that what people were saying about front and rear cameras being added to phones?

Well get used to it. Because this is just the beginning.

Ya that's what people said about the continuum. Posted from my Nexus 6/Nexus 7 2013/Surface Pro 3

And the Edge... Posted via the Android Central App

Lol! Sure. Posted via the Android Central App

Yeah... I like LG, i had a G2 and a G3 and loved them... But this interests me in no way at all. WTF are they thinking? Not only is the 2nd display useless, its even larger than the G3 and G4 without having a larger battery. Pass, triple plus pass.

I think it's a good idea. It would work better with an AMOLED display, though.

Ever use a high resolution IPS display exclusively for an extended period of time? Posted via the Android Central App

Yes, and I prefer the look of SAMOLED. I still think the extra display is a good idea. It looks like they're making good use of it, too. I really like this phone. Regardless, my comment was more about having to light up the whole display in order to use that ticker area. But on second thought, I'm wondering if it's actually a completely separate display, so it wouldn't need SAMOLED to reduce battery usage.

SD and removable battery. Heck yes, I'll be checking this one out. Posted via the Android Central App

Another Samsung Note 5 & S6+ killer.

Didn't know those needed killing.

This won't sell anywhere near as many units as the S6 or Note 5, but keep deluding yourself into thinking that people care about those niche features. Posted via the Android Central App

That's because most of the public believe that there are 2 different types of phones that exists. You can either go with an iPhone or a Samsung. Posted via the MATERIAL AC App

Maybe a couple years ago. While Samsung currently remains the dominant Android phone manufacturer, all other manufacturers combined have 2x the market share of Samsung. Therefore 2 of every 3 Android phone users are not using a Samsung phone and they know it's not a Samsung phone.

SD, removable battery, fingerprint sensor, secondary display, removable back for a Qi receiver... the only things I'm not crazy about are the IPS LCD and 808. Otherwise, this is one very attractive phone.

With so so specs like this from LG and other phone manufacturers it's clear that Samsungs s6 e plus and note 5 are the best Android phones of 2015... Exynos chips take the crown this year. Posted via the Android Central App

I think it's clear companies are still steering clear of the 810. Hopefully next year Qualcomm gets their act together.

They will with the 820. But their bolo this year is still unforgivable

Dude, you again commenting on the 810. You have me so brain damaged. Lol Posted via the Android Central App on Moto X 2014/Moto G3/Moto G1/Lenovo Tab S8/ Lenovo Yoga 11 on $35 Cricket wireless plan.

Oh no.....just scratch that last comment. Did you know the SD 810 repels vampires and cures cancer? I heard that from someone else on here, lol

Lol Posted via the Android Central App on Moto X 2014/Moto G3/Moto G1/Lenovo Tab S8/ Lenovo Yoga 11 on $35 Cricket wireless plan.

Exynos chips are great and would be far better if TouchWiz would get out of the way. Posted via the Android Central App

Yep via AC App on
VZW Moto X DE/N7

The lag crown maybe? Sammy uses a quatrallion CPU power and it lags like a Dial-up connection

my note 5 doesn't lag one bit... but ok i guess.

I'm confused, is this the supposed "LG G4 pro" or whatever the name was supposed to be or is this another phone and they are going to still reveal that one?

This has to be the g4 Pro. Unless they're going to come out with a 6inch phone

Seeing that "Life's good theme" makes me so happy I went with a new Nexus. Never skinned again.

You're just getting there now?

Lol no. This just reinforces it. No creepy Vienna Boys Choir ever again. Yikes. Posted via the Android Central App

Hahaah!! Between that and the atrocious UI decisions the G2 was a very odd device

oh god, i just had flashbacks. that was the worst sound clip to exist on a phone ever.

Why only a 3k mAh battery for such a big phone? Sure its removable, but I don't want to carry around an extra battery all the time

Yeah I noticed the battery size when reading the specs. Seems awfully small. Posted from the Nexus 7 (2013) via Android Central App

Are you guys missing one of the best features of this new phone?!! Nobody is commenting on what is one of the most exclusive features of this new phone! "As an advanced multimedia smartphone, the sound in the V10 has been designed to be best-in-class. The V10 features 32 bit Hi-Fi DAC by ESS Technology, designers of high-performance audio products for professionals. The LG V10 automatically detects connected devices and provides sound control options which can be customized. And the LG V10 is the first commercial device to utilize Qualcomm Technologies TruSig- nalTM antenna boost technology designed to intelligently optimize signal strength at all times for fewer dropped calls, faster data and better call coverage, no matter how the phone is held."

Not bad, LG. Not bad at all. I'm more intrigued by this phone than the Nexus devices that were revealed earlier this week.

same here... looks way better... can't wait to check out the camera...

2 Terabyte SD card? Posted via the Android Central App

They are future proofing it. In case a 2tb SD ever gets released Posted via the OnePlus One (Cyanogen OS 12.1 w/ Nova Prime)

Yeah, if you purchase the phone it comes with 200GB microSD card already so that's a very big plus plus

I like sex. Posted via the post master.

What kind? With who? What positions? Posted from the Nexus 7 (2013) via Android Central App

personally, every form available with men. just my preference. Nexus 5 | T-Mobile $30 Plan Edit: is that too far?

You need to have it first before you can like it

No ir blaster? Not a deal breaker but I really liked LG's remote app. Very convenient Posted via the Android Central App

Do any of the current gen phones have them? Didn't they only resurface for like one or two generations and then the fad was done, or is that wrong? Wubba lubba dub dub!

LG G2, 3 and 4 have them. Galaxy s6 has it. Htc M9 has it. Not the note 5 Posted via the Android Central App

OK cool, so either they don't really market them or I've stopped paying attention. Wubba lubba dub dub!

I'm shocked no one mention that ticker and how it would affect future Android updates. But eh... - I'm the guy at the bar turning the TV with his phone during your favorite sports game. -

Awe snap....good point. Updates are already dreadfully slow with anything but Nexus/Moto. This could be even worse

yes I would be interested removable batter and sd card!

Seems a little weak if you think about the specs of the upcoming phones.

Typical LG-released with 5.1 Posted via the Android Central App

But but but.... Every person in that promo was absolutely beautiful. Doesn't that count for something. Seriously though, the 2nd screen isn't original but maybe LG will find a way to make it work.
I kinda like the rest though. Seems different. Up to 2 TB MicroSd card? Damn, I was impressed when I saw the 200GB card in the video.
The double front facing cams seems interesting although I wouldn't have use of it seeing as I rarely if ever take a selfie. Unfortunately I don't have those LG ad looks.
Did I mention how annoyingly stunning everyone was?

Stunning, but pissed off. It cracks me up with models, how women have to look bitchy and the guys have to look stupid. ... Joe K. Posted via the Android Central App

And still 3,000 mAh? I don't know if these handles like luxury Posted via the Android Central App

Pretty solid across the board. A friend of mine is getting one when his contract expires. Me though. Ugh, I like the idea and I like the improved build quality, but my current G4 is just too good to even consider a replacement. Hope the camera features for video make their way to the G4. However, the one thing that's gonna make people very happy is not just the presence of a removable battery and microSD card slot, but also what looks like 64GB of base storage. Wait, is this TRUE??? That alone is going to make heavy users very happy bunnies. (Also, is LG V going to be what it is to LG like what Galaxy Note is to Samsung?)

no fingerprint sensor ?
to bad

There is. On the power button

it has, I think finally you have to learn how to read

sorry finaly
fingerprint sensor

Hey PHIL NICKINSON , may I ask what are your 1st impressions about this phone? Compared to Moto X Style and Note and even Nexus 6P (yeah we all know you always Pure android experience). Even as a phone itself, what are your thoughts about this beauty V-10. Reply please completely neutral

"This beauty V10." "Please reply completely neutral." I'm guessing any "neutral" reply that didn't praise this "beauty" wouldn't be satisfactory to you. Posted via the Android Central App

:-( Posted via the Android Central App on my Galaxy S3 Neo Dual Sim which thankfully doesn't have S-pen and does not have a horrible metal body.

I may get this Posted via the Android Central App

What's the use of that secondary screen by the way? Posted via the Android Central App

Same as on Note Edge and Galaxy S6 Edge. Perhaps even better Posted via the Android Central App on my Galaxy S3 Neo Dual Sim which thankfully doesn't have S-pen and does not have a horrible metal body.

Based on the promo, what interests me most is how it puts icons there for the most recently used apps. So if I'm doing things with 2 or 3 apps at a time, I could easily switch between them without having to go to the recent apps list. I also like how it can be used for notifications.

Unless fads like this and the edge are what happens when phone designers run out of new sensible ideas to sell you. They hype it up and think of things to do exclusively with the curve or screen that could have worked with a regular screen, just to convince you to but this phone instead. What the hell are they really going to do with this what a partitioned larger screen couldn't do? Honestly Posted via the Android Central App

Is this the new G series or will tjere still be the G5 next year? Posted via the Android Central App

From what I read, this V series replaces the G series.

the V series will replace the "G Pro" series

They need to release with 6.0 - no excuse when it is out as dev mode for a while.

Another 808 with more screens and more cameras and more to struggle with? I really wanted to love my G4 but I did not want a feature phone. I wanted all 150 of my apps, Swiftkey, Nova, and everything smooth. Instead I have < 30 apps installed. Google Keyboard and Launcher, and still freezing up on me if I dont restart it every few days. Beautiful device LG, just wish it didn't make me pine for some other device to actually get mileage out of it.

Dual SIM? Posted via the Android Central App

Gonna get this baby!! Posted via Android Central App

Might have to snag this bad boy. Sounds like the makings of a real beast. Wonder what the developers could do with that 2nd screen.

I like it and I'd definitely consider this device. I'd like to see a proper review delve into the UI first though. Posted via the MATERIAL AC App

If only it was a unskinned device. With these custom features like second display, dual cameras etc, and LGs own skin, this thing is never getting any OS updates any time soon, and that is the sole reason I'll pass this, otherwise it has everything I wanted in an Android phone.
I guess I'll go with a Nexus 6P and be a wall hugger.

G and V series will be separate. I think this phone shows LG's dedication to removable batteries and SD cards. Just like HTC is devoted to Boomsound these things are now officially LG's trade marks so rejoice power users. Now we just need to wait for the generation of G and V phones with 820 processors.

Damn I want the manual video camera to come to the G4 Posted via the Android Central App

I'm very happy to see that this phone has a removable battery and microSD card.

the G3 has both of those.

Thought they would be much better.

It would be awesome if they could put a headline news ticker that automatically scrolled news headlines across the second screen.

Everything dual, except most important SIM!? Posted via the Android Central App

LG will release LG V10 Dual

I'm ok with the 808 cpu, at least I know it works really well. Heck my Nexus 4 is still running as smooth as butter.
Updates with LG certainly worries me and due to lack of familiarity with LG phones for a few years I'm unsure of how heavily skinned their phones are?
I think I would really like this phone but have a few concerns as I've mentioned. Posted via Nexus 4

Thanks for the article. For AT&T phone, does it use Nano sim card? or, Micro sim card?

I have the V10 and I love it! Best phone I've ever had/seen, this thing is amazing and the second screen is very cool and functional, it shows recent apps, favorite contacts, you can answer the phone with it, and many other features that will only improve. This thing is blazing fast, posted first on the list for 64 bit benchmark tu tu! Posted via the Android Central App

How IR blaster does? Somebody who mentioned little bit about it?

I'd like to know too. My V10 is coming in this week, and I hope the IR blaster is solid. I am going from an old HTC One M7 - best Android phone I have ever had - which had an IR blaster back in 2013 which still works very well using AnyMote to control most TVs in my friends houses, and mutes blaring TVs in waiting rooms and restaurants. Greatest thing is, most folk don't think about phones having IR blasters because their iPhone has never had one. Pfft - Android has had them since 2013 - lots of Sammies and LGs have them / have had them, HTC One M7/8/9, a few Sonys, ZTE, Huawei devices too. Glad to see LG including this feature in the V line. Guess I'll find out in a couple days.