LG launches QSlide SDK to bring floating windows to third-party apps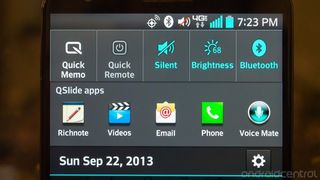 LG has announced the release of its QSlide SDK in an effort to bring more windowed applications to its Android phones. QSlide is LG's framework for miniature windowed apps, found on the G2 and other current LG phones. Similar to Samsung's Pen Window, QSlide apps can be used in the foreground while other fullscreen apps are running in the background.
Today's SDK launch makes it possible for third-party developers to bring this functionality to their own apps. SDK features include switching between floating and fullscreen mode, adjusting window transparency levels, customizing the appearance of the window and adding a quick launch icon to the QSlide tray in the notification shade. Interested developers can pick the QSlide SDK from LG's developer site, or through the Android SDK Manager. LG's also got documentation available as a guide for developers.
You'll find more info and download links at developer.lge.com (opens in new tab), or alternatively hit the link below for a general walkthrough of QSlide on the LG G2.
QSlide apps on the LG G2
Source: LG Developer (opens in new tab)
Alex was with Android Central for over a decade, producing written and video content for the site, and served as global Executive Editor from 2016 to 2022.
We have SDKs for this from Sony, Samsung, LG and probably others. I wonder why there isn't a core one for stock android of if there'll ever be. Makes more sense on tablets.

There is an android sdk -------------------------------------------
This space for SALE! BBM me #8675309

I think he means for multitasking. At first, I didn't get it either. Posted via Android Central App

Its because Goolge is so behind the times with features. They should spend more time on stuff like this than ruining the N10 interface and making white status bar icons.

No thanks. I like my precious screen realestate space. Removed off my LG L9 and OG Pro permanently. Posted via Android Central App

You do realise what this actually is, right?

Apparently not. Posted via Android Central App using an LG G2.

I don't think you understand the article. Floating windows are not permanently on the home screen. They can be added/removed resealed to fit multiple small windows on the screen. Posted via Android Central App

I've never really seen the point in this feature to be honest. What do people use it for? I don't see why you need to have a smaller window open on top of a larger one when you can just switch between them on full screens. Posted via Android Central App

I sometimes use the QSlide phone to dial a quick number or occasionally use the calculator, but other than that I honestly don't use it that much. I prefer Google Keep but I could see people getting some use out of the QSlide richnote app. The windows can be moved around and re-sized so it's not that bad.

There is an SDK for core Android. When manufacturers release their own it is so that developers can enable support for some add-on that is proprietary to a manufacturer. In this case it would allow developers to code apps that could run as floating windows on and only on LG devices.

Same Posted via Android Central App

Is this something where a developer could add support for QSlide into their app but still have the app run on other devices without the feature? Or is this something where once you add it to your app, that app will no longer work on other devices?

I think a lot of people in these comments are getting the QSlide Notification Bar confused with QSlide Apps. I got rid of the Bar too, but I kept the apps. The calculator has been handy at times.

The picture in the article doesn't help at all. Posted via Android Central App using an LG G2.

I love the q slide apps on my girlfriends LG. Wouldn't mind having something like this available for my HTC. Mike

I love the q slide apps on my girlfriends LG. Wouldn't mind having something like this available for my HTC. Mike

I'm hoping this means Google adds it to the YouTube app... Kills me that I can't open YouTube up in a window on my gpad Posted via Android Central App

LG should launch the Quick Window Cover SDK to bring third-party apps to that useful window. Imagine Google Music on that Quick Window for Google Music subscribers!!

I love this feature. I'm hoping other apps will take advantage of it now. Posted via Android Central App using an LG G2.

Can we install this on Nexus 4? Posted from Google Nexus4 via Android Central App
Android Central Newsletter
Get the best of Android Central in in your inbox, every day!
Thank you for signing up to Android Central. You will receive a verification email shortly.
There was a problem. Please refresh the page and try again.