LG G6 vs. LG V20: Is the flagship's camera worth the extra cash?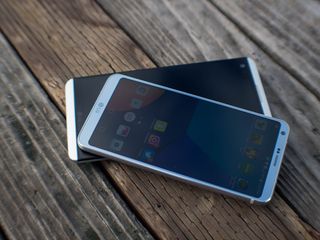 The dual camera setup featured on the LG G6 isn't new. This particular configuration was first introduced in LG's V10, which was released under the guise of being the content creator's ultimate camera smartphone. It's a great phone, though not necessarily aimed at the mainstream, with camera modes to appease the casual photography all the way to the serious videographer. But which one is worth buying?
The hardware + specs
I took a pre-production version of the LG G6 out for a day on the town along with last year's LG V20 in tow. Both phones boast a dual camera setup, though they're both equipped with different hardware.
The G6 comes with two identical 13-megapixel sensors — with one regular 28mm equivalent lens, and the other a wide-angle 18mm lens — while the V20 packs a regular 16-megapixel main sensor along with an 8-megapixel wide-angle one. For the most part, there's no striking difference in performance between the two devices, though the G6 does feel like a more polished version of what the V20 was aiming to do when it was initially launched late last year.
Significantly, LG heard feedback that the output between the V20's (and predecessor G5's) two cameras were too different, owing to variances in the sensors. The company attempted to address that issue by giving the G6 identical sensors at different focal lengths.
Performance and Interface
If you've used an LG smartphone In the past year, you may be familiar with the camera app's relatively simple user interface. I like camera apps that don't overwhelm you with options and camera modes all at once, and for the most part both the LG G6 and V20 succeed in that element. There are some nuances with the camera app on LG's newest phone, however, that may take some getting used to.
LG G6's camera app (left) and the LG V20's camera app (right)
First off, the G6's camera app takes advantage of its long, 18:9 screen by offering a camera roll of sorts to appear at the top of the viewfinder. It made me feel slightly claustrophobic at first, though, as I had the viewfinder pointed in the direction of the scene I wanted to shoot and a camera roll simultaneously updating on top every time I pressed the shutter button. Eventually, I came to appreciate the convenience of being able to quickly preview the last few shots I'd managed. It's the equivalent of perusing through previous shots on a DSLR, for example. The interface refreshes the camera roll, too, and it disappears and starts over with every new shooting sessions.
Second — and this is actually an annoyance with the V20, too — there is no button on the main viewfinder to quickly toggle on HDR. I imagine that would have crowded the interface with the wide-angle toggle resting pretty on the screen, but it's not particularly user-friendly to hide it in the camera app's settings panel either.
Regardless, LG's camera app is one of the least user offensive offered up in Android camera land. The various other modes — besides HDR — are easy to toggle between and fairly self-explanatory. There's also an options-within-a-feature menu offered for each individual mode; for example, you can switch between manual and automatic shooting when in auto-shooting mode. This particular menu screen shows up in the second screen on the V20.
The G6 introduces one new feature that might be helpful if you're a social media fiend. The guided picture mode, available as part of the square shooting option, lets you program oft-used guides as you need for shooting a photo a certain way, whether that's the way you hold something or simply ensuring that your backdrop is always on par. I'm still attempting to figure out useful situations for the other square camera modes related to this, but I'll follow up in the second-round review of the flagship.
Both the LG G6 and V20 were quick to launch and zippy to use, and despite the G6's pre-production software, I experienced no sudden crashes. I was a bit concerned about the G6's focus abilities, however. I thought maybe the camera lens was a bit smudged, but even after wiping it I continued to have issues focusing on objects, particularly close up.
Lastly, and I'm happy to see this particular gesture implemented: both the LG G6 and V20 have quick camera launch abilities. From the main Settings panel, you can flip the switch to bring up the camera app with a double-press of the volume down button.
Photo Quality
There is not much disparity between the photos produced by the LG G6 and V20. You'll only notice the slight differentiators if you're really paying attention, and if you're one of those people, then you should also know that the G6 offered the most malleability of the two, at least in terms of dynamic range. The G6 and V20 may both shoot in RAW format, if you so desire, but the former tends to retain more information to work with after the fact, not to mention that the photos it produces are sharper — despite having fewer megapixels.
Daylight
LG G6 (left) / LG V20 (right) — click to view larger
Photos at 100% zoom
An example of both the G6 and V20's wide-angle abilities
In daylight, the LG G6 and V20 seemed to perform nearly neck and neck. Whether I was shooting vibrantly-colored red cars or lazily pointing the camera toward docked yachts, I was pleased with the overall performance of both smartphones. They both share a few flaws, too, like an ineffective digital zoom (you can peep this in the example above) and the tendency to automatically overexpose parts of a photo (this is particularly prevalent if you're shooting in HDR).
The G6 was the better performer of the two smartphones because its end result tended to be better contrasted, even when the blue hues seemed to be displayed more vibrantly on the V20. The G6 also seemed to practice better white balancing than the V20, which was extremely helpful as I was shooting outside on a rainy day. And though most of the G6's photo files were a megabyte or two smaller than the V20's, owing to the lower-megapixel sensor, the photos tended to be slightly sharper, with better detail — a phenomenon that LG has managed to achieve despite putting a smaller 1/3" sensor in the G6 compared to the V20's 1/2.6" primary.
Low light
LG G6 (left) / LG V20 (right) — click to view larger
The LG G6's 1.12-micron pixels performed impressively well in low light environments. Remember how I said it was good at color balance, too? That comes through in darker photos, as seen in example above of the altar with the candlelight. I also liked the way the G6 captured the different colors of the decoden I have sprawled out on the table with the aid of a spotlight, whereas the V20 seemed to over process the color profile of each one. Still, both cameras performed well in low light conditions, and I was pleased with both soft-lighted portrait shots produced by the G6 and V20.
I also noticed that without the manual mode flipped on, the photos you shoot with the G6 or V20 in the dark will attempt to expose the entire scene, thus resulting in the overexposure of the actual light source. You can't tell there's a tea light candle in there. The G6's result is definitely more detailed, though — when I zoom in, I can more easily distinguish the different threads in the yarn, for example, whereas the V20's pixels appear muddled together.
Bottom line
This little comparison article has turned into a sort of revelatory journey on how the cameras have improved on LG's smartphones. To my eyes, this is the first time in a while that an LG smartphone can compete alongside what Samsung puts out — not to mention the Pixel (though it remains to be seen what the Galaxy S8 is capable of). In daylight, the LG G6 takes bright and vibrant photos that aren't overexposed. Conversely, the LG V20, which was marketed as the content creator's phone, often produced unbalanced photos and didn't offer nearly as much detail.
The LG G6 is also a true performer in low light situations, though the V20 was fine, too. The pictures may not have been as sharp as what the G6 produced, but consider that they were considered the best low light photos that LG offered mere months ago. If anything, this comparison proves the LG V20 is a good bargain and with a discount it's likely more affordable than what your carrier is charging for the G6. LG's latest flagship certainly offers its own upsides for the extra cost, but you can rest easy knowing that if you're considering the V20 because of its sale price, you'll get a camera that's nearly as good as the LG's latest flagship.
Florence Ion is an editor and columnist at Android Central. She writes about Android-powered devices of all types and explores their usefulness in her everyday life. You can follow her on Twitter or watch her Tuesday nights on All About Android.
i owned the V10 and think the V20 was quite similar in photography. But from what i've seen in the G6 vs Pixel and now the G6 vs V20, i think in general the G6 has a very competitive camera. not because it would be better or worse compared to others, but because it addressed the cameras flaws of the V10/V20 and that makes it a winner for me. With the auto modes and manual modes this is a fantastic camera indeed

I have the G5 and I came from the the lumia 950xl which had an amazing camera but I've been impressed with the G5 ESP the wide angle. For me if no other phone dose This when I'm due an upgrade in September I'll be getting the G6 as an upgrade form my g5

Agreed, the camera performance is great. Frankly I think it will improve with software tweaks in the future too. The pixel needed OIS, I hope it gets it on the next generation. The G6 looks very impressive. I think LG knocked it out the park with this phone. Too bad about the custom software and future lack of updates. IMO this is some of the best hardware I've ever seen on a device. I don't even care that it doesn't have the best SOC.

Flo, the V20 has a 1/2.8" sensor, not a 1/2.6" sensor.

Nope, it's 1/2.6" Source 1: https://www.dxomark.com/Mobiles/LG-V20-Mobile-review-Dual-camera-with-great-results Source 2: http://www.gsmarena.com/lg_v20-8238.php

Fair enough, but hear me out. I'm pretty sure that the V20 uses a Sony Exmor RS IMX298, a 1/2.8" sensor with a resolution of 4656x3496 and has 1.12 micron pixels. For the record, that is the same sensor used in the OnePlus 3/OnePlus 3T, Xiaomi Mi5 and Huawei Mate 8, although the V20 has a slightly wider f/1.8 aperture and a wider-degree of stabilization on its OIS. Here are some other things. 1) The G4, G5 and V10 used a Sony Exmor RS IMX234, a 1/2.6" sensor with a resolution of 5312x2988. That sensor does not feature PDAF, which the V20 does.
2) The aforementioned IMX234 also shoots in 16:9 at native resolution, while the IMX298 shoots in 4:3 at its native, just like the V20.
3) The V20's effective max resolution as mentioned above is 4656x3492. The IMX298's effective resolution is almost exactly in-line with that, at 4656x3496 according to Sony's specifications document. Sources;
1) http://www.anandtech.com/show/10654/hands-on-with-the-lg-v20
2) http://www.sony-semicon.co.jp/products_en/IS/sensor1/img/products/Produc...

Hmm, interesting. It's possible there are two variants of the IMX298, but it looks like you're right. Well done!

There isn't much concrete evidence as unlike Samsungs, AIDA64 doesn't list what sensor it uses, unfortunately. But it's very likely that it's using an IMX298 as the resolution and the V20's camera featureset falls in line with what the 298 has, so I wouldn't be surprised if that's indeed the case.

@Daniel Bader and @D13H4RD2L1V3 LOL you two are serious nerds!

Is the camera from the G6 so much better to give up the HIFI Quad DAC amp of the V20 ?

No way I would give up the Hi-Fi DAC for that small of a difference in the camera.

If you're asking that question it seems like you really put value on that Quad DAC. For most people, the camera improvement will be far more important.

We're not most people, though. For me, the cameras on flagship phones have been high points for quite a while. Audio has usually been a low-point.

I'm thinking a lot of people bought the V20 for the DAC. Once you go QUAD DAC you never go back.

I guess it depends which you value more. For me a big fat NO....I'll keep the DAC and the removable battery

Man I am so glad you said it, hell no it's not worth giving up, it could have the camera from the LG G2 and it still would not be worth it.

Half of those shots look better on the V20. LG still can't get it right,

Glass half empty kind of person I see... I think the V20 photos matching the G6 is the opposite.. LG got it right twice in a row so far.

If the G6 is LG's flagship, all shots on it should look better. Have they learned nothing from Samsung?

These ads are really annoying. I probably would do the same thing if I were ac, but they are annoying as hell.

What ads? the ones my adblocker is blocking? And is that a AMC Javelin or a Ford Pinto ....haaaa nice shape if a Javelin.

What do u use to block it on the app? I can only block on the website

Yeah, adding ads to the app sucks. I would pay for a premium app if I could stop these ads

Thank you for an example of the wide-angle cameras vs standard and each other Flo! I know this was a still camera comparison, but I wonder if the video is any better with the G6 than what you found with the V20 in your Nov review.

I have the V20. I like it. But I do think that the camera tends to over-expose shots - even in manual mode. That said, it was the best of the cameras available...other than purchasing a Lumia 950 XL...but then, you lose the apps.

"To my eyes, this is the first time in a while that an LG smartphone can compete alongside what Samsung puts out" Reliability aside my G4 smoked Samsung in that rotation, not sure what you're talking about.

I would agree. The camera on my G4 was much better than the wife's galaxy s6 in every way. To be fair, though, "awhile" is pretty subjective.

I haven't been on top of things, I just found out the g6 is a sealed in battery. Smh. That was lg's feature. The V series better not go that route I swear. I won't do apple, never. I love android bc of the options.

The G6 is sharper, which is nice, other than that they are close, something any simple software editor can adjust and improve. Would have liked to see a wide angle comparison, love using the WA's and is what makes these cameras superior to others on the market imo. Accoding to LG, 50% of the G5 owners use the wide angle as their main lens.

"To my eyes, this is the first time in a while that an LG smartphone can compete alongside what Samsung puts out — not to mention the Pixel" - Guessing you didn't read your co-workers articles...Camera comparison: Google Pixel XL vs. LG V20 or Camera comparison: LG G6 vs Google Pixel XL ?

It seems the Florence isn't as big a fan of the V20 camera as some of the others at AC. Glad she liked the G6. Not too sure about her comments on previous LG phone cameras keeping up with Samsung. The G4 and G5 both had excellent cameras that were comparable their Samsung counterparts. Always good to have diverse opinions and I like seeing the comparisons. If the G6 is an improved shooter it can only be good for LG and the consumer.

It took me a while to realize that the v20 in auto mode out of the box is set @12mp and that you have to change the setting to 16 mega pixel 4:3 to get full use of the camera. I have since seen lots of reviews where the reviewer clearly didn't make this change before taking pics. Huge difference for me image wise since. Just checking to see if you did the same.

Why the hell did you take a picture of a fourty some odd year old Ford Pinto sandwiched in between two way nicer cars? Those were one of Ford's worst ideas!

I'm just happy my s7 got the Note 7 camera with the N update, it's much nicer!

Correction: V20 uses 1/2.8" sensor instead of 2.6. It uses the IMX298, where the G4 up til G5 used IMX234. 298 has PDAF but shoots in 4:3, where 234 shot in 16:9 at max res.

I'm happy with my V10's camera, except for when it bootloop-ed, and had to be repaired, out of pocket. I'm sure you'll enjoy the G6 or V20... If they last...past a year.

The bootloop was caused by a snapdragon 808 solder issue. Last time i checked the g6 or v20 use an 820 and 821, so no issues there

Neither are worth their price considering LG's track record with defective hardware.

No phone is perfect. But I've had fewer problems with LG than with other phones. Samsung makes bombs and nobody cares lol....explosions aside I really liked my note7

I, have to agree with you. My V20 is the first phone that I, have owned that didn't get messed up after a few months. it's still blazing fast. Whereas with my Samsungs after a few months they got slower and clunky. I don't use the V20 any differently, in fact, I'm using it much more than I. have with any other phone and this is my first LG product,

I just realized why most camera reviews don't match my experience. Still life vs real life. When I have essentially equivalent phones, I find a bored kid in the store that is fidgeting and/or running around and find the camera that takes the best shot of that kid. Because that is my life. I rarely take shots of boats or food but living things in motion are par for the course. I would love if you added a motion component. Get a toy train set and try to take pics when the train is facing you and perpendicular to you. Do it at fast and slow and under different light levels. Because that is the closest you'll get under controlled conditions to my life.

My Lilly Esin once in a blue moon got a new choice of the crop Chevrolet Corvette Stingray Coupe by unavailable off of a laptop... flash it out +_+_+_+_+ http://www.moneytime10.com

Without a removable battery the G6 is of no interest to me. I got rid of an almost new Note 5 (which had a great low light camera) and switched to the V20 just because the non swappable battery had me turning off the GPS and running it in the inferior low power mode just to make it through a flight.

I'd buy an LG V20 over an LG G6.

when do the v series usually launch. probably going to wait for v30

My V20 takes way sharper pics than yours. Maybe clean your lens? Lol

My V20 takes way sharper pics than that. I guarantee that V20 was set at 12mp. Bump it up to 16mp and then we'll see.

Hope so ! going to pickup the v20 in few days. 16mp is just more for larger photos no? but loved the g6 its to narrow the way the made the phone dont care for it so i had returned it....screen was awesome though
Android Central Newsletter
Get the best of Android Central in in your inbox, every day!
Thank you for signing up to Android Central. You will receive a verification email shortly.
There was a problem. Please refresh the page and try again.