LG G5 arrives in Canada on April 8, comes with bundled camera grip on some carriers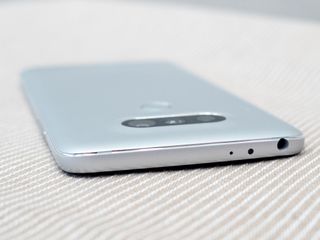 The LG G5 is set to hit Canadian carriers on April 8, according to a press release issued by the company today.
The Snapdragon 820-powered handset was one of our favourite devices of Mobile World Congress, recognized for the ambition of its modular design.
While the press release doesn't mention the price of the G5 itself, nor the availability of its Friends, the suite of accessories unveiled alongside the handset earlier this month, LG says that it will be available at Rogers, Bell, Telus, Fido, MTS, SaskTel, Eastlink, Videotron and Wind Mobile.
Rogers (and its flanker brand, Fido) will even be offering a bundle with the device: the company tweeted this morning that it plans to offer LG's Cam Plus camera grip with each pre-order.
It's unclear whether additional carriers will offer the same Cam Plus deal, but we'll update this post when we know more.
Daniel Bader was a former Android Central Editor-in-Chief and Executive Editor for iMore and Windows Central.
Maybe a little sooner for T-Mobile, maybe? Here's hoping! Cheers Canada. Posted via my LG G4

I'm just hoping the Music Freedom carrier bundles the DAC....

Not a bad deal. The camera module comes with an extended battery, I believe.

No thanks. Patiently waiting on what Sammy has in store for the Note 6 :)

Lol good for you XDA: Shayneflashindaily

praying the htc 10 has a removable battery and at&t version has 64gb/128GB available. The 32Gb is the only thing that makes me not want the G5.

32 gig is plenty for internal storage when you have a SD card slot. Posted via Material AC app running smores.

It definitely won't. I'm hoping LG gives us this same battery style on a bigger phone.

What is the unlocked price of Samsung galaxy s7 and lg g5 in USD?

TOO LATE Posted from my Nexus 6/Nexus 7 2013/Surface Pro 3

I will happily wait 3 weeks to compare the two rather than make a poor decision based on the internet equivalent of posting "first" in the comments...

Who were you even talking to Posted via the Android Central App

He was talking to Thatguy97. Posted via the Android Central App

So thatguy was talking to himself?

I was thinking about LG's decision not to reveal a launch date while listening to last week's podcast today. Nice to see they didn't keep us waiting too long! Posted via the Android Central App

Would be good idea for LG to bundle that camera across all carriers without charging a fortune the pair.

Wouldn't be too surprised if that is the case, didn't all of North America get a 200gb micro SD, battery and charger pack with the V10? Posted on LG V10 via the Android Central App

yeah, it was something like that. here's hoping

If lg had released it at the same time as the galaxy s7 I may have waited to see them side by side.
Instead I went ahead and pre ordered an s7 edge. Posted via the Android Central App

I'd rather the dac. Posted via Material AC app running smores.

For me, it's either this, the HTC 10, or the Z5 Premium. Wife gets the Nexus 6 soon.

Personally I'd go for the Z5 Premium. I think it's a killer of a phone and the design is top notch in my opinion. Gold Platinum Galaxy Note 5

I can get it for $179 CDN through Bell. Sounds a lot better than 500 for an S7e. I'm guessing the G5 and M10 will be $199-$299

Do you hate yourself and all around you? Posted via the Android Central App

How is that possible? I'm Canadian.

It is damn near impossible but waiting on the M10 makes it possible Posted via the Android Central App

You know what? I judge Daniel because of my perception from him on another where he seemed sold to Apple but it sure feels good to see Canadian news on AC. That you Daniel! Posted via the Android Central App

Bundling modules with some purchases is certainly a good step in attempting to have this take off. But I think they need more compelling modules in the future. As for me, I'm just in for the removable battery. PS: I think LG made a mistake in launching the device pretty late after the MWC announcement, but that's just what I think
Android Central Newsletter
Get the best of Android Central in in your inbox, every day!
Thank you for signing up to Android Central. You will receive a verification email shortly.
There was a problem. Please refresh the page and try again.