LG G Pad 8.3 coming to Korea Oct. 14, 30 countries by the end of the year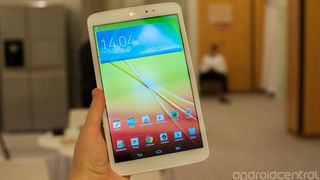 LG's new entry into the mid-sized tablet market, the G Pad 8.3, will come to the manufacturer's home country of Korea starting on October 14th. Taking to its blog, LG notes that the tablet will go on sale directly online as well as in malls and other shops in the country. But the sales won't stop there — just as it promised when the tablet was announced, LG plans to have the G Pad 8.3 on sale in 30 countries by year's end.
With a Snapdragon 600 processor, 2GB of RAM, 1920 x 1200 8.3-inch display and several interesting software features that match up with LG's recent phones, the G Pad 8.3 is likely to be a solid proposition for many. Pricing is set in Korea at 550,000 won (about $515 USD), but official pricing isn't known yet for other markets.
If you need a refresher on what this tablet is all about, be sure to check out our extensive hands-on from IFA 2013 below.
LG G Pad 8.3 hands-on
Source: LG (Korean)
Get the Android Central Newsletter
Instant access to breaking news, the hottest reviews, great deals and helpful tips.
Andrew was an Executive Editor, U.S. at Android Central between 2012 and 2020.
Another tablet to launch last week with impressive features and performance is the new Pipo M7 Pro ($255) -- that packs in a solid device that includes an 8.9-inch 1900X1200 display (Samsung PLS screen); along with a Quad-Core processor - 1.6 GHz / 2GB Ram - 16GB memory; and GPS navigation. Plus features Bluetooth 4.0, WiFi, premium dual speakers, a large capacity 6300 mAh battery, and Dual-Band WiFi (2.4/5.0 GHz). This new model also offers a microSD memory card slot, Dual Cameras, two MicroUSB connection ports and Android 4.2.2 O/S; and a 3G HSPA+ edition is available for slightly more that works with AT&T, T-Mobile, and Straight Talk for wireless Internet. One U.S. site with more product details on the Pipo M7 Pro is-- TabletSprint

Stop spamming this Pipo bullshit every time there is a post about a tablet. Posted via Android Central App

Pipo actually has a good reputation in making high-end tablets for about $200 - $230. I bought one of the newer models, but should have waited until they worked out the bugs. The older models seem to be working just fine. I think a lot of people on this site would really enjoy a Pipo tablet. They're like Foxconn, they make tablets for others... but they've gotten into the tablet market in China selling directly.

I had the Pipo M7pro for a couple of weeks, and I loved everything about it EXCEPT that the software had some bugs. And in order to update the firmware, I had to wipe the tablet clean each time. Now, Pipo does release new firmware every 1-2 weeks, but as of the end of August, it wasn't stable enough for me. Random resets once or twice a day, sluggishness at random. I could tell it wasn't a hardware problem, because it varied from firmware to firmware, and the CPU was a beast! Rockchip did very well with the quad-core 28nm A9 processor, but until the firmware catches up, I wouldn't get another M7pro. It was really awesome though... $220 for a table that would be more than double that in the U.S. :(

Price seems... Really high. Posted via Android Central App

Let's hope that price is not the same in Canada (doubtful). If it is similar pricing then I unfortunately will not be picking up this device as I had hoped. Posted via Android Central App

Prices of merchandise in general (especially electronics) are overpriced compared to USD. That's why I didn't buy my laptop while in Korea due to the premium on electronics (even though the manufacturers are from the same country.)

$515?!?! I know that speculative but seriously! If that price starts with a 3 or a 4 it's dead in the water over here. Once over $300 you might as well pony up for an iPad. They just don't get it.... There's a nexus 7 for $249! Sheesh!! Posted via Android Central App

Hopefully the price will be a bit lower when it hits the states. This will be my next tablet if it's priced right!

That prices($515) kills it, If it couldn't get lower than $300 then I will just keep my N7 2013. Even then I have to weigh the ease of root/unlock & size of the dev community which are all in N7's favor.

relax people... electronics in general in korea or asia is more expensive than here

No crap people need to chill, that price is simply the straight exchange difference and as you mentioned that is never however electronics work. I would be shocked to see this priced higher than $299. They potentially have a real winner at that price range but anything more and they clump themselves in with to many other options.

This. Posted via Android Central App

That is nuts. Anything over $300 for a 8" tablet is just too much. The Note 8 is an exception because of the stylist and special features. Still too much though...

Agreed..
Those that got the Note 8 last month @ $243.00 out the door at Staples got a fair deal for what now is an Antiquated Device.. There are a plethora of apps in the playstore that do the same thing as the Note 8.. I too was hoping to snag one of these G Pad 8.3's for $299.00+Tax.. I'm currently sitting on a N7 2013. But least we not forget the Nexus-10 2013 is just around the corner as well..:)

Lol, this doesn't mean the G Pad will be $515 here. Relax, everyone. Posted via Android Central App

I know that most of the hands on reviews on this tablet are great! I also know that the price here is just speculative, but if the $515 (US) price is correct, then this tablet is dead in the water! To bad because I was thinking this was going to be my next tablet...has everything that I want from power to size, along with LG's build quality! I hope they are wrong about the price...just have to wait and see.

LG makes great products. My LG TV has lasted almost 3 years and is still running strong. My next phone will likely be an LG (maybe an HTC if they don't go bankrupt). I've been considering the Samsung Galaxy S4 (or S5 when my T-Mobile contract expires), but the software is gimmicky and the battery drains too quickly.