Let your lawn water itself with Rachio's Iro Smart Sprinkler Controller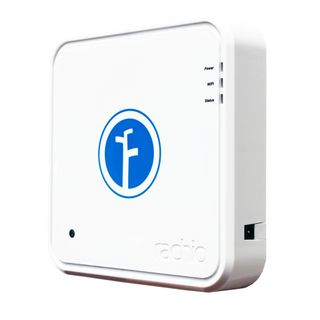 In an effort to save billions of gallons of wasted water and people's spare time in one fell swoop, Rachio has announced its Iro Smart Sprinkler Controller that lets you manage your lawn sprinkler system from your mobile device over the internet. This single Wifi-enabled box adds brains to your otherwise dumb centralized sprinkler system, automatically adjusting to weather and seasons to use as little water as possible while also keeping the grass green and healthy.
Following an easy installation that simply requires the swapping of a few wires and replacing your old controller, the Iro Smart Sprinkler Controller then pulls down localized data to customize your sprinkler system and water usage through an Android app found in Google Play.
The Iro Smart Sprinkler Controller is available at nearly 1000 Home Depot locations across the country for $249 — not a drastically high price considering the potential simplicity once you have your sprinkler system thinking for itself.
Rachio Launches Iro Smart Sprinkler Controller at Home Depot Locations Nationwide
EPA Estimates nearly 3.9 Billion gallons of water are wasted per day by inefficient landscape irrigation systems
DENVER – June 04, 2014 – Rachio is excited to announce the launch of Iro Smart Sprinkler Controller at 990 Home Depot locations across the country. The Wi-Fi connected Iro acts as the brain of a landscape irrigation system, automatically adjusting to weather conditions and seasonality to use as little water as possible, while maintaining beautiful lawn.
The iOS and Android app powered Iro creates a watering schedule based on location, taking into account regional characteristics and restrictions. This includes adjusting watering patterns to best meet the needs of various soil types and adapting to unpredictable weather.
Iro's ability to learn and automatically adjust to its environment helps address the country's growing outdoor water waste issue. The Environmental Protection Agency (EPA) estimates 50% of the 7.8 billion gallons of water used daily for landscape irrigation is wasted. With Iro users can reduce their impact and track usage over time. "Iro is the ultimate marriage of conservationism and convenience," said Chris Klein CEO and Co- founder of Rachio. "Our smart sprinkler controller takes the hard work out of maintaining your yard so you can get back to enjoying it with the peace of mind you're limiting water waste."
Iro installs quickly and easily. Users begin by unplugging their old controller, detaching the low voltage zone wires and removing it from the wall. They then mount the smart controller to the wall and reconnect the low voltage zone wires and plug it in. Finally users are prompted to sync Iro through the Rachio smartphone app. Once attached users can hold their Smartphone up to a sensor on the Iro and it will connect to their home wireless network. The app will then lead the user through a simple zone setup process that will create a localized watering schedule. The free Rachio app is available for download at Apple's App Store and from Google Play.  The Iro Smart Sprinkler Controller is available immediately at www.rach.io and Home Depot stores for $249.
For more information on about Rachio please follow the company on Facebook and @_rachio.
About Rachio
Based in Denver Colorado, Rachio creates products that change the way consumers interact with their home and backyard, transforming them into a source of enjoyment and peace. The company's mission is to design solutions that provide convenience through home automation while always considering the impact on our environment. For more information please visit www.rach.io.
Andrew was an Executive Editor, U.S. at Android Central between 2012 and 2020.
An interesting idea, but I don't water my lawn often. I have drought resistant grasses suited to the heat of the summer here. I'll pass on this connected device, but keep them coming! Posted via Android Central App

Exactly. My response is that I don't even bother with grass and never water, I just let whatever grows stay- over the years it is self-adjusting and is a mix of dozens of different types of grasses, weeds, clover, "flowers", whatever. I just mow it every week like I would grass. It is green. :)

We humans are becoming very LAZY!!! Posted via Android Central App

In all reality it has more to do with conservation, I work for an irrigation distributor and the typical home owner has no idea how to adjust there controller. And everyone wants there system turned on beginning of April, for no reason. Its as green as it's going to get here in Iowa right now but thousands of gallons are being wasted watering lawns.

Sold... It'll pay for itself in about 3 years at my house... That's my guess anyhow Posted via Android Central App

$20 rain sensor. Done. Posted via Android Central App

I think if I was going this far, I'd rather find something that had sensors in each zone I wanted to water, rather than relying on a weather forecast and me saying "yeah, the grass is still dying, be more aggressive."

Something like that would cost way too much...

They make rain sensors for these things. $20 Posted via Android Central App

Those only stop the system during a ran event, they dont prevent watering based on weather. You could get 3 inches if rain Monday morning and depending on the rain sensor dry time setting the system could run Monday evening, Tuesday morning etc. They are great for stopping the system if rain starts though!

Toro moisture sensors, with a Toro evolution controller, that is if you can manage to get the sensors to sync...

I thought Nest would come out with this first! Brought to you by the Nexus M8

Right but Google will probably buy it and make it work with nest within the year
Posted via Android Central App

This thing waters the lawn while Amazon brings the groceries over as you slovenly telecommute with drool running down your face.

This is super useless. Most systems have a clock which controls the whole system. You can get a $20 sensor that won't water the lawn unless it needs it.(it just rained, system won't run) Most sprinklers systems are set up so that they run without user input. Why would you spend that kind of money to change something from automatic? Posted via Android Central App

Senor does nothing if there is a storm coming in. Lawn is already watered then and inch of rain falls... This is by far the best sprinkler controller on the market. Waiting for mine to arrive...

And how many times does that have to happen to justify the money wasted on this. Again, It's garbage. Posted via Android Central App

Fewer than you might think. I can easily spend $150/month on irrigation during the summer months and I don't have a particularly large yard. It would likely take a couple of seasons to pay for itself. Even sooner if it's a new installation.

I see people watering their yards all the time when raining and their is no doubt this would pay for itself over time (4-6 yrs) if you pay for city water and care how your yard looks. I also like to have access to my sprinkler system on my phone. Apparently it's not for you which is ok but why all the hate? Why call it garbage when its in fact very innovative? Grow up!

All the time. Its not just about rain. People in Iowa have had there systems on since April, and we have had a ton of rain, but guess what, everyone has there systems going. The grass doesn't need watered, it's as green as it is going to get. But ppl insist of wasting water. Thus would help with that with weather based information.

Rain sensors are hard to set correctly in arid areas. Ideally the evaporation rate of the sensor should be close to the rate of the soil. Here in Denver the wind and ambient humidity vary a great deal making that especially hard. Also, you have many watering restrictions and tiered usage pricing in many places out west. Sure, there are many places a simple rain sensor switch is more than adequate. However it's not the best solution in all cases.

I've been using the EtherRain8 for years. Works great and uses weather forecast information for when to water or not water. Works great!

I currently have a Rain8 that works with my x10. I had Girder to control it and puled forecasts and rain fall totals from the Internet but wanted a better and modern solution so I ordered one of these. You have a EtherRain8 so there would be no good reason to replace it but I have no doubt this is much better. For the 8 Zone it does cost more but for 16 zones it's only $50 more and that is bargain considering the only way to extend a Rain8 is to stack them which I have been considering for years...

I tried to get my work to carry those lol. Hunter has New things coming out for there proc but I dint think it's going to be anything like this.

You can buy the RainMachine from Amazon for the same price. It features capacitive touch screen, Wi-Fi, and waters you're lawn by checking the local weather forecast.

and the UI is much cooler.

How does a capacitive touch screen on a controller compare to a smartphone or tablet? Controlling the device from your smartphone or tablet (or web) is much better!

RainMachine also has app for Android and iOs, so you could use that. However, for the same price as the unit that is reviewed here, you get a system with a big 6.5" screen.

The smartphone apps for that device are pretty lame. Also, not sure how many zones it comes with but the device reviewed here was only $50 more for 16 (from 8 zones) which is a bargain. I could cancel my order and go with this one but I'd rather have a high quality smartphone app then a screen I would never use...

This word "Smart" is making people pay too much toooooo often and making us lazy Posted via Android Central App
Android Central Newsletter
Get the best of Android Central in in your inbox, every day!
Thank you for signing up to Android Central. You will receive a verification email shortly.
There was a problem. Please refresh the page and try again.