Lenovo's Yoga Book aims to be the tablet-laptop convertible the Pixel C never was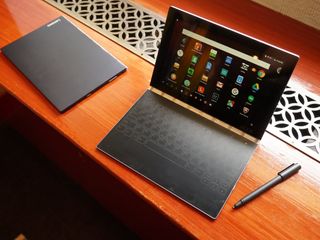 The end game for any sort of tablet is, really, for it to transcend its status as merely being a tablet. And this is the stuff of legend, folks. We're talking about the likes of the aborted Microsoft Courier. We're talking about what ASUS tried to do with its Transformer line. Or, really, what Microsoft has managed to accomplish with its Surface devices. And we're also talking about what Google generally failed to do with the Pixel C.
And now we have the Lenovo Yoga Book. Two, really. One running Android, the other Windows 10. (With the latter named "Yoga Book with Windows.") Two huge swaths of glass, but only one is a display — the other moves between a touch-only keyboard and giant stylus tablet. And it's a really neat idea — let's take a look.
The display comes in at 10.1 inches with a 1920x1200 resolution and can put out 400 nits of brightness. It's got 64GB of internal storage and 4GB of RAM, along with an Intel Atom processor and an 8500 mAh battery inside that slim and svelte 9.6 mm thick exterior. And we know what you're thinking ... no, this isn't one of the processors that Intel has dropped support for or discontinued — Intel is still committed to the Atom line and powering convertible devices just like the Yoga Book.
But that's all of the relatively simple stuff — let's talk about the design and functionality of this thing. Clearly borrowing from Lenovo's Yoga line of laptops, this isn't a detachable 2-in-1 but rather a laptop-like form factor with its watch band-style hinge. But instead of a physical keyboard on the non-screen half, you get an expansive glass panel that pulls double duty — a press of a button turns it into a backlit touch-only keyboard or a tablet-sized stylus writing area.
The "halo" keyboard appears out of nowhere with lights defining where keys can be pressed, and while typing on it definitely takes a little bit of getting used to it's something we could immediately manage for shorter bursts of text input and if the software is done right could be something you could get quite quick with. And no matter what it beats typing directly on the screen — this way you can more easily multitask and hop between typing, writing and managing content on the screen.
Image 1 of 4
And when you're not actively using the keyboard or stylus and want "just" a tablet, the hinge lets the bottom half of the device fold back completely and marry up to the back of the screen for a tablet-like form factor. Sure at 1.52 pounds (690 g) it's a little heavier than what you get in some dedicated tablets of the same screen size, but then again these convertible devices will always offer some sort of trade of in experience on one side or the other.
The Yoga Book is perhaps the most visually appealing and interesting convertible Android tablet we've seen, and we have to applaud Lenovo for trying something entirely new rather than trotting out a simple detachable keyboard 2-in-1. How it actually lines up as a device you'd want to type a bunch on or be willing to carry around the extra weight of will be something that has to be determined over more time using it. For now, color us enamored with it — the practical stuff can come later.
Get the Android Central Newsletter
Instant access to breaking news, the hottest reviews, great deals and helpful tips.