Lenovo officially announces pair of Android tablets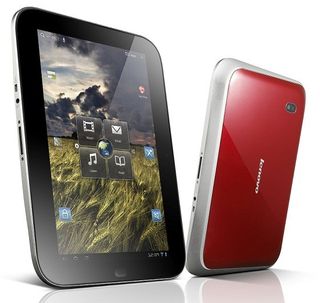 Lenovo this morning officially unwrapped a pair of Android Tablets -- the IdeaPad K1 and ThinkPad. Both tablets spot a 10.1-inch touchscreens *at 1280x800), NVIDIA's Tegra 2 processor and Android 3.1. The IdeaPad K1 -- which we spotted a day early at Office Depot in New York -- weighs 1.63 pounds and is the first Honeycomb tablet with Netflix support along with HDMI out.
The ThinkPad expands on the IdeaPad, adding an optional stylus, full-size USB port, full-size SD card and mini HDMI, plus a wealth of software options key to enterprise.
The 32GB IdeaPad K1 is available today for $499 in the U.S., and worldwide sometime in the third quarter.
The 16GB ThinkPad is $479 without the stylus, $509 with the stylus, and a 32GB version is available for $589 with the stylus. It'll be available starting Aug. 2.
Source: Lenovo (opens in new tab)
Hmm... Lenovo uses the ThinkPad name for their (Windows) laptops. Are they trying to generate confusion?

Actually, "ThinkPad" was originally IBM's brand name for a tablet PC, way back in the 1990s. Only later did IBM decide to use the name for conventional laptops. So you could argue that this is just the ThinkPad name (now owned by Lenovo) reverting to its original meaning!

Ugh. Lenovo can't make a decent notebook...wouldn't touch one of these with a ten footer. And that's coming from an IT admin whoes had to service the damn thinkpads at least twice a year at work!

Saying I work with Lenovo machines I have not had any major problems with them. Yes there is a lemon every once and a while but what provider doesnt have one. And their warrenty service is great anyways.

What models?
every single t400, t410, t61 and 61p have fans that fail a year in, the mobo problems with usb, docking issues, and I dunno who designed it but I should be able to boot a laptop on ac power even if no battery is present. That and the fn key is in the dumbest place. Not a fan lol. Oh and the drive controllers are crap. Soooo many lemons.
we stick with dell tyvm.

Wow. I would have said exactly the same thing about Dells...mobo, fan, screen failures just out of warranty... If the screen on the Thinkpad tablet isn't crap, I was thinking it might be worth getting w/ the dock/case. It's an interesting and more secure alternative to an Asus Transformer (which has had lots of screen issues like backbleed, too much glare washing out colors, etc.)...

as a tech that does Lenovo\Dell\Acer\Asus\Toshiba warranty repair work and out of warranty Apple repair work. And as a tech who supports multiple sites that have over 200+ Lenovos, several sites that have 100+ Dells and I'm sad to say a site with 50 Apple's.... I will tell you right now that Lenovo makes some of the best laptops on the market. Period. IMHO in order its (Lenovo-HP tied)\Toshiba\Asus\Sony\Apple\Acer\Dell\[anything else]\Gateway

SO netflix should be coming to the rest soon right?

$8 a month for unlimited streaming is overpriced? What other legal alternatives offer a cheaper option for the same service? I like hulu for current release stuff as well, but I like watching older shows and movies as well.

What kind of technology does the stylus use? Wacom? N-Trig? or something totally different?

That's what I'd like to know as well. The N-Trig in the HTC Flyer gets the job done in a pinch, but leaves some to be desired in terms of refinement and precision.

what makes this so special that it has netfliks? they all have same insides

If I listen to my cynical self, I'm betting Lenovo paid Netflix extra money to get it approved. Reading the specs, it seems like these tablets have the same configuration as others, I don't see how they could get it and others couldn't unless some money changed hands somewhere.

Actually no they don't all have the exact same insides software wise. Lenovo was first to get Netflix certified because they customized Honeycomb to make it fully compliant with Netflix standards and thus Netflix tested it and then approved it. This should be interesting, as Lenovo has a very strong reputation in the business laptop arena. The specs look good and Lenovo is packaging a goodly number of very useful apps with it (including the full version of Documents to Go and free cloud services).
Android Central Newsletter
Get the best of Android Central in in your inbox, every day!
Thank you for signing up to Android Central. You will receive a verification email shortly.
There was a problem. Please refresh the page and try again.