LCARS Watch Face for Android Wear brings Starfleet to your Smartwatch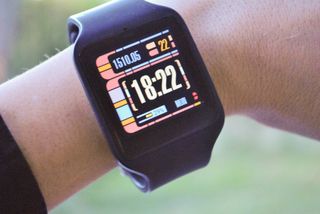 One of the best features available to us in technology today is the constantly evolving ability to personalize, and that's never more true than it is during the month of October. Whether you're considering joining up with Starfleet for a Halloween party, or you just like to wave your geek flag you should definitely check out the LCARS Android Wear Watch Face. Inspired by the LCARS system on Star Trek this Android Wear watch face is simple and fantastic.
We've got all the details for you here.
The LCARS Android Wear Watch Face is a simple but awesome selection for any Star Trek fan. At the top of the screen you'll see the Stardate, which can be replaced with the actual date in the options. The middle of the screen is dominated by the time in a 24 hour format, and below it there is a battery indicator icon along with the day of the week. There are two options for the face as well with both a circular, and a square aesthetic.
There aren't a ton of options when it comes to this Watch face, but there are a few. The easiest way to adjust the look of the LCARS watch face is to open it up on your phone. It's a list of 7 options that control what information is displayed. You can choose between a 12 and 24 hour format, 4 different ways to display the date, and indicators for battery life or steps taken each day.
You can also choose between the layouts here, but it's worth noting that the circular face doesn't always work well with square smartwatches. You can change some of these options from the watch by tapping on the watch face, but it's not a particularly easy process. We recommend adjusting your settings from your phone.
The LCARS Android Wear Watch Face on The Google Play Store is a fantastic watch for anyone who is fond of Star Trek. With features like multiple faces, the Stardate, and indicators for battery life it is a great watch face to try. Since it's available now for the great price of free, there's no risk in giving it a shot. Enjoy it whether you've been a fan for years, or you just need it to complete your Starfleet costume.
Jen is a staff writer who spends her time researching the products you didn't know you needed. She's also a fantasy novelist and has a serious Civ VI addiction. You can follow her on Twitter.
Let's see how long it takes Paramount / CBS to have this pulled like they did with the LCARS Tri-Corder app.

They did that? That's pretty crap. LCARS is supposed to be free for anyone to use, it was part of the designers contract. Unless this uses some other paramount intellectual property, which it doesn't appear to, it should be fine. Posted via the Android Central App

Gene Roddenberry made it so anyone could use terms such as tricorder, but paramount has had apps pulled because they have copyright for the UI/design. So this is likely to be taken down. It's a bit sad, it goes against the spirit of what Roddenberry wanted. Wubba lubba dub dub!

He also made LCARS free for anyone capable of making working software out of it to do so. CBS 'claim' copywrite of it, but nobody has ever challenged it in court because who has the money and the will to take on CBS so that they can make an Android wear app? Posted via the Android Central App

They also threatened a developer with a lawsuit back when Android Wear launched due to using an LCARS-inspired UI Posted via the Android Central App

I don't know, I've had an LCARS watch face for my Pebble for a couple years now. Posted via the Android Central App

Finally! A reason to get a wear watch! Wubba lubba dub dub!

Cool, I have finally found a reason to pay $300+ for a smartwatch. Still having a hard time finding a reason to spend money on one of these. I generally love new tech, and jump on new items just for the fun of learning. So far smartwatches just don't get me excited. Maybe its just the price vs thrill factor. As smartwatches mature maybe they will get more interesting. I would have hated to have spent $300 on the first Samsung watch, then to have them replace it in a few months, I have lost count on how many versions they have released. I keep reading the reviews and comments from users and I still don't get the point of playing around with a small screen on my wrist.

I've had this watch face for a few months now. I use it occasionally. It's nice and let you get your Star Trek geek mode going. But, it doesn't have much actual functionality which I wish it would. So much could be done with this watch face to make it like a real LCARS panel. Posted via Android Central App from a beautiful Ebony backed Original Moto X or the amazing Nexus 10

Could they have found a skinnier wrist to pair with that bulky ass watch? Posted via the Android Central App

Actually the Sony SW3 isn't really that bulky compared to most smartwatches. I'm just ridiculously tiny. It's a thing.

I'm using the round version of my LGW R now for a few months.. pretty sweet watch Posted via the GS6 Active, aka GS6 M.E. (Manly Edition)

For once I can say that I'm sporting two different Star Trek LCARS faces from Tizen on a Samsung Gear S! Posted via the Android Central App

And how are you doing that? Its the one thing I dont like about my Gear S. You see any stories about cool apps for Tizen. May be FORCED into AW just to get to play with some of the cool stuff.

My spot for watch faces for my S is gearfaces.com. Once on the web site search Gear S to bring up just the faces for the S. You're going to need the Watch Styler app installed to transfer them to your S. Posted via the Android Central App
Android Central Newsletter
Thank you for signing up to Android Central. You will receive a verification email shortly.
There was a problem. Please refresh the page and try again.