LCARS Watch Face for Android Wear brings Starfleet to your Smartwatch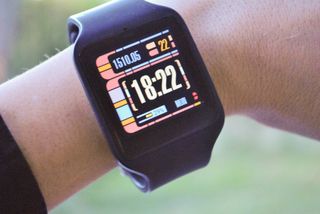 One of the best features available to us in technology today is the constantly evolving ability to personalize, and that's never more true than it is during the month of October. Whether you're considering joining up with Starfleet for a Halloween party, or you just like to wave your geek flag you should definitely check out the LCARS Android Wear Watch Face. Inspired by the LCARS system on Star Trek this Android Wear watch face is simple and fantastic.
We've got all the details for you here.
The LCARS Android Wear Watch Face is a simple but awesome selection for any Star Trek fan. At the top of the screen you'll see the Stardate, which can be replaced with the actual date in the options. The middle of the screen is dominated by the time in a 24 hour format, and below it there is a battery indicator icon along with the day of the week. There are two options for the face as well with both a circular, and a square aesthetic.
There aren't a ton of options when it comes to this Watch face, but there are a few. The easiest way to adjust the look of the LCARS watch face is to open it up on your phone. It's a list of 7 options that control what information is displayed. You can choose between a 12 and 24 hour format, 4 different ways to display the date, and indicators for battery life or steps taken each day.
You can also choose between the layouts here, but it's worth noting that the circular face doesn't always work well with square smartwatches. You can change some of these options from the watch by tapping on the watch face, but it's not a particularly easy process. We recommend adjusting your settings from your phone.
The LCARS Android Wear Watch Face on The Google Play Store is a fantastic watch for anyone who is fond of Star Trek. With features like multiple faces, the Stardate, and indicators for battery life it is a great watch face to try. Since it's available now for the great price of free, there's no risk in giving it a shot. Enjoy it whether you've been a fan for years, or you just need it to complete your Starfleet costume.
Get the Android Central Newsletter
Instant access to breaking news, the hottest reviews, great deals and helpful tips.
Jen is a staff writer who spends her time researching the products you didn't know you needed. She's also a fantasy novelist and has a serious Civ VI addiction. You can follow her on Twitter.