Krusell Hector Case review - a leather holster to go with your leather belt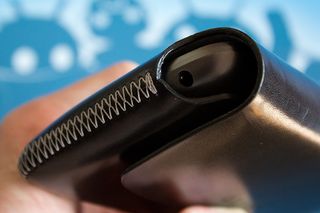 The Krusell Hector Case is a leather Swedish-made belt-mounted holster for just about any phone in the 4.5-inch screen range. It features a suede interior, hidden magnetic clasp, and strong, pronounced stitching. Obviously a leather and suede case isn't going to be offering much in the way of impact protection, though there isn't much much to worry about as far as scratches go.
Style
Leather and suede is a hard combo to beat in the style department. Black, brown and white options are available, as well as a bunch of sizes (small, medium, large, extra large, medium wide, and 3XL). Besides the Krussell logo on the front and the pronounced white stitching, the leather case is unadorned and smooth.
The materials are so nice, in fact, that I would be a little worried about using it day-to-day as rain and bumps could easily mar the finish on the case. Even sliding a belt through rear loops on a regular basis could wear into the case over time.
The only real downside to the holster is that you've got to be comfortable wearing these kinds of things. I'm still a pocket man these days, and until I find my calling as a high-powered exec with a Bluetooth earpiece permanently grafted to my ear, I can't imagine wearing a holster on a regular basis. Of course, that's just a matter of personal taste; maybe you can pull off the phone holster look better than me.
Function
The hidden magnetic clasp doesn't have quite as much pull on it as I would like. Conversely, the case is a little tight on the Galaxy Nexus, making it hard to pull out easily. I can only hope that over time, the leather eases up a bit and doesn't cling as tightly to the phone.
There's a little gap along the bottom that allows wearers to pop out the phone a bit if you're having trouble. There are also two gaps at the top by the flap, which has allowed me to keep headphones plugged in when the Galaxy Nexus was inside, though, your mileage may vary, depending on where the headphone jack is on your device.
I'm a little torn on the belt loop mounting. It's a hassle to get in every day, but it's extremely secure compared to clip-style holsters. If you're going to bother wearing a holster, it might as well be locked into place.
Pros
Cons
Bottom line
Though I'm not a huge fan of having to feed a belt loop through a holster, it's certainly more secure than clip-based holsters. It's obvious that the Krusell Hector leather case is a lot more about style than it is function, but in that regard, it succeeds admirably. Even in terms of being a good holster, the only thing I could really ask for is a stronger magnet latch; the clingy case seems to me like something that would ease up over time.
You are at very least getting value for the materials at $29.95, and for those concerned with looking good, it's money well-spent. You can pick up the Krusell Hector case over here in the ShopAndroid store for 10% off.
Sign up for Black Friday email alerts!
Get the hottest deals available in your inbox plus news, reviews, opinion, analysis and more from the Android Central team.
Simon has been covering mobile since before the first iPhone came out. After producing news articles, podcasts, review videos, and everything in between, he's now helping industry partners get the word about their latest products. Get in touch with him at simon@futurenet.com.