KitKat hits Samsung Galaxy S4 and Note 3 in the UK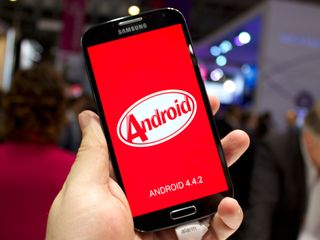 Over-the-air updates now pushing out
Samsung's KitKat rollout for 2013 devices continues with the arrival of Android 4.4 for the Galaxy S4 and Galaxy Note 3 in the UK. Updates are rolling out today for the unlocked UK GS4 and Note 3 (region code "BTU"), along with certain carrier variants. The OTA file size from 300-400MB, and brings these phones up to the latest version of Android, 4.4.2 KitKat, while adding some subtle visual tweaks, including white notification bar icons. Graphical changes aside, Samsung owners will also benefit from standard KitKat features like immersive mode, translucent notification bars in some apps, native cloud printing support and lock screen album art.
If you're seeing the KitKat OTA on your GS4 or Note 3 in the UK today, hit the comments and let us know how you're getting on, and which carrier you're on. As always, updates may take time to trickle out depending on which network's device you have, and if you're not seeing any OTA then you might want to try a manual update through Samsung's Kies desktop software.
Source: Android Central forums (1), (2); Thanks to everyone who sent this in!
Get the Android Central Newsletter
Instant access to breaking news, the hottest reviews, great deals and helpful tips.
Alex was with Android Central for over a decade, producing written and video content for the site, and served as global Executive Editor from 2016 to 2022.
I got my update an hour ago. Still have yet to play with it though

Just for the record NO ANDROID USER should allow GOOGLE to determine what kind of day to day user experience you want to have for the device you paid for or the monthly bill you pay out as well. Kitkat 4.4.2 is a restricted update for all android devices that use secondary sdcard storage. The way you're Note 3 works in conjunction with all your favorite third party applications and sdcard is something priceless on 4.3 Jellybean. My Note 3 enjoys a smooth day to day experience on 4.3 Jellybean without any issues it would be silly to change that experience for restrictions and not on my watch. If these links don't show why you stay away from Kitkat 4.4.2 on your S3, S4, Note 2, Note 3 or any android handset with sdcard storage then I don't know what to tell you http://www.androidpolice.com/2014/02/17/external-blues-google-has-brough... http://www.gottabemobile.com/2014/02/22/samsung-galaxy-s4-note-3-android... http://www.phonearena.com/news/Android-4.4-update-for-Samsung-Galaxy-S4-... https://news.ycombinator.com/item?id=7255579 https://t-mobile.jive-mobile.com/#jive-discussion?content=2Fcore%... http://www.gottabemobile.com/2014/02/27/samsung-galaxy-s4-android-4-4-2-... (Plain and simple NOTHING beats SAMSUNG or TMOBILE PERIOD Posted from my 4.3 Jellybean Galaxy Note 3 via Android Central App)

Richard, while I agree with you. (Partly cause you look like Uncle Phil) It's Samsung's job to to make sure their features are still intact after an update. Hopefully they work on getting this fixed. Much like the third party S-view covers.

These SD card issues are 100% on Google's greedy court. They're just trying to force manufacturers to drop SD cards and get users into the "cloud".

Wrong. It is not "100% on Google's greedy court". As the Android Police article Richard so kindly linked to states, Google had made these changes way back in 2011 to the first Honeycomb devices. All this time, Samsung et.al. has been changing the official code Google provided, to enable SD cards to work they they have always worked. Now suddenly, Samsung is playing ball with Google, and you're claiming it's entirely Google's fault. Check your facts.
Also, as the AP article states, a very likely solution to this hoopla is Google's Storage Access Framework, not "the cloud".

It's not the first time Google has complicated usage of SD cards. They've been on this path ever since sometime around Android 2.3, or something. Samsung and others has been forced to change code to get things like "Apps to SD card" working. Blaming that on Samsung is so backwards, I really don't know what to respond.... :)

While I see your point about the Apps to SD issue, that's the whole reason Google has been trying to do away with SD cards, or at least move to a different way to "manage" them (a la the earlier mentioned SAF). I have the 32 GB Galaxy Nexus. I've never once had to worry about what data was stored where (SD or internal). I've never once had a need to "move apps to SD" because it's all one partition. I can have the whole ~28 GB of usable storage for apps, or music, or movies, or a combination of these. And with the exception of moving .zips and extracting .apk's and such, have never really needed a file picker/browser (in the traditional sense).
Also, if Samsung's pre-loaded crap didn't take up 7+ GB before you've even first turned on the device, there wouldn't be a need for apps to SD. Think about it- Samsung advertises the S4 and S5 as 16 GB. Of that, about 8 GB is taken up by Touchwiz and all the added bloat which you *cannot* uninstall. Then, take away the couple of GB's due to filesystem formatting/differences, and you're left with less than half of the advertised storage space.

S5 has 10.7gb storage compared to nexus 5 12gb so not bad and would give a 2gb for expandable storage... Anyways just updated and have come across the sd card issues already. Seriously I can't even rename a file wtf is that all about. Fine if they don't want to use app to sd but at least let me use a sd card the way it should be. Keep all media files etc. That's what I do use the internal storage for apps and external storage for music, photos, videos etc but now with this crap I can't even manage the media on my sd card. Posted via Android Central App using galaxy s4

SAF is a limited workaround that Google has been wrestled into agreeing to use by OEM's. As Taz89 says, it's *limited*. Apps only gets full access to their own folders, which creates a lot of problems. Problems that are still there to convince people to switch to cloud storage instead of using the SD card. This is not a Samsung problem. This is 100% a Google problem.

Your wrong sorta. You could still use googles code and just 'hook in' without really rewriting anything. With kit Kat you do have a ton of rewrites. It will have to be, in simplest terms, a new app to have it work properly -------------------------------------------
You really should see the crap I don't post. Sorry if honesty offends you

I wish I read this before accepting the update. I'm now paying for it. I can't stand this update for the main reason that my pictures disappeared because of the SD card issue. My apps no longer available and I have no space on my Samsung Galaxy S4. I want to place a complaint and can't find where to do so. I would like to give them a piece of my mind. I've never rooted a phone and for the first time I am considering doing so just to have access to use SD card in piece. Most of my phones has been Samsung but if they continue on this path might as well cross to Apple if they are becoming like them.

Got my update yesterday morning..yet to see any improvements. Kinda wondering why I was checking for updates every two minutes for the last two months

lol, thats exactly what I was doing also. I was looking for a bit more

My galaxy s4 is updating, about time! Posted from my 2013 nexus 7, yeah baby!

Got my update yesterday, approx 380mb download. Installed without an issue. I've discovered very little difference so far, but from what I've read most of KitKat is under the hood. I've got an unbranded/unlocked Note 3, but using it on Orange/EE Posted via Android Central App

Casually waiting on Rogers Canada for my KitKat Posted from my TARDIS!

As above, no real visual difference apart from the white status bar. Don't use my S4 as an mp3 player so won't notice the music interface makeover. Text is now cleaner and leaner - nice touch. Won't benefit from emojis as I prefer Google Keyboard over stock Samsung. Has anyone else noticed emojis automatically convert SMS to MMS? I understand this isn't an issue on Hangouts. Won't benefit from the lock screen camera shortcut as isn't compatible with swipe lock. Nice Daydream addition which I will be making use of. Let's hope the 'under the hood' improvements make up for the lack of visual improvements. Posted via Android Central App

It's stupid the Emojis change it from SMS to MMS. Like most people in the UK, I don't get free MMS. Updating now though :D

Downloading (very slowly) now!!! Posted via Android Central App

I wish my note 3 would get it already......smh Posted via Android Central App

Not got mine yet but I'm on a branded o2-uk device :( Posted via Android Central App

My mrs is on o2, she said they're always slow to update Posted from my 2013 nexus 7, yeah baby!

Yeah they are. Will be moving from them when our contracts are over. Had enough of them trying to fleece us every month Posted via Android Central App

EE isn't too bad Posted from my 2013 nexus 7, yeah baby!

Dear Sirs,
We 1949deal are Chinese best android smartphone and tablet pc supplier for many years with great trust. We sell Chinese famous and latest brand like Huawei, ZTE, Lenovo, Zopo, THL, TCL, UMI, Utime, Jiayu, iOcean, iNew, Goophone and so on. Our website is www.1949deal.com. You can check our website to know more. We heard your website is famous and got high rank in the world, we sincerely want to cooperate with your forum, and invite you to provide us with a banner and write reviews for us. and then we can offer big sponsor to you! Your reply will be highly appreciated! Best regards,
Joy Website: www.1949deal.com
Email: desoonssz@gmail.com
Facebook: www.facebook.com/1949deal
Twitter: www.twitter.com/1949deal
Youtube: http://www.youtube.com/channel/UCP9Ck3S6na_xvpHBdoLCr6A
Google Plus: https://plus.google.com/u/0/107159998247343617375/posts

Seems legit Posted using my Galaxy Note 3 via Android Central App

Got update on my S4 (EE gave me an unlocked, unbranded one since I preordered!) So far the update has made the phone seem a lot more responsive. Especially from the lockscreen and between apps. Battery life seems better too so far, which was good before anyways. I would say well worth the wait! =) Posted via Android Central App

I got my update last week on my Galaxy note 3. I have a Vodafone locked device. Beware that the KitKat update does break some apps due to a change in External SDCard permissions.

got my update earlier on my s4 on ee but unbranded installing now

The notification bar seems a bit bigger since the update... Or it might just be me Posted via Android Central App

Seems well worth the wait! Sure it doesn't look much different, but the subtle changes are nice ones in my opinion. However it is MUCH faster and more responsive. I would say I possibly push my phone a bit and use it more like a computer, multi tasking and zooming about full Web pages, playing embedded video as I please, and even my note 3 would lag and struggle occasionally. This lag is now gone! Completely!!! On top of that there is a noticeable improvement in its battery life for me at least! I would say it's well worth the wait and a great update! Also not noticed any compatability issues with any apps and none of my apps have problems writing to ext sd... Although there have been a lot of app updates since yesterday.

Downloading update at the moment ,on 3network to S4 had to go into device settings to start. 384.82MB

Got my update samsung galaxy s4(Singapore) Posted via Android Central App

Seems like Kitkat is moving into high gear. Posted via Android Central App

I have the update to kit kat and I am on three uk Posted via Android Central App

Finally, downloading now. Posted via Android Central App using galaxy s4

Just got a notification, and I'm on Tesco Mobile. It's going reaaaaaaally slowly though.

Whohoo... Ireland are also getting it today on the GS4.

Not interested anymore. It was in November end. Posted via Android Central App

Update yesterday to kitkat on a unlocked note 3 on virgin mobile. If you sort the developer options out with the effects, it makes the device like lightning. Never seen any phone like this. Posted via Android Central App

How do u go about updating it I'm in Pennsylvania with a unlocked Note 3 waiting for this update? Posted via Android Central App

Have you tried using Samsung Kies software?
Plug phone into pc and open Kies, it will tell you which firmware version is on your phone and the latest version available, giving you the option to upgrade. Posted via Android Central App

Cool thanks Ima try that Posted via Android Central App

If I download this and flashing it thru ODIN, will that erase all contents? I have got the German 4.4.2 installed on my branded O2 phone in UK

Allllllllàaanicasmi brrŕo

The Kitkat upgrade for the S4 is available in Ireland as well. Posted via Android Central App

Got update last night on unlocked Note 3. Was hoping for improved native email app better supporting Exchange which I thought I had read was one of Kit Kats improvements. Nothing seems to have changed. Native email still rubbish so guess staying with TouchDown. Also noticed substantial random delays opening folders on home screen. So often thinking this is a problem. Neutral opinion for now.

How did u update or note 3 I'm trying to get kit Kat on my unlocked note 3 in PA Posted via Android Central App

OTA. I was in UK if that helps.

OK so I have to wait until its available in my location Posted via Android Central App

Guess so mate if PA is USA PA. I was commenting on article titled "KitKat hits Samsung Galaxy S4 and Note 3 in the UK" so assumed all comments were UK biased.

Nothing for o2, be next year knowing them... Yawn Posted via Android Central App

Absolutely bull....!!!! Since the update on my note 3 on virgin. Some apps stopped working like auto express. My battery life has drastically been reduced. By the time I hit the bed I am left with no more than 5 to 10 %. 25-30 % before kitkat. But more worryingly is my download speed over my wifi. I have 120 meg on virgin and my note 3 was easily achieving 105 to 110 meg. Now I barely get 20 meg. Internet is fine as other device still get full speed.
Is there a way of reverting to jelly bean?

Hi Ben, I have the N9005. I'm using it in Canada, but its the UK version of the phone. I got my update yesterday. Im facing similar issues... I was getting about 50 MB on wifi.. now only about 6 mb.. and on LTE (+) I was getting about 55 mb download before and now only 4 mb. Not too sure what the problem is with this update, I have noticed the battery is finishing much faster as well. Let me know if you find a fix. Samsung really messed up with some sort of data transfer coding.

Never mind the sd card issue I updated to this kitkat and the basic functions of the phone ate now a nightmare. The screen is very unresponsive and judders alot. The swipe function of the keyboard has a mind of its own and the network data is seriously slowed down with no fault of the provider. Think samsung needs to sort these everyday basic functions. Bring back jellybean. Posted via Android Central App

I got my update on Monday 10th March. though I really don't see much of a difference at this time. I got the impression that I'd see a great difference from 4.3. Though I realise that it uses less memory.... :)

When will the s3 get it is what they should be consentrating on after they fucked up on 4.3 and slowed my phone down so its unusable and have to charge it every 3 hours it ridiculous they make decent phones but there ignorant tight twats Posted via Android Central App

Notes on this issue:
1) Google doesn't like MicroSD, so their changes make this issue relevant to EVERY hardware configuration including an external storage slot, not just Samsung, but they do not make it impossible to use.
2) Samsung provided an OTA that forgot to include the ONE LINE inside the platform.xml that should allow everything to work normally.
3) I tried contacting Samsung, and all levels of their support are seemingly useless. Read my experience here: (Google+ Post) http://goo.gl/WmbFQR 4) I spoke with T-Mo Today (3/11/14) and they said they've been working on our behalf and communicating with Samsung about several MASSIVE issues the KitKat OTA is causing on the US T-Mobile network, including this MicroSD issue. 5) It is my opinion (legal-smart people jump in here) that if Samsung provides hardware, they are required to provide functionality of it, regardless of OS Version on the device (If this were not the case, then Samsung could theoretically sell Blu-Ray players that, after receiving a firmware update, no longer played BD discs. If they could legally claim that they didn't have to support said functionality, I would think that people would stop buying their products, and maybe the CPA would get involved...) 6.) T-Mobile also let me know that SAMSUNG has directed T-Mobile to REFUSE to accept returns of these devices related to broken functionality related to the KitKat Update. This, to me is extremely bad form. While MicroSD write-access is big, not being able to make phone calls afterwards is a HUGE Issue. This puts T-Mobile in violation of their own service agreement, as the device cannot make phone calls and T-Mobile will be paying the price for Samsung's sloppy OTA. I have no idea why T-Mobile is honoring this directive, but they are. I might actually call them and ask, but for now, those of you with broken Samsung Devices due to 4.4.2, you're completely out of luck unless you kiss your warranty goodbye.

Installed KitKat last night but from time to time it bacame unresponsive to pressing buttons and apps. Had to shut the GS4 down and restart. Not good :(.

Hi quick question if anybody can answer please... I'm using a s4 gt-i9505 I think was originally on tmobile/ee but now is unlocked and im using a 3 sim .... does anybody know when I'll be getting the update? I've been checking everyday every second for the last month Posted via Android Central App

I think you will still have to wait till T-mobile/ee release there 4.4 for the s4. I had a "proper" unlocked s4 and got kk on the day I read this article. I think that even though your s4 is unlocked to use other sims it's still running on a ee firmware, I think carrier versions should have it by the end of this month or the latest next month.
Posted via Android Central App on nexus 7 (2nd gen)

Sounds like way to many bad experiences with kit kat. Think I might give it a miss for a while and see what happens.

I think the main complaints been with the sd cards, nothing average person might even notice otherwise I've had no issues, definitely smoother, battery standby is better, you now get the improved multi window features from the note 3. Posted via Android Central App on nexus 7 (2nd gen)

What are the new multi window features?

Nothing huge but the multi view ui is cleaner, you can now group 2 apps ie YouTube and Gmail together so them 2 open together instead of having to always individualy opening them. You can make multiple pairs too. You can also drag items from one window to another example if you got gallery and message open, you can drag an image from the gallery into the messaging app though it seems limited to Samsung apps mainly. Posted via Android Central App using galaxy s4

That's weird coz I've had those multi window options out of the box.

I have a Samsung Galaxy S4 and i am on 02 and i still don't have this update :( sad times

My Note 3 got it's Kitkat update last night. Apart from not being able to use my Spigen Armour View case I am pretty happy. Posted via Android Central App

It's so annoying! They should stop being stupid and just release the damn update for all s4 users if everyone's gunna get it anyway why not just get it at the same time or within the same week for example instead of bloody carriers sending out there own versions so dumb !!!! It's a Samsung update dunno why the carrier has to add there stupid little effects just extra! Posted via Android Central App

Don't do it!!!! Pointless. My battery does not appear to be lasting as long, split screen on maps no longer works unless I go into music first then can split screen, use the swipe locked screen so don't have the camera from lock screen pointless again! With no hope of getting back jellybean would actually get rid of Android and go back to Apple p.s. emails no longer sync at all had to download a crap replacement which doesn't combine inboxes.

So I've got the KitKat update (I think) I can see all the changes listed. Except I'm still able to use my SD card... so howcome people are going crazy over the SD restrictions?

Anyone have a problem regarding the Sim card after the update? When the signal gets really low it kicks off the network and an error pop up occurs saying no sim card. Please restart. Does it multiple times per day. Only started after the update.

S4 GT19505 on Three UK Updated OTA this morning. Haven't noticed any glaring issues as yet.

Does anyone know if/when Samsung will bother to make this update available (should I still want it!) for an S4 ACTIVE?

I have been waiting and waiting and no update on my Note 3. I talked to samsung and they are saying contact your network provider. My phone is unlocked and contract free. Although i am using Lyca network.