Jabra Stone2 Bluetooth headset review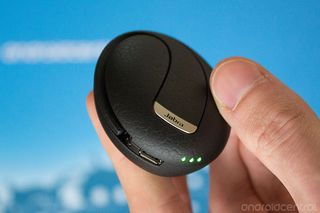 The Jabra Stone2 is a slick-looking Bluetooth headset with a portable, pebble-shaped charging dock. The Stone2 follows closely in the design footsteps of its predecessor, leaning towards a subtle, classy, and unique form factor.
I was particularly happy with how volume control was handled through a touch-sensitive layer on the face of the headset itself; just glide your finger up or down in order to adjust. Volume on music doesn't go very high, even with it cranked up all the way on the device, but call volume is excellent.
Style
The Jabra Stone2 is unabashedly fashion-focused, and it's not a stretch to say the device's entire design revolves around how it looks. Although the Stone2 looks great from the profile, it still looks a little chunky when looking at someone face-on; it would be nice if it was designed to include a little swooshiness on the front to mask where the earpeice enters.
One major knock against the Jabra Stone2's design is that it exclusively fits the right ear. This can be a big problem if habit or necessity would put a Bluetooth headset on your left ear.There are black and white variants available, which covers the broad strokes. Some Bluetooth headsets offer interchangeable faceplates, and I would imagine a fashion-focused device would do the same (though it might ruin the seamlessness of the headset in its docked position.
Function
Audio quality for calls is decent, though not great. Despite hosting a secondary noise-cancelling headphone, it still picked up a fair bit of moderate wind and traffic noise. Still, there are a few solid call functions available, such as a pleasant-sounding automated voice that relays who's calling, as well as voice-activated answering or ignoring of calls.
A single click on the headset when not in call provides battery level information, rather than pausing or playing music as you might expect. All of the other functions are par for course, though; tap to end call, double-tap to redial the last number, long press to initiate voice actions, and extra-long press to shut down. The Jabra Stone2 also communicates perfectly well with various apps, including GPS navigation and Vlingo.
The Stone2's dock holds 8 hours of charge, while the headset handles 2 hours on its own. The device smartly shuts down and charges when docked, and turns and answers a call as soon as it's popped out. For those prone to using Bluetooth headsets all day long, this constant docking and undocking might not be ideal, but for casual users, it's nice having somewhere secure and useful to stow away the headset when not in use. The dock has charge indicator lights, a microUSB port, a lanyard loop, and a little rubber nub to provide some grip when resting on a surface.
Pros
Extremely stylish design
Smart and useful docking mechanism
Cons
Lack of music control
Limited battery life
Bottom line
The Jabra Stone2 is, if nothing else, a very good-looking Bluetooth headset. The way it handles volume control and offers voice-activated call answering/dropping is very slick, but without a deeper control scheme or longer battery life, it's hard to recommend this headset to those that spend a lot of time on the phone. Those that are interested in looking cool and only need to have a Bluetooth headset on hand occasionally will definitely be happy with the Jabra Stone2.
You can pick up the Jabra Stone2 from ShopAndroid for $87.95, normally $129.99.
Get the Android Central Newsletter
Instant access to breaking news, the hottest reviews, great deals and helpful tips.
Simon has been covering mobile since before the first iPhone came out. After producing news articles, podcasts, review videos, and everything in between, he's now helping industry partners get the word about their latest products. Get in touch with him at simon@futurenet.com.