Jabra Stone2 Bluetooth headset review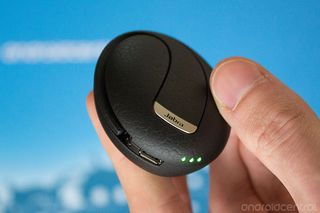 The Jabra Stone2 is a slick-looking Bluetooth headset with a portable, pebble-shaped charging dock. The Stone2 follows closely in the design footsteps of its predecessor, leaning towards a subtle, classy, and unique form factor.
I was particularly happy with how volume control was handled through a touch-sensitive layer on the face of the headset itself; just glide your finger up or down in order to adjust. Volume on music doesn't go very high, even with it cranked up all the way on the device, but call volume is excellent.
Style
The Jabra Stone2 is unabashedly fashion-focused, and it's not a stretch to say the device's entire design revolves around how it looks. Although the Stone2 looks great from the profile, it still looks a little chunky when looking at someone face-on; it would be nice if it was designed to include a little swooshiness on the front to mask where the earpeice enters.
One major knock against the Jabra Stone2's design is that it exclusively fits the right ear. This can be a big problem if habit or necessity would put a Bluetooth headset on your left ear.There are black and white variants available, which covers the broad strokes. Some Bluetooth headsets offer interchangeable faceplates, and I would imagine a fashion-focused device would do the same (though it might ruin the seamlessness of the headset in its docked position.
Function
Audio quality for calls is decent, though not great. Despite hosting a secondary noise-cancelling headphone, it still picked up a fair bit of moderate wind and traffic noise. Still, there are a few solid call functions available, such as a pleasant-sounding automated voice that relays who's calling, as well as voice-activated answering or ignoring of calls.
A single click on the headset when not in call provides battery level information, rather than pausing or playing music as you might expect. All of the other functions are par for course, though; tap to end call, double-tap to redial the last number, long press to initiate voice actions, and extra-long press to shut down. The Jabra Stone2 also communicates perfectly well with various apps, including GPS navigation and Vlingo.
The Stone2's dock holds 8 hours of charge, while the headset handles 2 hours on its own. The device smartly shuts down and charges when docked, and turns and answers a call as soon as it's popped out. For those prone to using Bluetooth headsets all day long, this constant docking and undocking might not be ideal, but for casual users, it's nice having somewhere secure and useful to stow away the headset when not in use. The dock has charge indicator lights, a microUSB port, a lanyard loop, and a little rubber nub to provide some grip when resting on a surface.
Pros
Extremely stylish design
Smart and useful docking mechanism
Cons
Lack of music control
Limited battery life
Bottom line
The Jabra Stone2 is, if nothing else, a very good-looking Bluetooth headset. The way it handles volume control and offers voice-activated call answering/dropping is very slick, but without a deeper control scheme or longer battery life, it's hard to recommend this headset to those that spend a lot of time on the phone. Those that are interested in looking cool and only need to have a Bluetooth headset on hand occasionally will definitely be happy with the Jabra Stone2.
You can pick up the Jabra Stone2 from ShopAndroid for $87.95, normally $129.99.
Get the Android Central Newsletter
Instant access to breaking news, the hottest reviews, great deals and helpful tips.
Simon has been covering mobile since before the first iPhone came out. After producing news articles, podcasts, review videos, and everything in between, he's now helping industry partners get the word about their latest products. Get in touch with him at simon@futurenet.com.
Hate any headset that requires something to go into my ear canal. Nothing I have found works better than the Motorola H720/730 flip-open types. It is just fantastic. Charge lasts nearly forever, since you can turn it on and off so quickly. Low cost too.

Why would they release something with such abysmal battery life? 2 hours? Come on.

Please see my comment below...

I had been using a blueant q2 for a couple years till I sat on it and well...broke it. I bought the HX 550 from Motorola and while it had great battery life, it lacked a couple features such as name caller ID. So I decided to get something else. It was between the Samsung HM 7000, Motorola command one, and this Jabra mentioned. I decided on the moto command one and couldn't be happier.

I am an owner of the first version of Jabra Stone and I really love it. It's stylish, it's light, it sits really good in your ear, you won't even remember you're wearing it (unless you're trying to wear it all day long; I haven't seen a single headset that wouldn't cause some discomfort after something like 4 hours of wearing). And I think they did a smart thing about the battery dock, allowing the headset to be lighter and smaller. Notice that the "2 hours" mentioned in the article refers to talking time. If you have it on stand by and make occasional calls, it's going to last much longer. Also, I don't think it looks "chunky". Yes, when you look at a person, you see something black in his ear, but I'd never say it's bulky, in fact it's shape looks very unobtrusive to me. And if your hair grows below your ears (my case), people won't even notice it unless they look very closely! Yes, it's exclusively for the right ear but after years of having the device, it was never a problem for me (though I'm left-handed and usually like using the left side). And the author is right that making interchangeable faceplates would be a design fail in many aspects. It's already great looking (only honestly I'm not really fond of the texture they put on Stone 2, the first version has just solid matte surface and I love it). "A single click on the headset when not in call provides battery level information, rather than pausing or playing music as you might expect."
Dude, it's a headset for calls, not music. You wear it in one ear. You shouldn't even confuse readers by mentioning music here. To the author of the review:
* You should add "subtle and light" to the Pros. Again, I don't think that there is a category bluetooth headsets that you can wear all day. Outside of this hypothetical category, I consider Jabra Stone one of the best in ergonomics
* I would also add a note about volume control to the Pros because so many headsets just get it wrong...
* Seriously, remove "Lack of music control" from the Cons
* See my notice about battery life. More than enough for "regular" people

I disagree with your opinion on the music controls. I got my first "one ear" headset with A2DP for Bluetooth audio a few months ago, and I listen to music or sports on live radio all the time. In my line of work, I can't listen to music in both ears as I have to be aware of certain sounds around me at the same time. The lack of music controls does drive me nuts, and I find I have to fumble with my headset and put it away somewhere at a moment's notice. A play/pause function would be very welcome. Of course, with 2 hour battery life in this headset, I guess playing music all day wouldn't be a good idea anyways.

Ok, it does have A2DP profile but still, Jabra Stone 2 simply isn't a headset made for listening to the music (and 2 hour autonomous battery life adds to it).

I Would say it is Good and Bad at the same time..... basically people use blue-tooth stereo heads for calls so it is a good thing for these type of people.
http://technologyfeed.net

I own one of these. It is a fine headset, HOWEVER, the only reason I bought it was for a2dp so I can listen to podcasts at work while having one ear open for safety. In this regards it is awful. I can barely listen to an hour and a half podcast without getting annoying battery level warnings and eventually having to dock it. A much better solution is to use a non a2dp headset and an app called super mono froyo or bt mono to "hack" a2dp support.

OMG thank you for this post! It led me to "btmono free" app and it allows listing to music on my mono non-a2dp headset on my Evo LTE! It works great!!! I had no idea something like this was even possible!

I bought the Stone 2 after my Bose fell out of my ear and into the toilet(literally). While I have experienced the low battery warning, a 20 minute charge in the "stone" restored another 2 hours of talk time.
This is the most comfotable headset I have ever worn. It is even better than the Blue Ant Q1 which died when my wife ran over it with the car.
I do not use this headset to listen to music. I am a classical music lover and most of my music is too long to listen to at work.
As a telephone headset, I think that this is one of the best. it has all the features I could ask for when managing and making calls.

I really really really REALLY wish SOMEONE would make a BT headset that, like the Blueparrot BT250, would NOT go into the ear canal but was able to sit comfortably over a hearing aid microphone. And don't tell me about BT hearing aids - no way can I afford $4,000 for those, and they don't have microphones anyway. The BT250 works, but crushes your aids into your ear, which hurts like hell after a short time. Come on, guys. Get with it. A whole population of hearing-impaired folks are waiting for this.

Motorola has made on-the-ear bluetooth headsets for years. That is all I use. Not sure if they would work with a hearing aid, but they might. They are comfortable, work great, have fantastic battery life, and are CHEAP! Check them out

I had this bluetooth headset long time ago. It's design and style is really stunning. But since It's old now I searched for some newer bluetooth headsets. There are not much which delighted me as Jabra Stone2, but I managed to find few really excellent and cheap bluetooth headsets trough one site my friend told me about.
Headset

I have a Jabraa stone 3 but lost the charging cradle. Can anyone please tell me if the cradle for Stone ot stone2e will charge the stone3 headset?