Jabra Freeway Bluetooth Speakerphone review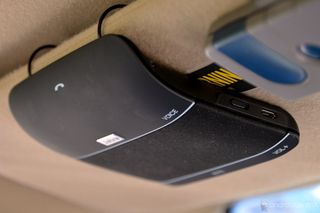 When it comes to using your smartphone in the car, it's a tricky proposition. Hands-free is a must. And after that, it really becomes a point of actually having to use your phone -- or in this case, the Jabra Freeway speakerphone -- as little as possible. Can you place or answer a call without touching anything? When you do have to touch something, how many motions does it take to perform an action? Are those actions easily memorized? And, at the end of the day, does the darn thing just work?
Jabra is a long-recognized name in Bluetooth accessories. But it's been some years since I've used one of their speakerphones (read our review of the Motorola T505 I've been using for as long as I can remember). Switching to the Freeway is a nice change in design. Clipped to the sun visor, it looks a lot like an old-school oversized garage door opener that curves back around the front.
Let's not beat around the bush here: The Jabra Freeway has quickly become my speakerphone of choice. Read on to find out why.
Out of the box and setup
The Jabra Freeway is blissfully easy to get out of the box. Just open it and go. It comes with a microUSB cable and car charger, if you need them. (You being the savvy smartphone user might already have them laying around anyway.)
Facing you attached to the sun visor, there's a simple on/off toggle switch on the right hand side, just forward of the microUSB port. The switch is easy enough to get to and fairly easy to toggle. I prefer this sort of switch over an on/off button because you can physically see whether the speakerphone is turned on.
Turn the Freeway on for the first time and you're prompted to pair over Bluetooth. The female voice is surprisingly crisp and clear and has a little personality to it. Pairing with my Galaxy Nexus was simple. Just hit your Bluetooth settings and connect. No muss, no fuss for me. (Your mileage may vary depending on what phone you have.)
Using the Jabra Freeway
Two main things when it comes to speakerphones. They have to be easy to use, and you have to be able to hear what's coming out of them.
The Freeway has a half-dozen buttons, but it really doesn't feel that way. They're nicely spaced over the 4.75-inch wide device. You've got a big call button closed to you, flanked by the voice command and FM tuner buttons. (Yes, the Freeway can pump calls and music through to your car's speakers, and it works just fine.) Farthest from you are the volume up/down buttons, which surround a mute button. That's actually the one confusing point of the Freeway. Because it's placed between the volume buttons, you might think the mute buttons silences what's coming out of the speaker. But it's the other way around. Hit mute during calls to keep the other person from hearing you.
The Freeway actually isn't just a single speaker. It's got a trio of them tucked inside, and together they're surprisingly loud and clear. Music can become a little crackled and distorted if you really crank things up, but it's also completely listenable over just the speakers themselves. Playback over FM is as good as the frequency you're tuned to. (Hit volume-up to change freqs.) Otherwise, the stereo Bluetooth performs as it should. You're missing buttons for playback, but there are voice commands to pause and change tracks.
Voice actions are pretty simple. You tap the Voice button and then are asked to "Say a command." What can you say? Well, you can (and probably should) start with that. Ask the Freeway "What can I say?" and it'll tell you, switching to a man's voice, "redial," "call back," "phone commands," "voice assist," "battery," "play," "pair new device" and "cancel."
Most of those are pretty self-explanatory. Phone commands will kick you into your phone's voice dialing app. (Switching from the silky smooth sounds of Jabra's voices to Android 4.0's stock voice is pretty jarring.) "Voice assist" will call into the service, which you get free for one year. (A $59 value.)
Youtube link for mobile viewing
Other odds and ends
There's a nice little red LED light hidden behind the speaker mesh that lights up when charging.
Bluetooth profiles include A2DP 1.2 (stereo), AVRCP 1.0, HFP 1.5, PBAP
Operating range is listed at up to 10 meters.
Talk time is listed at 14 hours, standby time at 20 days. Charging time is listed at 2 hours.
The default PIN is 0000. (We didn't need it connecting to our Galaxy Nexus.
You can connect to two devices.
The wrap up
And that's that. The Jabra Freeway isn't the smallest speakerphone -- it takes up a good bit of space on your visor. But it's among the best we've used, hands down.
You can get the Freeway today from Amazon (opens in new tab).
Get the Android Central Newsletter
Instant access to breaking news, the hottest reviews, great deals and helpful tips.
I hated this thing! My Motorola Roadster is a million times better!!!

Bought a Motorola Roadster Pro to go with my Samsung Galaxy S5 and after two months of working with Motorola and Samsung Tech support, they determined that there was only 50% compatibility. In other words, the Roadster would not identify incoming calls with the phone number or a contact name from my phone book. Very disappointing for what is suppose to be the best on the market and from a well know brand. If anyone knows how to make the two work together fully I would certainly appreciate knowing how. Otherwise, it is just another paper weight.

Agreed, love my Motorola Roadster, and it does the same as the Jabra and I have had mine for several years with absolutely no problems (even works great as a portable speakerphone in the shop).

My Roadster has been working POORLY lately. Loved it at first. Now its voice recognition when I'm trying to make outgoing calls has been extremely hit-or-miss. Dial by number or dial by name - it doesn't matter. It often claims, "No results," or dials the wrong name, or the wrong number. It's gotten frustrating.

I had that too and just removed the motospeak and re-installed it. all good afterword

i knew it lots of "droid fanboys" on here and previous posts. damn i F@$ing hate motorolla garbage. will never buy it

Besides your Mercedes/Honda Civic car model, I also like your cool external mount HomeLink visor controller. ;) My wife and I had a BlueAnt S4 that we would toss about various vehicles and it worked fine until Summer arrived. The heat just whacked it and it went into a diatribe of slurred voice acknowledgements as if it had undergone an electronic stroke. This happened to two of them as which point we wanted, but didn't owed to it being illegal, throw it out the window in front of a nearby semi-truck. Loved the bloody thing when it worked. Hence, the caveat: "When it worked." Sooooooo, the question is whether you've heat tested this pup?

I have to disagree with some points in this review. I too went from a T505 to the Freeway the speaker is great but the Bluetooth FM quality is way worse. I tried switching to the T505 from the Freeway in mid call using FM in my car and the sound quality is very noticeable. FM has more static and noise on the Freeway then the T505. The red charging light is impossible to see because it's behind the speaker grill, horrible design. It's also hard to tell when it automatically turns on, there should be a voice prompt that says, "Freeway is now on" or something.

How is it at picking up background noises Phil? One thing I've always disliked about headsets, etc is how they pick up background noise and place it into the call...

I am going to buy a speaker for the Mrs. After research, I decided that since she is a big "texter", the Moto Roadster was better since it can read texts and you can dictate and send them as well with an app.

What's the sound quality? is it pretty loud? can the entire car hear the phone call or music or is it just for the driver? With the window down on the highway, can I still hear the thing if I'm listening to music?

I currently use a Jabra Cruiser and I love it. I'm not sure they make it anymore but the unit tells you the connection state with "Connected\Disconnected", announces caller numbers, and the FM tuning is strong and clear. It also auto discovers stations with ease in case your current station gets overpowered. I love Jabra products. :-)

512-7##-#### Well, since we're in the same area (Buda here), I too would be interested in the heat test. I tend to leave my earbuds in my truck console and the heat will eat those things up. Especially with a summer like last year (90 100+ degree days, 27 consecutive [ugh]).

Seems like a decent little device....My Jabra Halo headphones haven't had the best longevity though so I'm still not sure about the brand in general. Of course, this doesn't have the moving parts either! Oh yeah....I love the fact that your ringtone is from Wonder Pets! Surefire way to tell you have a kid. :)

Hey huge +1 on reading at least some mention of the call quality, on both ends. Especially the noise reduction Jabra touts as a selling point. I want to be able to use the speakerphone in the car without someone knowing that I'm ... well, on a speakerphone in my car. Does this come close to that?

@ mr nruz. Although not a huge droid fan as i have a gs2. You are so uneducated to say moto is junk. They by far pull the strongest and best signal of any phpne or anything else and when it comes to a bluetooth thats what you want. Moto bluetooth and internal antennas on phones smoke everyone. Not even a comparison. U obviously have never used one but that was a great biased and un educated statement!

I picked up a Jabbra Cruiser from Amazon for $25. Has all the functionality of the Freeway in a smaller package. Best of all, it has music control buttons so you don't have to go into voice commands like the Freeway.
On a separate note, Ford's Sync in my new car far surpassed any add on device, but comes at a serious cost.

Anyone know what the battery life is like? I would hate to have to charge this thing on a nightly basis. Assuming the average commute is around 30 minutes/one way then this device may potentially see 1 hour of use or more per day. In addition I wonder how broadcasting to the FM radio affects battery life.