Is it worth trading in the Galaxy Note 8 for the Note 9?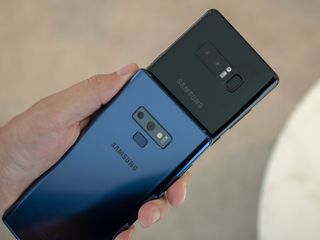 We've said it before and we'll say it again — if you're shopping around for a large Android phone, it's hard to do better than the Galaxy Note 9. The Note 9 is chock full of exciting features, but then again, so is last year's Note 8.
There are a number of trade-in promos that offer a pretty good chunk of money for trading in your Note 8 for the Note 9, and while these offers can be exciting, is it worth handing in a powerful phone that's just a little over a year old?
Here's what the AC forum users have to say.
What do you think? Is it worth trading in the Galaxy Note 8 for the Note 9?
Joe Maring was a Senior Editor for Android Central between 2017 and 2021. You can reach him on Twitter at @JoeMaring1.
I'm on the S8+ and gonna be that way for a while. I can't waste hundreds of dollars every year on a phone that's incrementally better. I'll be much happier with that money in my pocket and being one year behind on a phone. I'll eventually get an S9+ or Note 9 for like 300 bucks cash. Lower monthly bill, and less than half the price of what I'd pay if I was buying new. It just doesn't make sense to pay 900+ for a phone anymore imo

Im with you on that one. For me I wanted a bigger phone with a stylus and I know my choices are limited but when I had a look at the difference between the 8 and 9 I want for the 8 as the contract was less and for me the only issue I've found with the 8 is the fingerprint reader is in the wrong place but that said I use a flip case and find I don't use it that much and use the faceone most of the time. I did wonder if the battery would be an issue but again not had an issue with it at all I get a full day out of it for normal usage. I think when I am due an upgrade again in will look at the newest and the 1 dawn and of not much difference go for the one down again and keep the cost low.

I am also with you there. I wait until the prices are more affordable. My S8+ is still working very well.

I would not trade in ANY phone unless it's a we give you 50 bucks for any phone. SO you could bring in a startac or something. Selling is the better way to go so you get the real value out of your phone. That being said, I dont think it is a big enough jump to move up if you recently purchased your Note 8.

Not always true. Traded in a old Sprint S7 for $500 credit towards the N9. Got the note for $450 (plus tax at Costco).

What's funny is the startac was about $1,000 new, or $1,600 with inflation.

I traded in my s9+ for around 700$ and got freebies for pre booking...so in the ending I dint may much ..like 100$ on top and I think it's worth it

Year over year upgrades never make any financial sense, or mobile sense. We are at the point where the best mobile phones cost as much as a laptop. Last I checked, nobody upgrades a laptop annually. For those who do upgrade, they typically have no further discretionary cash for more trivial purchases like a smart watch. In 🇨🇦, the new galaxy smart watch costs $460. Even biannual mobile upgrades are expensive, because the total cost can no longer be totally financed over two years... You need $300 to $500 up front. I upgraded from a Note 5 to a Note 8, and I suspect I'll wait longer between my next upgrade. The Note 8 is a fabulous phone. Size increases are measured in fractions now, and display clarity has been maxed... Our eyes can't see anything in any higher a resolution... A small argument might be made for the marginal VR market. Future galaxy S models might make me switch from the Note lineup... But when I do upgrade, it will be to the max model... 512GB internal storage sounds wonderful, as does 8 to 10GB of RAM... That allows you to run more open apps or web pages without having to use device maintenance to clear memory. Samsung clearly makes the best Android phones, then a few great Chinese models, and the Pixel is the odd case... It has average specs but commands a premium price. Look for Samsung to dramatically increase OS update times... Then it will clearly be the best option on Android.

Personally, I think the only way it makes sense is if you're on T-Mobile (US) and have Band 71 in your area.

So happy I upgraded to the note 9 from the note 8. Everyone says the upgrade is incremental, but from a users perspective, that's not the case. I don't miss my note 8 one bit! I owned it since release date, so I had it almost a whole year. It was a solid phone besides in the battery department and the speaker was weak. Well, jump to the note 9 and I have a note 8 on major steroids!! Speed, power, BATTERY, screen, speakers, camera, and faster network/WiFi speeds. The phone is flatter on the sides and easier to hold! Major go after selling note 8 for $500ish and buying a S7 active for $100 and trading in for $200. Highly recommend the upgrade!

**Traded the S7 active for $300 but it was a $200 gain.

It was worth it for me in more than 1 way. I couldn't trade up my Note 8 because I still owed about 450 on it so I opened a new line to get a Note 9. I did it through Samsung since they were offering more to trade in an old S7 edge that I have. So my plan was to get the phone, switch the numbers, keep the new line with my old number and cancel the old line. It worked out differently. So, I switched the numbers online by following the directions offered by my carrier. The Note 9 activated but the Note 8 didn't and I think that caused some issues because online, it was showing that my new line was eligible for an upgrade, meaning I owed nothing on it. It also showed that my new Note 9 had a payoff amount of 450 instead of the 1245 I should have. I also kept the 20 dollar discount from the Note 8. So today, I called in to cancel the new line and it's set for disconnection next month. So, if I get away with it, which I may not, I basically got a new Note 9 with AKG headphones for $450 with a 20 dollar equipment discount and I'm still trading in my S7 to get 300 dollars off. So, all-in-all, I got a 512 GB Note 9 with wireless AKG headphones for 150 dollars. I still have the 20 dollar discount for another year and by that time, I'll get the newest Note so I don't know if I should send in my S7 or keep it. But yeah, getting the Note 9 was well worth it.

Paid 462 from samsung plus got free goodies, how could I not
Android Central Newsletter
Thank you for signing up to Android Central. You will receive a verification email shortly.
There was a problem. Please refresh the page and try again.