Samsung Galaxy Note 9 vs. Galaxy Note 8: Should you upgrade?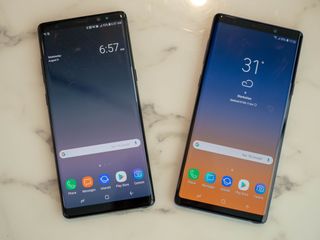 Samsung Galaxy Note 9
Samsung's latest and greatest Note is a fantastic phone, but it didn't change much from the Note 8. Sure it has a slightly better screen, new S Pen features and a larger battery, but the core of the experience is the same as its predecessor — that makes it an expensive upgrade proposition.
Samsung Galaxy Note 9
Fantastic screen
Great cameras
Better fingerprint sensor placement
More capable Bluetooth S Pen
Excellent battery life
$900+ price still a challenge
Samsung Galaxy Note 8
The Note 8 is still a solid phone that's more than capable for what most people need to do at the end of 2018. And it still has the same software as the Note 9. The only place sit shows its age are in battery life and the still-odd fingerprint sensor placement.
Samsung Galaxy Note 8
Great screen
Solid hardware
Cameras still really good
S Pen identical aside from Bluetooth
Poor fingerprint sensor placement
Weaker battery life
Pie likely last major software update
Reasons to upgrade to the Galaxy Note 9
It's simple to see how much is shared between the Note 8 and Note 9. The hardware, software and capabilities are mostly the same at the core level, which makes sense if you have followed Samsung's update cadence year after year. The Note 9 does have a clear leg up in a few areas, though.
First and foremost, it's the battery size — at 4000mAh the Note 9 has 21% more capacity than the Note 8, and that's going to translate directly to dramatically improved battery life considering the similarities of the rest of the phones. If you have issues with the Note 8's battery life, the Note 9's going to be your savior.
Chances are if you bought a Note 8 you wanted to make use of its ample storage — possibly optioning up to the 256GB model, and adding even more with the microSD card slot. Here's one place where the Note 9 will make your mouth water: it has an optional 512GB of internal storage. For those who absolutely cannot stream or be bothered to manage their storage, and want a seemingly infinite amount of room, the Note 9's 512GB storage — plus another 512GB via an SD card — will make the buying decision a whole lot easier.
Image 1 of 3
Hardcore Note users will also be able to appreciate the much-improved S Pen experience from the addition of wireless connectivity. The S Pen is unchanged in terms of writing and drawing, but now it can be used for much more — it can launch and control apps remotely, from the camera and gallery to Powerpoint and music players. If you weren't someone who used the S Pen much because you're not a big writer, this addition may put you over the top to considering a Note.
On a far more subtle note, the Note 9's cameras have improved. You'll be getting much better low-light performance compared to the Note 8, but the rest of the experience is roughly the same. The Note 8 can easily match it in terms of the secondary camera, daylight shots and portrait mode — so you won't be upgrading to a Note 9 just for the camera.
And how could I forget, the fingerprint sensor placement is so much better on the Note 9 than the Note 8. It's easy to reach and use, it'll make you hate the Note 8's sensor all over again. Don't upgrade your phone just to get it — but if you do get the Note 9, thank yourself every day for this little convenience.
Reasons to stay with your Galaxy Note 8
Image 1 of 3
Right before the Galaxy Note 9 was announced, I wrote an 11-month follow-up review of the Note 8 and found that it still felt like a modern and capable device with no sign of aging. It's important to keep this in mind when you look at the shiny new Note 9 and start convincing yourself that you "need" a new phone. The Note 8 is still a great device, and it has really good specs that still feel modern — with 6GB of RAM it matches the Note 9's base model, and the Snapdragon 835 is extremely powerful. The screen is nearly identical to the Note 9's, too — you're not losing out on brightness, colors or resolution here.
The external hardware, too, is nearly indistinguishable between the two. The Note 9's metal frame has added new edge chamfers and a slightly different finish, but there's nothing here that actually makes a difference in the quality of the experience. The rest of the hardware features are the same in terms of IP68 resistance, charging speed, glass strength, buttons and ergonomics. Sure the Note 9 has dual speakers ... but they aren't good enough to factor into this decision.
Outside of minor tweaks, the software is nearly the same on these phones. Samsung Experience 9.5 on the Note 9 has a couple visual changes, but everything will be evened up again when the Note 8 series is updated to Android 9 Pie and the new One UI alongside the Note 9.
Should you upgrade?
The way Samsung updates its phones year after year has shown that it isn't really targeting people who upgrade on a 12-month cycle. When you look at the Galaxy Note 9, it's hard to say it's worth spending $930 on if you already have a Note 8 in your hand. Yes it has a much larger battery, a new S Pen, improved cameras and a 512GB storage option — but those are pretty fringe items with primarily marginal improvements. The rest of the experience is going to be identical to what you already have in the Note 8. At that point, it doesn't make sense for most people to spend that kind of money on such a small change.
If you're just looking to get the latest and greatest, and have a whole bunch of money burning a hole in your pocket, sure you can get the Note 9 as an upgrade. It's better than the Note 8 in several ways, and no worse in any — and from that perspective it makes sense. But just don't make the big-money move expecting it to be an entirely different experience than what you're used to today.
Pricey upgrade
A great phone, but a pricey upgrade to make
The Note 9 is better than the Note 8 in every way, but it's also well over $900. At that price, it's tough for most people to upgrade from a Note 8 that shares most of the same design and features, with the same software. IF money's no object, upgrade; but don't feel pressured.
Still solid
Still a powerful and capable phone
If you're still loving your Note 8 a year on, don't feel pressured to upgrade just because there's something new out there. The Note 8 is still a really powerful phone, and has most of the same features and qualities of the Note 9.
Sign up for Black Friday email alerts!
Get the hottest deals available in your inbox plus news, reviews, opinion, analysis and more from the Android Central team.
Andrew was an Executive Editor, U.S. at Android Central between 2012 and 2020.