It looks like Samsung is giving the Galaxy S20 the camera upgrades it needs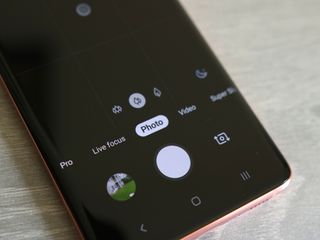 (Image credit: Android Central)
I just finished writing up a re-review of the Galaxy S10+ after one year, and one of the biggest things that struck me is that the camera is a true weak point of that phone. Everything else in the hardware, specs, display, features and even software feel modern and good — the camera is, frankly, a disappointment by the latest standards. In a world where the Pixel 4 exists, the bar is so high for phone cameras, and Samsung just wasn't advanced enough when the S10 series came out to really hang with the pack as other 2019 phones launched.
Thankfully for Samsung, it once again has first-mover advantage in 2020 with the Galaxy S20 series launching in February. And indications are, based on the extensive leaks, that Samsung got the camera setup right this year after a couple years of coming up short of wowing us.
Samsung used basically the same camera setup for the past three generations of Galaxy S and Note phones, which is just far too long. The supporting cast of sensors and and features changed, but the main shooter was so similar — and in turn, the camera quality was basically the same. Samsung's cameras definitely have a look, and an appealing one at that, but the fundamentals of the shots just don't hold up to what we expect from top-end smartphone cameras today. And that's painfully clear in particular when you look at the competition's low-light cameras compared to what Samsung's been rolling out the last few years.
Samsung's going to stop messing around with silly gimmicks like dual apertures, and focus on what matters: a better sensor. Its old 12MP sensor is stepping aside for a yet-to-be-released Sony IMX 555 sensor with the same 12MP resolution, but crucially with a much larger 1.8-micron pixel size (versus 1.4). If Samsung can pair that with appropriately improved processing, its low-light photos stand to make a major improvement. The bigger pixels should help with Samsung's biggest weakness, low-light shots, but is generally useful in all situations.
Just as importantly, Samsung is leaning way in on optical zoom this generation. The 2X lens it had been using was good when it first debuted, when optical zoom was a novel idea, but not super useful as it aged, providing minimal improvement over good digital zoom systems while also using an inferior lens that wasn't good in low light. Now we're getting a new 64MP sensor and 3X optical zoom; bumping up to 3X optical is a big improvement, and when paired with good digital zoom on the high-megapixel sensor puts it right back up into the top tier of what we expect from a telephoto camera.
That's already an intriguing camera story for the Galaxy S20, but what makes this all extra interesting is that Samsung is apparently going with a completely different set of cameras for the Galaxy S20 "Ultra." This bucks another trend where it typically kept the sensors and lenses the same across its flagship lineup (Galaxy S and Note included) in any given year.
A crazy large 108MP main camera will likely pixel-bin down to 27 or 13.5MP photos with an effectively larger pixel size, as is the latest trend. With all of that extra data, once again if Samsung can process it properly, we could see a notable step up in quality. Next to that main sensor, the telephoto camera is apparently going all the way up to a 10X optical zoom, which is just crazy — if Samsung figured out how to properly stabilize that lens, and keep it optically clear, it'll be a real standout.
The biggest theme of the S20 series is that Samsung clearly isn't going to sit still for another generation of cameras, and it's also not going to be conservative. Outside of offering ultra-wide and telephoto cameras, there's nothing about this setup that's familiar or building on what Samsung already offers. This is a re-think and a seemingly impressive improvement to the camera system across the board. And I can't wait to try it out to see how it performs in the real world.
Andrew was an Executive Editor, U.S. at Android Central between 2012 and 2020.
Just give me better low light, because it doesn't fail me anywhere else and I am sure they'll improve the cameras

I've tried the Gcam port, and did not see the night sight option...

Scroll all the way to the right it's under more.
I would post a picture but it won't let me.

Hmm, the top bar does not scroll. Just has the hamburger menu, timer, HDR+, grid, color temperature, and flash. The hamburger menu has slow motion, panorama, photosphere, portrait, and settings.

So many ifs in this article! Why even write this before you get your hands on the new phone? I thoght I was going to come here and read about the cameras being better, all I read was the specs and "if" they do it right it will be better. The Pixel camera is great because of the software. Thats what matters most with todays phone cameras.

Writers need to make up their mind. First s20 has a disappointing camera and now it's awesome

They're not the be all end all of camera reviews, but the guys and gals at dxomark seem to think the Pixel 4 only trumps the Galaxy 10 series when it comes to zoom... For videos they're tied, and in all other categories the Pixel isn't even in the top 5, whereas there's at least two from the Galaxy 10 series in the top 5 of every category except zoom...

I'll take a Pixel all day over a Sumsung.

And luckily, you're free to do just that. Doesn't change the fact that by most measurable statistics you're getting an inferior device...

"In a world where the Pixel 4 exists, the bar is so high for phone cameras" Yeah. Except the bar isn't set by the iPixel and their unicorn-vomit-filled cameras. It's set by Huawei. That's the one Samsung has fallen behind.
Coincidently, Huawei is also the company that - with or without GPS - is threatening Samsung's number 1 spot in markets like Europe.
And I'm prepared to bet that the crappy S20 line - with their insistence in sticking to 12mp main camera and just increasing micron sizes - will continue to fall behind the Mate 30 and the P40.
And they're also not set to make any major improvement to the one extra camera everyone - except the iPixel "genius" team - actually cares about, the ultra-wide. Heck, Samsung is so stuck on their ways that they haven't even provided access to the ultra-wide camera on manual mode. There's absolutely no reason to believe any of it will change. So all this extra stuff thrown into the S20 will likely a will-o'-the-wisp. It looks promising on paper but will inevitably turn out a disappointment.
Fortunately, it comes in a line of phones that's in itself the worse line of Galaxy S phones since the S6, so maybe by the time the S30 arrives Samsung will have listened to enough feedback to address what really matters to their consumers. Specially if they lose their crown to Huawei in the meantime.

I agree, except that Huawei is badly handicapped now.... My P30 Pro is insanely good but without Play Services I won't be getting the P40 pro.. sadly

The Note 10 takes top spot on the wide angle list at dxomark...

108MP divided by the next square array up is 12MP, not 13.5.

Knock the S10 camera all you want but I'd take an S10 over a Pixel any day for photography. The "gimmicky" dual aperture has proven useful to me, so have the additional camera sensors and multitude of shooting modes the Pixel doesn't have.

+1 I love my S10+ camera I've taken 1000s of photos in every situation of lighting and it's never failed me. Went to wrc in Wales and it was faultless in pitch black of the night if you use the main camera

The dual aperture was one of the cooler features of the S10.

I love my S10e camera, but some sensitive pics when compared with my friends iPhone XR, the XR has more detail when enlarged. I need more clear details in pictures.

Looking forward to seeing how this new focus on cameras pans out, in contrast to last year. If they kept it the same, I shutter to think of the consequences, and they certainly would get plenty of negative exposure... I'll go back to my day job now 😨

The s10 pictures are amazing! You can't call these a disappointment. Every Pic I take is great. Dunno what you're talkikg about

Samsung need most improvement in low light? No they need most improvement in daylight, you got it other way around.

Would love if the dual camera mode app from the S7/S8 era was made available again, it has the functionality that apple just rolled out today with it's double camera. I remember downloading it and playing with it just a little on my S8+ and then it was disabled after the Pie update changed the default camera, and even though the applet still shows "installed" it's useless for me.

I'd love to see that camera array on a S10e sized phone. I'm done with phablets, and want a compact flagship, like the Sony Xperia XZ2 Compact.
Android Central Newsletter
Get the best of Android Central in in your inbox, every day!
Thank you for signing up to Android Central. You will receive a verification email shortly.
There was a problem. Please refresh the page and try again.