Isis mobile payment system to launch mid-2012, lists Chase, CapitalOne, and Barclaycard as partners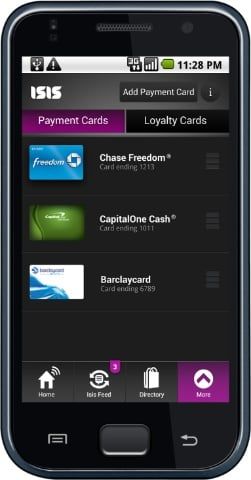 Isis Mobile Wallet, the service backed by AT&T, T-Mobile US, and Verizon has announced new launch partners and it's long awaited trial launch date. New financial partners Chase, CapitalOne, and Barclaycard join Visa, MasterCard, Discover and American Express for the trials in Austin, Texas and Salt Lake City, Utah which are expected to begin sometime in mid-2012. Isis isn't sharing much past that, as they say the nationwide rollout will follow the trial with no further details.
Isis partners will allow users to program both credit and debit cards into the mobile system, which gives it another leg up on Google Wallet. Add in the fact that Isis has carrier backing and pre-approval, and chances are that this will be the mobile NFC-based payment system we'll see on our devices when and if it catches on, at least in the US. That doesn't mean Google Wallet will disappear, but being available and being relevant are two different animals.
This doesn't mean that Isis is inherently bad, though. It may turn out to be an excellent product, and I'm excited to give it a try. We have to remember that Google Wallet isn't open and lovable, it is a for-profit venture from Google, much like Isis is a for-profit venture for its backers. When it comes to finances, few things are open and best for the consumer. The best product will be defined by the users and that's the one that will win out.
The full press release follows the break.
via BusinessWire
Chase, Capital One and Barclaycard First to Place Their Cards in the Isis(TM) Mobile Wallet
Starting This Summer, the Isis Mobile Wallet Will Be Available to More Than 100 Million U.S. Card Holders
BARCELONA, Spain, Feb 27, 2012 (BUSINESS WIRE) -- Isis(TM), the mobile commerce joint venture created by AT&T Mobility, T-Mobile USA and Verizon Wireless, today announced that Chase, Capital One and Barclaycard have entered into agreements with Isis enabling their credit, debit and prepaid cards to be placed into the Isis Mobile Wallet. Starting in mid-2012, consumers will be able to load their eligible Chase, Capital One and Barclaycard cards into their Isis Mobile Wallet and shop at participating merchants, starting with locations across Salt Lake City and Austin, Texas.
"Today's announcement is testament to the vision and commitment of Chase, Capital One and Barclaycard to make mobile commerce a real and positive experience for their customers," said Michael Abbott, CEO, Isis. "Mobile commerce is more than a new way to pay; it's about extending the relationships consumers enjoy with their banks and merchants into a powerful and convenient new form factor."
The Isis Mobile Wallet will provide consumers with a convenient and secure way to pay, redeem coupons and present loyalty credentials, all with the tap of their phone. Chase, Capital One and Barclaycard will tailor their cardholder service experience within the Isis Mobile Wallet to reflect their respective brands and ensure a seamless and secure experience across physical cards and mobile platforms.
"Chase is committed to making mobile commerce a reality," said Richard Quigley, president, Chase Card Services. "By working with Isis, we are excited to help pave the way for innovation in the mobile payments space and to provide cardmembers with a secure option for easier and faster payments on the go."
Last July, Isis announced relationships with the top four U.S. payment networks: Visa, MasterCard, Discover and American Express. Isis' relationship with the four U.S. payment networks provides banks with the freedom to enable any major network payment card and provide consumers with ubiquity and freedom of choice when deciding which of those cards to load into their Isis Mobile Wallet.
"Our customers have embraced digital and mobile banking and are demanding new and easier ways to manage their financial lives," said Jack Forestell, executive vice president, Digital, Capital One. "Our relationship with Isis creates an exciting opportunity for our customers to begin to fully experience the power of mobile commerce."
Today's announcement underscores Isis' inclusive approach, providing all stakeholders -- banks, merchants and consumers -- with the freedom and choice necessary to foster a robust new industry. Isis is building an ecosystem to provide consumers with a ubiquitous and positive experience across all participating carriers, phone models, payment networks, merchants and banks.
"We believe Isis is strongly positioned to bring the convenience, value and simplicity of mobile commerce to consumers," said Stewart Holmes, senior director-mobile commerce strategy, Barclaycard US. "We're excited to build this offering for customers and our card partners with Isis and look forward to shaping the future of payments."
The Isis Mobile Wallet will initially launch in Salt Lake City and Austin in mid-2012 and is planning a national rollout to follow.
"While mobile wallets may look and smell the same from afar, Isis is setting itself apart by patiently building an ecosystem of issuer, network and merchant partners, offering an open platform that leaves partners in control of how they will communicate with their customers, and leaving the partners in control of sensitive payment and marketing data transiting over the platform," says Gwenn Bezard, research director with Aite Group. "Isis' new announcement sends a clear signal: it is serious about scaling mobile payments."
About Isis
The joint venture is between AT&T Mobility LLC, T-Mobile USA and Verizon Wireless and is based in New York City. The venture is chartered with building Isis(TM), a national mobile commerce venture that will fundamentally transform how people shop, pay and save. The Isis(TM) mobile commerce network will be available to all merchants, banks, payment networks and mobile carriers. ISIS is a trademark of JVL Ventures, LLC in the U.S. and/or other countries. Other logos, product and company names mentioned herein may be the trademarks of their respective owners.
Senior Editor — Google Ecosystem
Jerry is an amateur woodworker and struggling shade tree mechanic. There's nothing he can't take apart, but many things he can't reassemble. You'll find him writing and speaking his loud opinion on Android Central and occasionally on Twitter.
Good luck to Isis and Google Wallet. Let the best NFC payment system win...

Ummm Google Wallet is Dead. In the US the Carriers run the mobile scene and there's nothing you can do about it. The fact that 3 of 4 agree on Isis and they have no problem attracting Major Cards and banks means that this war is over.

Yeah, I was thinking the same thing.

All this means is that it won't come pre-loaded. As everyone already knows they can get GWallet on Verizon's Galaxy Nexus, so what is to stop getting it on other NFC enabled phones? The only thing is that right now Google has decided to limit it to Sprint Nexus phone and Master Card users. Once Google releases Wallet to everyone then the carriers will have no say in it. The thing that may kill GWallet is if they don't release it to everyone before Isis releases to everyone (and they already have the head start, they just need to not drop the ball in the next six months or so).

hmmm "launch partners" that includes pretty much the big players and banks, Visa, M/C, AmEx, etc. How long before we can add those to our Google Wallet?!?! Only time will tell or maybe Google Wallet will in fact disappear...

It's spelled Capital One.

Does this mean those of us with an AT&T Samsung Galaxy SII will finally have NFC unlocked and enabled??

if you root the S2 there's limited use out of the NFC chip...I'm going to assume with ICS it'll be a bit more accessible (hoping)

agreed, fingers crossed it works in ICS

Can't wait to try it this summer in Austin!

Sadly, as much as I want to love Google Wallet. It's been out and about for nearly a year now and has made zero advances or added any other CC companies or bank cards options. Google wallet only being available for Citi Cards which I do not have and a prepaid Google card which IMHO is useless after burning thru the free 10$. I rather just use my actual CC then have to constantly reload my virtual card whenever I want to use it. Hell, since the whole if i lose my wallet/phone with google wallet and someone will use my card situation. (Just like your wallet and credit cards, dont lose your phones people.......)I have been unable to reactivate my Google Prepaid on my device since I had to do a wipe when flashing a new rom. I have close to 20$ on that card I am not even able to access.... Your able to activate a new card for new accounts, but not reactivate existing cards on existing accounts. This is an issue that needs to be fixed, like, YESTERDAY!! ISIS isn't even available yet and Capital One and Chase, 2 credit cards I actually do have, are already on board. I want to like GW, but ISIS isn't even outyet and it's already wining for me.

Until Isis is released we don't know how "on board" everyone is with it. Technically Visa and AmEx are on board with Google Wallet since they have given Google the info they need to add their cards, and we have no way of knowing (as far as I know) of whether the reason Google Wallet support Citi Master Card right now is because they don't have permission to add anyone else (sort of unlikely in my opinion if Visa/AmEx have given them the information they need), or if Google themselves don't want to add too many people/companies while they're still working the bugs out (like the recent security issues with prepaid cards and rooted phones).

They need to get something working so majority of people can use some sort of wallet.Rather it be Google Wallet or ISIS they are dragging their feet on this.Fortunetly I have been able to use Google wallet on my nexus,but I am in a minority>
Android Central Newsletter
Get the best of Android Central in in your inbox, every day!
Thank you for signing up to Android Central. You will receive a verification email shortly.
There was a problem. Please refresh the page and try again.