Instant Apps now on 500 million Android devices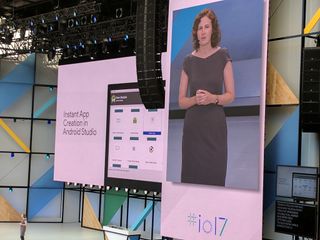 Instant Apps are a way for developers to provide a lightweight, modularized portion of their full app experience when a user opens specific search results. The user has to enable Instant Apps in the Settings menu before the feature will work, however. Announced at Google I/O 2016, the feature was made available to all developers after this year's I/O.
Google has announced the feature is now available to 500 million users, so developers should feel encouraged to start building for the feature. Instant Apps are available for any user running Android 6.0 and later, or 45.8% of all Android users. While that's not a majority, that's still a very large number of users and will continue to grow in the future.
Google also shared that application developers are already seeing a return on their work for Instant Apps. Vimeo (opens in new tab) increased session duration by 130% following the integration of Instant Apps, while the real estate purchasing application dotloop (opens in new tab) saw a 62% increase in users using its service to sign documents after integrating Instant Apps into its platform.
Google also provides a list of best practices for developers interested in integrating Instant Apps into their service.
Have you stumbled across an Instant App you like yet? Let us know down below!
Android Central Newsletter
Get instant access to breaking news, the hottest reviews, great deals and helpful tips
I am not quite sure I understand what an Instant App is and how I turn this feature on. Went to Android Authority and now see what they are.

Only instant app I've seen is vimeo... It worked pretty good

I turned this feature off because I don't understand it. I guess I could turn it on again in the future.

I can't seem to find the instant apps in search results. I enabled it in settings, but they don't show up.

Where is this setting you turned on? I'd like to verify it is off, and left off on all my phones.

I forgot about it it's taken so long

The only thing I know about instant apps is that I've seen a couple of download sessions that are described as that and I can't figure out what they are. What is the stuff I need to get rid of it unless I really need it LOL.

Feel a bit thick but having read the article I haven't a clue what an instant app is. All seems a bit confusing.

Anyone know where to enable this on a Galaxy S6 running Android 7.0?

Found it: Settings >Google>Instant Apps
It was already ON.

I don't have the instant app a in my setting on any device (all running 6.0->). Does it need play services or Google app update? Or this this once again region lock thingy?

I don't trust instant apps. An http link that becomes an app on my device? Not through the play store where there is at least some vetting of the app. It could be any sort of malware. It sounds too much like the windows 'please enable macros' scams. Won't be switched on here.

You want to turn this off if you have it on. It adds an extra security hole.

I had this pop up via an email from realestate.com.au.
Android Central Newsletter
Get instant access to breaking news, the hottest reviews, great deals and helpful tips
Thank you for signing up to Android Central. You will receive a verification email shortly.
There was a problem. Please refresh the page and try again.