First look at the AT&T Xperia Play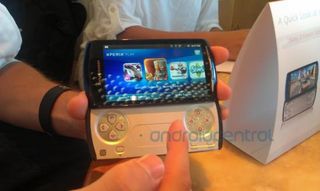 Youtube link for mobile viewing
One major release headed for AT&T this holiday season is the Sony Ericsson Xperia Play, which we had a nice hands-on with today in New York City. This is the same Xperia Play currently offered on Verizon, meaning it's the same slide out keyboard, 4-inch FWVGA display (854x480), and 1GHz processor you've grown to love. This one, however, will be running on AT&T's HSPA+ network, earning it the coveted title of "4G device." AT&T will be offering the device in a "Stealth Blue" option, a nice addition to the standard black option we've already seen.
From our hands-on everything looks pretty smooth and ready for production. The gameplay is great, the screen is vibrant, and the OS seems pretty snappy. If you're a gamer, you'd be silly to miss this one. Whether you're biding your time to buy one or just interested in learning more, check out our review of Verizon's version here.
Get the Android Central Newsletter
Instant access to breaking news, the hottest reviews, great deals and helpful tips.
It sure would be nice if any review of any of the various Xperia Play incarnations mention its suitability for playing emulated games. PSOne ports are fine and all, but let's call a spade a spade: This thing's built for SNES and GBA games.

I currently have an xperia play. The r800a model it is for the Rogers Carrier. I have the following emulators on my xperia play -Ataroid
-FPse
-Gameboid
-GBCoid
-Gearoid
-Gensoid
-N64oid
-nds4droid
-Nesoid
-psx4droid
-Snesoid They all extremely well except for nds4droid. N64oid occasionally lags but it is very rare. I play super mario bros. all the time on my xperia play and I enjoy it a lot it is very smooth. Also FPse and PSx4droid are both PS1 emulators but FPse runs 100 times better than PSX4droid. I recommend getting a big memory card if you plan on playing PS1 games as those roms are huge GT1 is around 500-600 mb If you have any questions feel free to ask me.

How did you get the emulators on it? Threw the browser?? And those it have a regular sim, are a micro sim card (like the iPhone4 ) thanks ..

How much off contract?? And is it jailbreakable? ;P haha

Yes, it is
New SE phones officially come with unlockable bootloader

just curious why for at&t they say you'd be silly to pass this one up and the verizon review it got beat up as being cheaply made and not enough games and blah blahblah. lol its the same phone..

Is it the same Vanilla Gingerbread OS that Verizon's version has?

Holiday? By the time this comes to at&t the processor will be two years old!

Where is Galaxy S2 at&t???????????????????

This is great news. Having the Xperia Play on the two largest US carriers should encourage more aftermarket developer interest. Still not sure why AT&T isn't offering the Xperia ARC though.