Indian government calls Google Maps unreliable, wants citizens to use its own mapping solution instead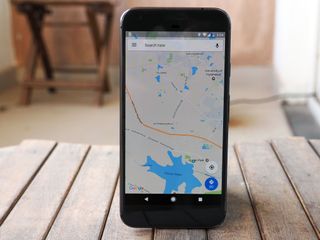 The Indian government doesn't have a high opinion of Google Maps, and it conveyed that sentiment today by saying that the service is "not authenticated" and calling into question its reliability.
That's according to a statement made by the head of the country's mapping and survey organisation, aptly named the Survey of India:
This isn't the first time the Indian government has gone up against Google. Back in 2010, the government issued a notice to the search giant for classifying two states — Jammu & Kashmir and Arunachal Pradesh — as "disputed territories" and Pakistan-occupied Kashmir as belonging to Pakistan. The area in question has been hotly contested by both India and Pakistan for decades.
Last year, the government prohibited Google from bringing its Street View vehicles into the country, stating that the vehicles could record potentially sensitive military installations. Shortly thereafter, it rolled out legislation to curb the efficacy of services like Google Maps.
Contrary to what the government says, Google has invested significant resources into making its Maps data much more reliable in India. In fact, the search giant employs hundreds of contractors in its sprawling Hyderabad office solely for improving location details in Maps. The main issue here is the lack of control — the Indian government cannot enforce Google to remove a specific location or tailor topographic data to suit its needs:
To that effect, Swarna Subba Rao, the Surveyor General of India, is asking Indians to cut down on their reliance on Google Maps and instead switch to the Survey of India's own mapping solution:
The Survey of India is working on its in-house topographic data that will be available to Indians free of cost. According to a senior official within the department, the data is not without its glitches, but the issues are being ironed out right now:
And if you were interested in seeing what kind of solution the government is planning, head to the official website. Who else feels like it won't be able to match up to what Google is offering?
Get the Android Central Newsletter
Instant access to breaking news, the hottest reviews, great deals and helpful tips.
Harish Jonnalagadda is a Senior Editor overseeing Asia at Android Central. He leads the site's coverage of Chinese phone brands, contributing to reviews, features, and buying guides. He also writes about storage servers, audio products, and the semiconductor industry. Contact him on Twitter at @chunkynerd.
This will still take about 5-10 years to be competitive with Google Maps not to mention the frequent updates this app would require. I'm highly skeptical about this move by the government.

Funny....I jumped to that site linked in the article and I was instantly teleported back to the year 1995.

Yea, it's pretty terrible.

I've actually encountered some gremlins with Maps, especially places which aren't accurately located. I've already made edits to them, all of which were approved by Google. I think we should probably do the same.

Good thing the vast majority of people in India aren't using Google Maps to lay a rail line.

Yea that argument/statement was ridiculous: Maps is a consumer product, not an engineering tool. I can understand if their government wants to provide an "authenticated" (whatever that means) product for their public, but I don't see why they would actually need or want to discourage "inferior" commercial solutions (I guess that's completely political).

And if they really want to have their citizens to have reliable mapping they also could provide the data to Google.

I really don't like Google maps at all. It does good most of the time but whenever I get close to my destination, it shuts down too early and I have to guess where the place is. I prefer Waze over Google maps any day of the week.

Yes the waze app developed by Google has some advantages, I found that it was a lot more power hungry and I ended up switching back to Google maps.

"It does good most of the time..." Well. It does well.

Mine usually stops when I'm right there, but there have been a few hiccups like having me get off a freeway and right back on becuse the ramp is technically a few feet shorter. Those problems have become rare lately, so Google is listening to users and data. I wanted to go with Waze, but I'm not giving them my address book like requested in the permissions!

My experience around Vegas and the DC area has been the opposite... I always have issues with waze and find Google maps to be more reliable and accurate.

They only want you to see what they want you to see! Although they may be right about topographic information being accurate to some degree, they want to enforce something to an audience of

"But when we have to put a new railway line or make canals, that is where our topographic maps come in, when you require very accurate, engineering quality data." Google Maps wasn't designed for task such as these.

When not being authenticated by a government is a demerit for software. Alright.

Yeah, I laughed at that too.

Its government, the quality is obviously going to be pretty bad. especially Indian government

Why is Indian government behaving like Rene?

I'm BARELY comfortable giving Google all the location data that they get from Google Maps. Using a government-developed navigation app? That's gonna be a hard nope.

Ok. Immediately return all several million H1B & OPT visa holders so they can manually map India. Problem solved!

It's not about quality, it's about control. They want to use their maps to promote their own viewpoint. If they were worried about privacy or consumer protection, they could have thrown their weight behind OpenStreetMap. Even the "sensitive military establishment" issue is horse hockey because if Google picks it up, all India needs to do is ask and it's gone or blurred. And of course, by passing laws to make it harder for non governmental organizations to compile maps, they proved that it wasn't about accuracy...

This reminds me of how CVS pharmacy stores in the US claimed that Apple and Android Pay were insecure. Funny, they were fine until CVS was trying to develop and push their own app...