IMDb Movies & TV app updated to support HD streaming of movie trailers on tablets and smartphones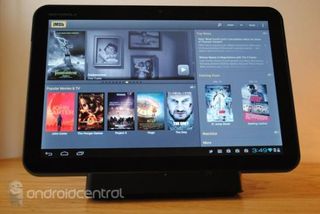 When we chose IMDb Movies & TV as the tablet app of the year in our 2011 Android Central Editors' Pick Awards it was a pretty fine looking app and in that time, IMDb has continued to improve upon the app overall. The last update brought a new layout and ICS features but now a new update is available for download.
Movie buffs will want to grab this one for sure as it addresses some long standing bugs but more importantly it adds HD streaming of trailers for both tablets and smartphones. Download is past the break for you all, also if you're checking it out let us know what movies you're looking forward to this summer in the comments.
This is a GR8 app for movie lovers!!!!

It IS a sweet ass app. Do you know how many times I find myself looking up some fringe sitcom actor I recognize from some sweet 80's movie or 90's drama. Well, I don't know either, but I know it's a lot!

To bad they still haven't brought back the widget on ics. I really miss my widget.

You should have thought twice before surgery.

Dang. The one thing that the app is missing is an interface with the message boards. Add that and it would be the best website app ever, hands down.
Android Central Newsletter
Thank you for signing up to Android Central. You will receive a verification email shortly.
There was a problem. Please refresh the page and try again.