Images of Nikon's Android powered Coolpix S800c leak out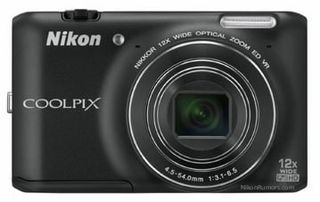 Going off the previous rumor of Android powered Nikon cameras coming to market, Nikon Rumors now has some images of the device that shall be known as the Nikon Coolpix S800c. Phil already waxed poetic on the reasons for it, Jerry enjoyed the thought on the Android Central podcast. The sole image showing off the interface looks a lot like Android 2.3 Gingerbread which matches up with the expected specs:
25-250 mm lens
3.5-inch OLED screen
The camera runs all Google Play apps
The camera will probably run Android 2.3
Built-in GPS
Built-in Wi-Fi
Right now, according to Nikon Rumors an official announcement should be coming on August 22nd. In other words, we'll have to wait and see if that actually happens but for now you can jump below to see more of the camera. Assuming it comes to market and is priced well, would you be interested in picking one up?
Source: Nikon Rumors; via: The Verge
Android Central Newsletter
Get instant access to breaking news, the hottest reviews, great deals and helpful tips
Nice. I would probably buy a JB phone with a true camera integrated in to it, something like this but with a more recent OS version and phone capability. For me, having a decent optical zoom and sensor would be worth the fact it would be built like a brick. Hopefully this is a step towards that.

Yeah, I'd be interested in it even on Gingerbread (kinda). This would make long term travel much easier. It'd be awesome if they incorporated a GSM radio in there. I would use this as my travel phone since I hardly ever use a phone when traveling, but like to have the capability. Even now, I'd use it for Skype and travelblogging. Direct uploading of my shots would be really cool.
nb

Hopefully this is just the beginning. I would love to see Samsung update their WB series (wi-fi enabled point and shoots) with an Android OS. You could sync your address book with it. Get a GPS tag for every picture. And crop and email on the fly to friends, G+ / Google Photos, and Facebook.

Should be interesting to see how this will work..

Yup. Looks like a camera.

After seeing people take pictures with their tablets, I think I'd look a little less strange taking a phone call with a point-n-shoot camera.

Taking pictures with a tablet, in public!! Its inherent douchebaggery to be seen committing such an act according to Josh Miller over at Cnet. I really don't care if my camera runs apps, because it will probably run them badly, on a screen too small, with controls ill suited for the task. So Android isn't that important, but WIFI and GPS are important. Getting shots off of your camera into your computer is the single biggest pain in the rear about consumer grade digital cameras. If you aren't yanking cards you are cabling up, and either is time consuming, and enough to cause you to put if off.

Oh, man, I feel your pain... "Cabling up" or "yanking cards"? Not that long ago, you would have been limited to ~24 shots and what you took is what you got, if you didn't like the shot, too frakking bad, you've already exposed the film and sent it away to be developed and printed on tiny 3x5 (4x6 if you felt like splurging) sheets of paper!

XDA will have Jelly Bean and Angry Birds running on this thing in no time.

I am very interested in this if it turns out to be a good camera. My wife has the Samsung wi-fi camera and it's really nice to not have to pull the card out. This should take it a step further. Wonder how much memory is on board for apps and stuff like that. Then of course what kind of battery life will it get. I really like my Sony Point and Shoot camera but admit I don't use it much compared to my phone. Dropbox backup alone makes using my phone much more convenient.

Do I want one? It depends on how good the photos are. I've had Nikon P&S cameras, and I've seen images that come out of others, and I am not that impressed. Contrary to their DSLR cameras, I've found their P&S cameras to be somewhat lacking in the image quality department.
Android Central Newsletter
Get instant access to breaking news, the hottest reviews, great deals and helpful tips
Thank you for signing up to Android Central. You will receive a verification email shortly.
There was a problem. Please refresh the page and try again.