Android Central's top picks from IFA 2017!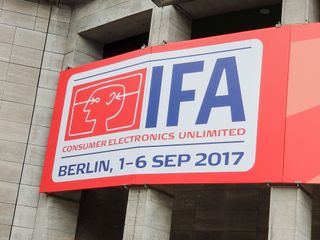 The Android Central team has returned from Berlin, and that means it's time to look back on all of the best announcements from IFA 2017. The show has traditionally been about more than phones, and that means this year's picks continue the trend of crossing into several different genres. This year we handed out 10 different top picks, plus additional choices for the most innovative and best design of the show.
Here are our top picks from IFA 2017!
LG V30
It really shouldn't come as any surprise that the LG V30 took down three different awards for its unveiling at IFA. Most innovative, best design and our best of IFA 2017 award all went to what is easily the biggest announcement from the show if you're looking at things from an AC perspective.
With plenty of run-up and anticipation, the V30 seems to have exceeded what people expected of LG this year. The V30, unlike its predecessors, is no longer a niche or interesting-but-flawed device. It lost the second screen and bulky body, but added a beautiful and sleek frame covered in curved glass instead. It packs in all of the latest specs and features, including a 6-inch display without being very large overall. The camera story is still strong, and initial results are promising.
Now, we just need pricing and availability. If the pricing is right, we could have a serious competitor on our hands.
More: LG V30 hands-on: A galaxy of good ideas
Motorola Moto X4
It was also great to see Motorola make a big move at IFA with the Moto X4. This definitely isn't a device that actually fits the same mold as the previous three phones to wear the name, but once you get past that nostalgia you realize this is easily the best Moto X to date. Not only does it have more features and really solid specs compared to the competition, it's actually appropriately priced for what it offers — coming in at just €399. Running typically wonderful Motorola software on capable specs in a solid body, it obviously shares a lot with the Moto G line — but that's not bad company to hold.
We don't yet know how it'll be priced when it comes to the U.S., but if this floats around the $375 range it has everything it needs to be a hit in that mid-range segment. We do, of course, have to see how the cameras do — it surely isn't Motorola's strong suit lately (or ever). The Moto X4 may not be as special and differentiated as we all wanted to see from a Moto X, but it's going to be a really nice phone for a lot of people.
More: Moto X4 hands-on: Familiar name, entirely different phone
Samsung Gear Sport
IFA has been Samsung's wearable exhibition for a few years now, and the Gear Sport is precisely the kind of refresh that's suited for this show — getting a bit of recognition whereas it would be completely overshadowed launching alongside a flagship phone. The Gear Sport is effectively a replacement for the aging Gear S2, and that's exactly what so many people wanted to see after being turned off by the size and weight of the Gear S3 watches last year.
The Gear Sport has serious durability and enhanced water resistance, plus all of the great fitness tracking capabilities of the Gear Fit 2 Pro and full smartwatch functionality with the same software as the Gear S3. And with a smaller display and a bit less to do it'll get the same battery life as the Gear S3 out of a smaller capacity. Sure you miss out on Samsung Pay over MST, and it doesn't have LTE, but then again it's also small enough that you could actually wear it comfortably while running or hitting the gym.
Again we still need to see pricing on this one, which will come later in the year when it hits stores for the holidays, but if it hits the expected $250 price point it's going to be a great choice for those who want to split the difference between a fitness tracker and smartwatch.
More: Samsung Gear Sport hands-on: The Gear S2 refresh we all wanted
Samsung Gear Fit 2 Pro
The original Gear Fit 2 is getting a bit old, but is still entirely capable — so Samsung simply refreshed it and called it the Gear Fit 2 Pro. Many people wanted to see a full design refresh, but Samsung isn't looking to get people to upgrade from the original Gear Fit 2; nor does it think there are any critical flaws with the original.
The Gear Fit 2 Pro made many of its improvements in software, adding new integration partnerships with Under Armour and Speedo so you can use the Fit 2 Pro as a tracker to feed into other services just as well as Samsung's own Health platform. That's a big deal. To go along with that, you get improvements for swimmers including a new secure strap and 5 ATM water resistance.
Samsung has quietly offered one of the best dedicated fitness tracking devices available, and it just got better with this refresh.
More: Samsung Gear Fit 2 Pro hands-on: A great fitness tracker gets better
Samsung Gear IconX 2018
The original Gear IconX headphones were nice, but severely hamstrung by their horrible battery life. Samsung knows it was a problem, and focused specifically on it for the 2018 refresh. The new model quotes 5 hours of playback over Bluetooth, or 7 hours when playing standalone from the 4GB of internal storage. That not only makes them great for long workouts, but could also push them into the arena of being good for daily listening even when you're not going for a run.
The new case that holds the earbuds is smaller than the old model, charges over USB-C now and has a faster charging rate to quickly add an hour of charge to the headphones in 10 minutes. Nobody's expecting these to all of a sudden be huge sellers, but Samsung has at least fixed the critical flaw with the original version.
More: Samsung refreshes fitness-focused wearables at IFA 2017
Lenovo Star Wars Jedi Challenges
The Force is strong with this one. Lenovo and Disney have teamed up to make an Augmented Reality game for young Padawans: the Star Wars Jedi Challenges. Combining a tracking headset, your phone as a reflected display, a light beacon, and a Skywalker lightsaber hilt, Jedi Challenges places you into training against iconic Sith like Darth Vader and Kylo Ren — all in the comfort of your living room. With a price of just $200 and a draw across generations, Jedi Challenges might just be the AR "killer app" we've been looking for.
More: Lenovo Star Wars Jedi Challenges
SanDisk 400GB microSD card
Not much to say here, other than we're surprised it look this long. SanDisk is the big name in high-capacity, high-performance microSD cards and it went all-out with a 400GB card. Sure we're not even close to the SDcard slots in all of these phones that can take a 2TB card ... but just give it some time.
For now, 400GB is a serious amount of storage — you'll have to be a serious media hound to want this big of a card. You'll also need so save a bit of money up, as the retail price is set at $249.
More: SanDisk Ultra 400GB microSDXC is the world's largest microSD card
BlackBerry KEYone Black Edition
The KEYone Black Edition was already previously announced, but at the time wasn't supposed to see a wide release. Apparently demand was high, and now it's launching globally. Alongside the all blacked-out body, the internals received a small bump up to 4GB of RAM and 64GB of storage. It looks very slick, but that internal bump definitely helps assure buyers who are picking up the KEYone a bit later in its life that it has some runway in terms of taking on larger, more demanding apps in the future.
The price jumps the equivalent of about $75 depending on the market, which may be worth it just for the added future proofing of the spec bump — you'll need to really want that darker color as well.
More: BlackBerry KEYone 'Black Edition' goes worldwide
Huawei Nova 2 and Nova 2 Plus
Huawei hasn't launched its current mid-range flagships, the Nova 2 and Nova 2 Plus, outside of Asia yet, but what we see here is a well-specced, well-built pair of $300-400 phones. The Novas come in 5- and 5.5-inch flavors, with vibrant 1080p displays and impressive dual RGB cameras around the back. With 1.25-micron pixels, a 12-megapixel resolution and f/1.8 lenses, the Nova 2 series has a promising mid-range camera array. And meanwhile, it steps on the toes of some more expensive handsets with an ample 4GB of RAM and 64GB of storage.
We're crossing our fingers for a Western release sometime soon.
More: Huawei Nova 2 and Nova 2 Plus hands-on
Nest Thermostat E
Nest made a relatively small splash at IFA 2017, but it was an important one because its new Nest Thermostat E just lowered the entry price for getting in on the Nest system — whether that's as a secondary unit or just to save some money on your only one. The Thermostat E comes in at $169, a solid drop below the standard price of $249.
For the money it still looks nice and futuristic, but has lost its far-field sensor and has a simpler build. Still, in this case the most important part is price and the fact that the core functionality is the same as the more expensive unit.
More: Nest's Thermostat E has an all-new design, cheaper price tag
Get the Android Central Newsletter
Instant access to breaking news, the hottest reviews, great deals and helpful tips.
Andrew was an Executive Editor, U.S. at Android Central between 2012 and 2020.