Ice Cream Sandwich update finally starts rolling out on HTC Rezound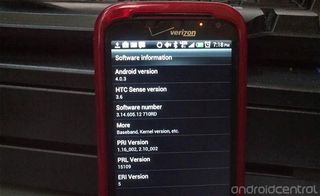 Rejoice, long-suffering HTC Rezound owners. Your protracted wait for Android 4.0 Ice Cream Sandwich seems to be nearing its end. After a shelved update and countless leaks, it looks like ICS for the Rezound is officially official this time. Posters on the Android Central forums, and elsewhere, have confirmed that a 299MB over-the-air update for the Rezound has begun pushing out to handsets across the country, bringing the phone up to software version 3.14.605.12.
Like other Ice Cream Sandwich updates for Sense 3.x phones, ICS on the Rezound comes bundled with Sense 3.6, which includes all the benefits of Android 4.0, but without the fancy new visual finery of Sense 4.0.
As is the case with many over-the-air updates, not everyone will get the update right away, as releases are staggered over a period of days to reduce the strain on the download servers. Nevertheless, Rezound owners can rest assured that the update is complete, and should be making its way to all handsets fairly soon.
If you're an HTC Rezound owner, let us know how you're getting on with the ICS update -- if you've received it -- down in the comments.
Source: Android Central forums
Android Central Newsletter
Get instant access to breaking news, the hottest reviews, great deals and helpful tips
Alex was with Android Central for over a decade, producing written and video content for the site, and served as global Executive Editor from 2016 to 2022.
Huzzah!!! I am just going to wait and see if this update will override the leak I flashed not even a week ago.

why not? I'm running the leak. I will probably wait till a rooted version is out and just flash that, but why not install over the leak?

Now if they would just get something out for the Thunderbolt.

Good luck with that. Might not see it. especially after the Desire HD announcement.

Congratulations Rezound owners!!!!!

I just ditched my rez for a gnex. Happy for y'all though.

Finally now they can stop complaining on every ICS story and enjoy the lame Sense 3.6.

So true. Still, I'm not accepting the OTA until I see what surprises VZW has placed within it.

It could be weeks or months before every Rezound gets it. Still plenty of time to complain.

LOL, I have never enjoyed Sense, and try to disable or circumvent it any chance I get. If I had Sense 4.0 I'd do exactly the same thing. All vendor skins suck. Including sense. I bought this phone in spite of sense, not because of it.

sense 4 is fantastic on the rezound. I highly doubt you would ditch it.

I agree its awesome! Im running ViperRez 1.0.3 best rom for the Rezound right now.

Despite the Sense overlay, really nice things are happening for the phone (I've been using the RUU for the last 2 months -- v.10 with the OTA being v.12) ICS is optimized for dual-core processor utilization -- Rezound is speedy now... no delays, no lag. Nice! Also, battery life is improved greatly.

End Of Days. You heard it here first.

Complaining?? I think u would be a little upset too if u were promised to be one of the first to get this update months ago

Not if I was aware of Verizon and HTC's historical update nonsense. Gingerbread for the Thunderbolt comes to mind.

I have not seen one thing that makes me believe this. I think this is a hoax as much as I hope it isn't. Anyone actually have i?

Verizon just did some sort of small update in prep for ICS. Gave me a 3 min. countdown notice first. Have the full update now :-)

The thunderbolt and the Droid incredible 2 are the last ones I believe that are going to be updated right?

Thunderbolt won't get one.

Alex...you realize that we have only one reported case of the OTA hitting right? It sure doesn't help that I can't find a single user on any of the boards that I'm on that also reports OTA success. Either someone's crying wolf or this is a soak.

I got it today! I manually checked for an update and returned nothing around 9 this morning. Then checked again at noon and it found the update. Took about an hour to complete. Its zippy and much smoother than before. I've already noticed a bump in battery life.

Imma just give HTC a call

Not many reports from what I have seen...I think someone might be playing a joke on us. I'll believe it when I see it on my phone! This whole wait is bs!

There hasn't been any offical word that the thunderbolt won't get it. When it gets will be like December imo

Is it April Fool's? I don't believe it!

where was that picture taken? somewhere aboard the USS Nostromo? nice one for the Rezound peeps!

I'm a sad Panda!! where's the thunderbolt :(

I changed the clock forward a year and was able to get the update. Got the 7mb one first. Currently downloading ICS.

Downloading 7MB right now! At least it is a start!

I just received this update: [IMG]http://i48.tinypic.com/o69qo3.jpg[/IMG] http://i48.tinypic.com/o69qo3.jpg

Click OKAY to download. After download is finished, wait a few minutes and then go back to settings and hit " check for new software" and you should get the ICS notification screen and click OK to download and ICS should start to download.

Got the 7mb download, now what??

Never mind, figured it out, went back to settings, pushed " check for New software" and ICS screen popped up, and downloading ICS now!!!

I am installing it now finished the download and installing, I did not have to change anything just did the software update check and it started.

Downloading my update as I type this out. I live in Boston area and thank you Verizon.

I am done downloading and restarting to install ICS. I am very excited to finally have this OS update. It was a weird update, since I had to download a 7mb file to then be able to download the ICS update. This software update better make my phone scream since it has taken so long. Live in the Atlanta, GA area, just FYI.

Just wondering what that update was really for.

In the process of installing the update. Forced it via check for new software. Location: Milwaukee, WI

Yay!!!!!!!!!!!!! Installing update :) Update: My Rezound now running ICS!

Downloaded mine......and afterwards had an orgasm!

Downloading right now........Los Angeles area

I updated my device the same way vickery1956 did. ICS is awesome on my Rezound! Thank you Verizon!

Downloading right now in Hilo, Hawaii :)

No Hoax. I am downloading the 299MB right now.

Installed with no problems. Glad to finally have ICS, now to be jealous of all those JB phones.

Great Install, but won't find my music on the darn micro sd!! help!!

Google's "Play Music" app doesn't have a problem with that. I noticed the same thing you're concerned about, though, with the stock HTC music app.

Well, the HTC msuic app finally figured it out, but it must have taken a while to recatalog the 1600+ songs I have loaded.

Downloading and installing. Hope this doesn't introduce new bloat or bugs.

Got my OTA around 1:30 pm. The update went fine. It's a 2 part process. First was a firmware update, followed by ICS. So far so good.

My OTA was completed around 15:00 CST. I live in East Texas. I forced it via check for new software also. No problems so far :)

Downloaded mine!!!! F'n awesome!!! Didn't see any bloatware just google+.....

Got mine then passed out!

Sure, the week I am in BFE Iowa with 1x roaming service... fml

Seems to be a problem with the camera force closing after updating my wifes rezound. Every time she tried to use it, it force closes and reboots. Its bothering he crap out of her. I did a clean install for her phone was not modified whatsoever. Kinda strange.

I'm all ics'd out. In Omaha and it's 7:30pm. Do you know where your Ics is?

No hoax! It's legit. There are 2 separate updates. The first update "prepares" the phone for ICS. Couple of restarts later and the actual 299 mb update kicks in. I ran a "check new" and it popped right up.

I got the update this afternoon. Except for the cosmetic changes to Sense and the settings menu have not noticed anything different yet. Some decrease in lag is about it. I played RoB on it and it was dragging even after I uninstalled and re-installed the app. May take a day or two for my phone to get used to the new and improved software.

Sweet! Downloading now :-)

and now the 299MB update... no need to force the update, the alert was waiting for me after the first reboot. :)

It's anyone else having touch screen issues? It seems that after the ICS update, my screen is not responding around the edges. I'm using Swype and it literally took me 5 minutes to type this.

I have the same issue. I'qve been scouring the Web for threads but can't seem to find a solution. It really frustrating.

I received the ics update. It looks nice but there's got to be more to this then how it looks...right? Can someone fill me in?

My "Check New" option is grayed out! Anyone know as to why that could be? I am not currently in the States, as I recently moved to Brazil. But I should be able to receive the update over wi-fi, right? This is a problem because I need the ICS/yet unreleased update in order to use my phone here in Brazil.

Those of you that dont have it be grateful ics is awful black with white letters so hard to read outside wish i could change it
Android Central Newsletter
Get instant access to breaking news, the hottest reviews, great deals and helpful tips
Thank you for signing up to Android Central. You will receive a verification email shortly.
There was a problem. Please refresh the page and try again.