Hulu Plus now available on four more devices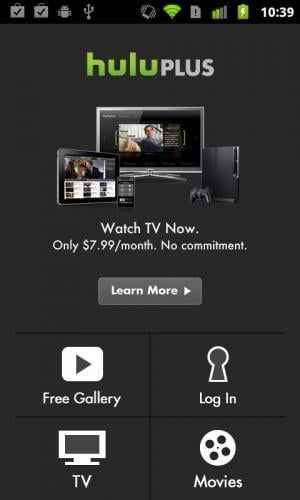 Hulu Plus is now available on four more Android smartphones, bringing the total number of supported devices up to 10. The HTC Thunderbolt, EVO 4G, MyTouch 4G, and G2 are now Hulu Plus enabled, joining the Nexus One, Nexus S, HTC Inspire 4G, and the Motorola Droid 2, Droid X, and Atrix 4G. Hulu says that they will continue to add to the list of supported devices in the coming months. If you own one of these devices, you can grab Hulu Plus after the break from the Android Market; the service costs $7.99 a month, though be sure to visit Hulu.com/plus (opens in new tab) to sign up for a free one week trial (or a full month if you've got a .edu email address.)
Source: Hulu Blog (opens in new tab)
Getting better, they've got love for my old Evo, but nothing for the new Evo 3D! Here's wishing it'll be in the next update, c'mon Hulu!

In other news: Content provider gives update to support more devices and availability for Samsung products is (like Android updates) nowhere to be found. I've pretty much had all I can handle with Samsung, time to leave a company of phones I've been using for 11 years.

Switching from netflix to hulu+

Two completely different services. Netflix is for year old tv shows and movies. Hulu is for new TV shows. Airing the Day after plus older shows.

not showing up for D2. "This app is incompatible with your Verizon Motorola DROID2."

I forgot that they launched with support for my phone... Still haven't bothered to check it out. I watch Hulu almost every day. But there's no reason to pay for Hulu+. Half of the shows available on Hulu+ (made up stat) are not viewable on a mobile device anyways.

It shows 7 day trial on their website (but I have an edu address anyway so I'm ok) Now it just needs to be official for the EVO 3D

Love that love is still being shown to the Evo 4G eventhough it's replacement is out. Shows just how much respect is still given to this aging phone. So glad I switched from the Pre to the Evo as my first Android device last year. I have Netflix, Hulu, and (thanks to CM7) gtalk with video and voice. What else do I need?

Unforgiveable to charge $8 and still have commercial breaks. Hulu, you can't have both. Can't wait for Google to finalize its bid for Hulu, then maybe just have to watch 2 commercials without paying subscription fee. Next new feature for android phone. ATSC TV tuner and TIVO app.

Never heard of cable or satellite?

For real! I mean who would pay $100 a month for directv and still have commercials?! Dont be a square dude

Tried to install on Evo but I'm getting a packing file error and it won't install. Any ideas? Rooted with Kingsrom.

Finally some love for the Thunderbolt. Might look into ditching Netflix since they decided to screw everyone!

The only people they're screwing are cheapskates. People that didn't want both dvd and streaming will actually save money. If 6 extra dollars a month for a service we don't need has Americans in an outrage, this country has some serious issues.

So we should pay $6 extra to get NOTHING different? Yup sounds like a plan!

Do you think that they get rights to the streaming content from the Studios for free? Users are constantly demanding more content, but when Netflix adjusts prices to make it possible people complain?? Look at Blockbuster's pricing some time, and they don't offer streaming...

Netflix is free to jack their prices. We are free to find them too high and take our business elsewhere. If it's all about securing content then Netflix should have gotten the content, then raised the rates. Raising the rates when the content is still flaccid rankles people because they are paying a considerable percentage more for a service that has not improved.

Apparently this is saying Device Unsupported on the rooted TBolts with custom ROMs.

Same on my rooted EVO. Though the ROM i'm running already has a Hulu app. This one seems much nicer though.

Evo with cm7. Runs perfectly

After a reboot got it working fine.

Great news that is available for the Mytouch 4G... now hopefully Netflix will get that device working (since I already have a Netflix account..)

I'm sorry but I see no point in spending 7.99 a month, I had Hulu Plus on my Xbox 360 and had to deal with commercials during episodes, so I rather watch Netflix with no commercials for stuff since I really don't care about getting new episodes faster than Netflix.

"getting new episodes faster than Netflix." You answered your own question. You see the advantage but don't see value in it. That's different than there being no point at all.

@Scottj I said I don't care about getting new episodes faster than Netflix and since that is the only advantage Hulu has then I could care less until they offer something that interests me.

FYI it also works on the Sprint Nexus S 4g

Now that Netflix is charging separately for dvd (7.99 for streaming, 7.99 for DVD), I may dedicate those funds to HULU instead. I immediately cancelled my DVD service when they bumped the price $5 for me (was paying 9.99/month). I have a thunderbolt, so this is great news! I'm rooted running GB and Sense 3.0 (wonderful BTW). I'm visiting family in Mexico and a geo-restricted pop-up came up. Will try it out when I get back to US.

Wow, the Thunderbolt gets something relatively early? Crazy!

Can't play any videos on my thunderbolt. Tried on 3G, 4G and WiFi.

I dont know every time i turn around the prices go up. I may go for it or not???
Android Central Newsletter
Get the best of Android Central in in your inbox, every day!
Thank you for signing up to Android Central. You will receive a verification email shortly.
There was a problem. Please refresh the page and try again.