Nexus 6P teardown shows us what's behind the camera hump and more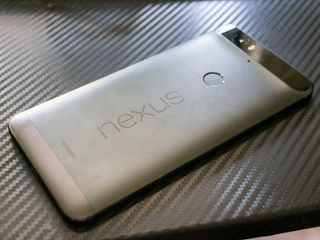 The Nexus 6P is the first Google smartphone produced by China-based Huawei. The handset has only just been released, and already iFixit has got their hands on a unit to rip apart carefully to gaze at the insides. While the report itself doesn't reveal much in terms of specifications, the team at iFixit noted just how troublesome it was to open up. Simply put: this phone isn't easy to repair.
Interesting to note is that once you've eventually separated the cover from the main chassis, the massive battery is immediately accessible. But you should note before attempting to open everything up that it's extremely tricky to do so without damaging the glass cover for the camera hump, due to the unibody design. That all said, it's a solid phone and one that should endure daily use without issue.
Be sure to check out the full report over on iFixit.
Source: iFixit
The 6P's design is growing on me...

Same here, I like it because it's different. Posted via Nexus 6 running on any data plan I want

It's a fungus +++ Insert witty signature, watch as others not get it, profit +++

Once you've handled one in person it's really quite nice. A little awkward in the hands (especially compared with the Note 5), but very nicely designed. I still personally prefer my Note 5 (Nexus will be my work phone), but the 6p is a great second device. I'd take either one over my roommates crappy iPhone 6.

I think it's an insult calling the 6p a 2nd device, it's their flagship. Anyway I don't get the reason for 2 smartphones. Unless ones from ur job and ones ur personal Posted via the Android Central App

He mentioned it's his work phone. I have 3 phones (1 work and 2 personal). My personal use phones are a Note 4 and an iPhone 6s. I do this because I get double the data this way and I use Google Voice so it doesn't matter which phone I've got on me I still make and receive calls and texts with the same number (plus I get the flexibility of using a small phone when a phablet isn't necessary). Note 4 vs Note 5 Speed Comparison: http://youtu.be/MYkTxA7dcEY

I think that's what I said. The Nexus will be my work phone, replacing my old, iPhone 5s.

LOL! What's funnier is I tried to respond to your comment a few minutes ago, and the AC site crashed on me. They must be running it on a Nexus. ;)

You're a better man than me I think it looks butt....ifixit, they bother the shit outta me. They gotta tear down every gotdamn thing. Curiosity killed the cat.... Yeah I know it's weird I just can stand then and how AC always plugs them. Hopefully this ifixit hate will pass Posted via the Android Central App

I don't mind iFixit. I love their teardowns and I even like their own repair toolkit that you can purchase.

The curiosity killed the cat but some curiosities don't matter. It's helpful if you don't want to pay for the full repair price. Posted via the Android Central App

I love this phone... SO much better in person! Posted via my Nexus 6p

its the improved version of the 810. improved with heat paste and copper thats about it Posted via the Android Central App

Still curious what issues if any that glass on the back will cause down the line.

So..other than the camera there's nothing underneath all that superfluous space that is the hump..

You did not mention "spoiler"... Posted via the Android Central App

I REALLY REALLY like the design, the feel of the phone. It's not a very slippery finish to it like the HTC one's. It's hefty, but reassuring. Posted via the Android Central App

I'm sure it's a fine phone...for now. You can almost bet a future update will screw it up, but maybe not (Marshmallow is a good sign alphabet is at least trying to build something usable). It's just SO ugly, I mean REALLY ugly, the sorta ugly you don't want to touch for fear of getting some on you. Can you imagine waking up with that big ugly oblong eye staring into you soul....ghaaaaaaaaah!!!! Posted via the Android Central App

AA ran this same story, only their spin was that the 6P is "difficult to repair". Funny how that works. Meh, just get phone insurance. If it breaks, get a new one.

Guys, I got My nexus 6p yesterday evening in India in despatch of first batch of units from flipkart. I am so so sad to comment like this. initially i charged the phone for four hours and unplugged it today at morning 8 A.M. By evening 3 P.M., I saw that my phone is switched off and at the moment I cannot switch on it again. Later I found that, my battery is Zero. Evening I plugged it to the charger, after few minutes, my phone switched on again and the batterry shows 10 percent and charging. The worst thing is during charging I played Candy Crush Soda for 10 minutes, the phone's temperature got shoot up and i cannot touch the phone. I used some clothes and removed it from charger and safely switched it off. I am decided to contact flipkart tomarrow for a replacement. Today my total 4g usage in this phone is just 200 mb. Posted via the Android Central App
Android Central Newsletter
Get the best of Android Central in in your inbox, every day!
Thank you for signing up to Android Central. You will receive a verification email shortly.
There was a problem. Please refresh the page and try again.