Huawei Mate 10 lock screen video shows pretty colors, 2:1 aspect ratio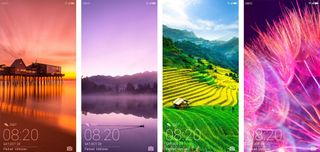 We're still just over a month away from the official launch of the Huawei Mate 10, but the company is continuing to trickle out details of the upcoming flagship. Today we've got an early look at the Mate 10's lock screen in the form of the video below, which is intended to show the new 'smart color selection' feature for text on the lock screen. In essence, it looks like EMUI 6 will intelligently select highlight colors from your lock screen wallpaper and apply them to the date, time and other information on the display.
But there's more than just a sneak preview of one (very specific) area of EMUI 6 lurking here. The resolution of the video confirms something we've long suspected of the device — it'll ship with an extra-tall 2:1 (or 18:9, if you prefer) aspect ratio, matching the proportions of the LG G6 and V30, among others. The native resolution is 1080x2160, suggesting Huawei may stick at a Full HD-like resolution for the regular Mate 10. (The higher-specced Mate 10 Pro, which we're expecting to take the lead in Europe, is rumored to feature a Quad HD+ panel with a resolution of 1440x2880.)
Huawei Consumer Business Group CEO Richard Yu recently teased both Mate 10 variants at IFA 2017 in Berlin, confirming that they'd be the first phone with the new AI-equipped Kirin 970 CPU, and a "full screen" display.
You'll find the full video below, and we'll be in Munich, Germany for the official Huawei Mate 10 launch event in October 26.
Android Central Newsletter
Get instant access to breaking news, the hottest reviews, great deals and helpful tips
Alex was with Android Central for over a decade, producing written and video content for the site, and served as global Executive Editor from 2016 to 2022.
Cannot wait for this phone and happily missing the Note 8, iPhone 8 and V30 for it.

i hate that aspect ratio, love my Mate 9, hoping one of the other Mate variants will be the old aspect ratio

Sorry. Just like everyone complaining about sealed batteries two years ago to no avail, the new aspect ratio is something people better start getting used to.

Yes, you're correct, have you noticed commercials of people with phones that have the new aspect, in them?. Looks like it's the case for the " modern" look now. Wait til the iPhone X hits, old style will be so passe.

After having a 6" phone i realized that i wont be getting a large phone next time because its really hard to hold and text. Then I held sample displays of phones with 2:1 ratio and had another realization that i can still have a 6" phone and still use it easily.

One advice as an Huawei flagship owner. Don't spend your money on them! The nastiest OEM ever (from the bigger ones). They release sh*tload of phones and don't update them (or it's ridiculously slow). They add nothing new to the updates, don't give a sh*t what people want (Like on our phones with back FP reader - Double tap to wake up the screen). They really suck with suporting new verions of Android. Most phones get only 1 major update... It's a shame! You pay $500 and more and they treat you like you just bought a phone for $100-$200... There are many better option to spend your money! I won't buy another phone from them until they fix all those flaws! And feel so bad for buyng the P9. Great hardware, love the camera, the phone is great (hardware), the lack of updates/slow updates and Huawei don't giving a duck for their customers is where the problem is. They don't upload even the stock apps to Play Store for easy fixes, so if you have a problem, and they discontinue the phone updates you are stuck with a crappy apps... Like Clock was complete trash for months (until they decided to update the phone finally) the alarm was hit or miss (mostly miss) won't turn on sometimes... So yeah, as a regular user I would not recommend they phones. Not worth it - S8, LG G6, V30, Even OPO 5 are so much better for the price... Just my humble opinion in case someone is on the edge of getting Huawei phone. :)

I'll be honest I was a bit sceptical about trying my first Huawei after reading a lot of negative posts on here especially about EMUI and the notifications in particular. I'm glad I ignored them when as it made switching from the s8 to my P10 a whole lot more positive. It's been great, hardware is great, I even like EMUI as it reminds me a lot of LG's software. I do agree about double tap to wake as that's something I miss sorely and I understand they featured it before then removed it.

EMUI is not bad at all. I don't like Pure Android to be honest and this is close to my iOS (previous phone). P10 is a new phone, when you get their Latest and greatest everything is OK. Once they release P11 you will understand what I mean. Phone stays without updates for 3-4 months and if something is broken, you have no choice than using it that way. One of the biggest player on the market can't invest enought in people to support their devices... :)

If their stock apps are broken, why not just save yourself the stress by downloading better or more effective ones from the playstore?

I've had a lot of Windows phones and been dumped several times when the rebooted the platform. Huawei can't be THAT bad lol

They shouldn't have removed "double tap", at least on the screen off function. Is pocket mode still there? I haven't had stock on my honor for a while.

Yeah the pocket thing is there. But Double tap would be great. Now it's really annoying at least for me looking for the power button everytime or lifting the phone for the FP just to look for the notigications... :)

I'm using a stock Mate 9 for months now. I don't know WTF some of y'all are talking about. This thing still works like it were out of the box. This is my second from Huawei and I'll definitely be there for a third. If they keep the 6.6" 2k super amoled screen of last year's model, I'll probably get the Huawei Honor Note 9.

6.6" Mate 9?.....maybe 5.9" perhaps?

And the Mate 9 had a 1080p Lcd screen. Unless it was the Mate 9 Pro
Android Central Newsletter
Get instant access to breaking news, the hottest reviews, great deals and helpful tips
Thank you for signing up to Android Central. You will receive a verification email shortly.
There was a problem. Please refresh the page and try again.