Huawei confirms Mate 10 Pro will launch on U.S. carriers in 2018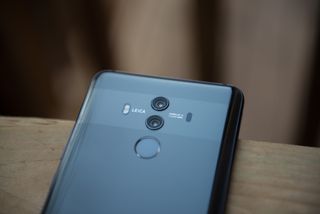 As great as Huawei's devices have gotten over the years, the company still has a very minimal presence in the United States. The Huawei brand just isn't anywhere close to the recognition of Samsung, LG, or even HTC, but this should start to change come next year.
Speaking to ABC News, Huawei's President of Consumer Business, Richard Yu, confirmed that the company would launch its Mate 10 Pro flagship phone on a United States carrier in 2018. There have been murmurings about this since the Mate 10 and Mate 10 Pro's announcement, and we're quite excited to see how this plays out for Huawei.
Per Richard Yu –
A previous report suggested the Mate 10 Pro would launch on AT&T in the U.S., and now that we have Yu's word, it's likely that this will be one of the carriers the phone will be available through. Yu's wording of "carriers" hints at the Mate 10 Pro launching on more than one, but it's unclear at this time what other carrier that could be.
More exact details will be shared at CES this coming January, so we won't have to wait too much longer before getting the final word on what's going on.
Joe Maring was a Senior Editor for Android Central between 2017 and 2021. You can reach him on Twitter at @JoeMaring1.
I think I'll stick to unlocked vs AT&T's crippled bloated phones. Just hurry up and launch the Mate 10 (non PRO) unlocked with US warranty and you'll have a return customer. (Maybe even twice this time around)

Exactly. I just want the regular Mate 10 already 🙄

I wish they would bring the regular Mate 10

If I wanted a regular smart phone (lacking the frills of a Note8), this would probably be at the top of my list.

Coming to the worst US carrier in terms of bloat. No thanks

If it's only ever on AT&T, then I'd scratch it off my list.

I think Verizon holds that crown.

Worse, kiss off support for Tmo features and forget about any updates.

No headphone jack, no sale.

Guess you won't be getting a lot of new phones soon

I don't use the headphone jack much, myself. But the S9 and S9+ will have one. So there are still choices next year.

Probably not. I'm still pretty happy with my G4. Headphone jack, micro SD card slot, and removable battery. It will be hard to give up any of those features.

The phone needs to come out like now before the spring releases come around.

Especially if S9 coming in February, its price advantage won't be that significant with the present flagships discounted.

I'd be all over this Mate 10 Pro... But it doesn't have a headphone jack so I'll pass.

I wonder if now Huawei will actually update a phone. I sold my Mate 9 last week as it had not been updated since April and I will not use a phone on the April security update in December. Good luck.

I keep seeing comments like this but I get a new patch every month on my Mate 9

May depend on location... Western Hemisphere being Cinderella.

I'm in the US and in my year of owning one I saw 3 patches....

Hopefully Huawei doesn't join Lenovo, ZTE, etc. pantheon.

I use mine everyday and have no problems whatsoever. Same security date as yours.

I have seen both the mate 10 and mate 10 Pro. The Pro was so much better in the hand.

The Pro has a smaller screen. Everyone keeps calling it bigger, while at the same time saying it's better in hand. It's about 10% smaller than the normal mate 10, because of the mathematically inferior aspect ratio. Real big phones with the superior 16:9 aspect ratio are dead.

Yup, I hope 16:9 makes a comeback

I agree. Holding the regular Mate 10, i liked the prospect of the wider screen, but the unwieldiness has put me off. The Mate 10 Pro was certainly nicer on the hand.

I used the mate 10 pro while visiting the UK. It felt great in the hand, good camera. Was close to buying it but decided to hold off.

Hopefully it comes to TMobile

That's what im going for too. I'd love to try this out on JOD

Mate 10 pro would have been a phone I would have been interested in if it had a a SD card slot, a head phone jack, and notifications on lock screen. Not having notifications on lock screen after you unlock the phone is ridiculous. This is such a nice phone with such key things missing that make it a deal breaker for me. Now if only HTC would bring their U11 plus to the States!

Tbh, I would like it if they sell the regular Mate 10 as well. I have tried both and the 10P is really nice but the feature swap between the two is also odd.

Need to see it in hand... Stinks that it doesn't have SD card support

Hopefully they bring the mate 10 over as that is the one i would like
Android Central Newsletter
Get the best of Android Central in in your inbox, every day!
Thank you for signing up to Android Central. You will receive a verification email shortly.
There was a problem. Please refresh the page and try again.