Huawei Ascend P6 first look pictures and video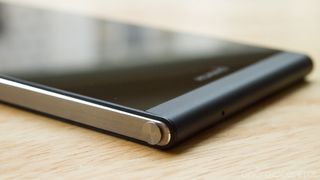 It's been a little while since Huawei officially unveiled the Ascend P6 in London, but we've finally got our hands on the new ultra-slim device for a proper look. Just in case you need a little refresher, the Ascend P6 is fantastically thin at just 6.18mm, and still packs in many high-end features you'd expect in a phone today. The P6 has a 1.5GHz quad-core processor, 2GB of RAM, an 8MP camera, 4.7-inch 720p display, 2000mAh battery and is powered by Android 4.2.2 Jelly Bean.
All of that is wrapped up in a nice metal and plastic body that looks great to our eyes and feels nice in the hand by our first impressions. Stick around after the break for a more detailed look at the Ascend P6 in pictures and video.
After spending a little time with the Ascend P6 getting it set up with our accounts and apps, we have to say we're quite impressed with the build quality. This is a big step up over some of its offerings last year, and even over what it announced just at CES in January. It is incredibly thin and relatively light as well, without feeling cheap or flimsy and the use of different metals along with small plastic accents is quite nice. The display also looks crisp and bright despite only being 720p (although the resolution is quite acceptable at 4.7-inches), and the device is overall refreshingly small compared to the ballooning sizes of recent handsets
While it's going to take a while to get ahold of the software, it's clear that Huawei is continuing its efforts to have a strong design and brand identity with its customizations. Most things have been changed aesthetically — with a new launcher, skinned settings and bundled apps — on the Ascend P6, but still function much the same as you would expect with stock Jelly Bean. We can tell already that this stock launcher probably isn't going to work for us, but that's easily remedied.
Now that we have our hands on the device, we'll be giving the Huawei Ascend P6 the complete review treatment over the coming week, so look forward to our in-depth coverage as it is released. For now, take a look at the hands-on video above and pictures below to get a good impression of what to expect from this handset.
Image 1 of 10
Andrew was an Executive Editor, U.S. at Android Central between 2012 and 2020.
Looks like an iPhone 4 from the side bezel and antennas, also can't stand phones with charging ports on the top of the device!

Just what I was thinking!

It's necessary because of the metal casing. Though I think they could have done with a plastic chin on the top as well and put the radios there, or went the HTC route. Why reinvent the wheel?
I like what they did, the device is great save for the positioning of the headphone jack and mic.

The back looks like it has a nice texture to it and the device itself looks like it is of premium quality. Posted via Android Central App

Leave it up to "smaller" companies like this to give premium cased phones unlike Samsung's habit of glossy plastic (which on the other hand isn't all that bad ツ) █████████████████████████████

Nice looking hardware. First thing I would do is change that launcher. Will that phone be available for the US Market? Hopefully they will add some internal memory instead of the pathetic standard 16. That to me is the most irritating spec on the high end smartphones of Android today. Just freaken ridiculous. Someday I hope they learn to sell phones like Apple, all versions to all Carriers all at once. The only way. These US Carriers are just too damn greedy and the phone manufacturers should come together and put an end to this bull.

It's because 6.18 mm. Posted from my pure Google Nexus 4 using the Android Central app.

sorry to disappoint you..this has only 8gb

It's because 6.18 mm. Posted from my pure Google Nexus 4 using the Android Central app.

it's bigger than your ajiphoney battery

At first glance it looks nice but the fact that it has a charging port at the top is annoying. Its the 2nd biggest problem with the Nokia Lumia 928. First is pretty obvious (No Google love) Posted via The Awesome Android Central App on the Nexus 7 (2013) Yeahuhhh

I don't find myself using a phone while plugged in all that often, but when I do the top charging port doesn't seem to bother me... it's never in the way of your hand like bottom and side-mounted ones are. Why is the top port bothersome?

If you, like me, have a dockingstation for android it is essential to have the charging port on the bottom of the phone (maybe on the side as well)

I use a dock charging cradle at home so its just wierd to have to dock it upside down and then have to use mods to let the lock & homescreens 180 degree autorotate just to look at them Posted via Android Central App

Got one from the Philippines when I was there couple weeks ago. Loving it so far. Works great on my T-Mobile $30 plan. Feels great in my hand, looks gorgeous, and battery life is decent. I'm having problem with Google + earlier, but a quick upgrade to B107 and everything works dandy. Posted via Android Central App

The B107 update fixed my force close issue with Google+ also.