HTC will launch a mobile version of the Vive this year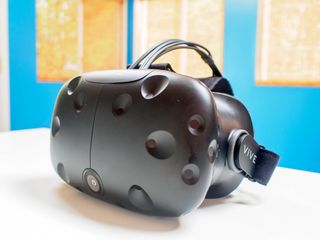 HTC isn't selling as many phones as it used to, and is now referring to itself as a "VR company," much to the delight of its shareholders.
The company has informed CNET UK that is working on a mobile version of the HTC Vive, though the design and functionality is not yet clear. What is clear is that "it's not a phone slapped onto a headset. It'd be a different thing," according to CFO Chia-lin Chang.
The Vive, while great, requires a very powerful PC and a rat's nest of wires to function properly, while solutions like Google Daydream and Samsung Gear VR merely require a compatible smartphone. They're not as powerful, obviously, but you can take it with you.
HTC promises something in the middle, perhaps a bit more standalone, and slightly more powerful, than Google's and Samsung's approaches, but more portable than a Vive. According to HTC, the solution will be compatible with its new HTC U Ultra flagship, and will be released before the end of 2017.
Daniel Bader was a former Android Central Editor-in-Chief and Executive Editor for iMore and Windows Central.
HTC refers to itself as a "VR company"? 😢

The article is deceiving. This has nothing to do with the HTC Vive. The processing power of a PC cant be compared to a smartphone (HTC Ultra).
What you are calling HTC Vive 2 is comparable to Google Cardboard / DayDream, not the HTC Vive.

Might want to work on your reading comprehension Sparky.

Uhhh... HTC said it. AC is just reporting it.

I did. They changed the article and the title after my comment. I am not crazy.

This comment is deceiving.

The article and it's title were changed AFTER my comment, wise guy.
Android Central Newsletter
Thank you for signing up to Android Central. You will receive a verification email shortly.
There was a problem. Please refresh the page and try again.