HTC U12+ specifications: Dual cameras, BoomSound, Edge Sense 2 for $800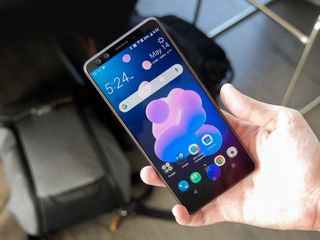 There's a lot to like about HTC's U12+ flagship, including some innovative features that are sure to turn heads. With an all-glass design and optional translucent back, the phone is very similar to most high-end Android phones in 2018: a Snapdragon 845 processor, 6GB of RAM, a 6-inch QHD display with a 2:1 aspect ratio, dual cameras, and a 3,500mAh battery. Oh, and Android 8.0.
But at $800, can HTC turn turning heads into sales?
Swipe to scroll horizontally
Category
Specification
Operating System
Android 8.0, HTC Sense
Platform
Qualcomm Snapdragon 845
Adreno 630 GPU
Display
6-inch 2880x1440
2:1 aspect ratio
Super LCD 6
Gorilla Glass 5
DCI-P3, HDR10
RAM
6GB
Storage
64 / 128GB UFS 2.1
Main Camera
12MP, 1.4μm pixels
ƒ/1.75 lens, OIS, EIS
UltraPixel 4, UltraSpeed AF, HDR Boost
Secondary Camera
16MP 1μm pixels
ƒ2.6 lens, 2x optical zoom, portrait mode
Video
4K @ 60fps
1080p @ 240fps slo-mo
360° 3D Audio with 4 microphones
Front Cameras
Dual 8MP sensors
1.12μm pixel size, f/2.0
84° wide-angle FOV, portrait mode
Water/Dust Resistance
IP68
Battery
3,500mAh
Qualcomm QuickCharge 4.0
Audio
HTC BoomSound Hi-Fi edition
HTC USonic
USB-C + noise cancelling headphones
Dual SIM
Some regions
Hybrid SIM2/SD slot
Network
4G LTE Cat. 18 up to 1.2Gbps
FDD Bands 1,2,3,4,5,7,8,12,13,17,20, 28, 32, 66
TDD: Bands 38, 39, 40, 41
Voice assistants
Google Assistant, Alexa
Colors
Translucent Blue, Flaming Red, Ceramic Black
Dimensions
156.6 x 73.9 x 8.7-9.7mm
Weight
188 grams
Price
$799 USD
Daniel Bader was a former Android Central Editor-in-Chief and Executive Editor for iMore and Windows Central.
Is the screen as bright or brighter than the U11? The U11+ had a much dimmer screen than the U11. I'm just about sold.

Seen one review that said it was "bright" in direct sunlight.

I've seen that too, and on some reviews, you can see the brightness slider is down to 30% and it's still almost too bright to the camera.

OnePlus 6 will kill any chance this had, as will distribution issues, lack of wireless charging and no headphone jack. Battery is OK for amoled, but a step down from U11 plus. Bizarre choice, as the U11 plus had only mediocre battery life due to lcd screen. Can't quite believe they are running with this phone. One port for charging and headphones, balmy. Weak back too.

Contrary to android blog opinion.. OnePlus doesn't sell that many devices. And doesn't have wireless charging either. and it has a 1080 screen, and a way worse camera and audio. I can go on. People who buy a OP6 are cheap and don't mind a chinaphone. people who buy a u12+ know they're getting the best.

Yeah, I know Android blogs love One Plus but I have never seen a real life person with one. I would think Samsung is the real killer here. If all these new phones are going to have a 6 inch 2:1 screen, and cost $800, then the average consumer is getting Samsung all day. Unless you just hate something about Samsung, it doesn't make much "Sense" to get something else for that price.

mu u11 is better than the s9+. This is much, much better.

Also, HTC being a reputable corporation is important compared to the data stealing , credit info stealing rouges of one+. HTC for the win, IN A HUGE WAY! One+ is no better than any of those cheap data thieving deivces from aliexpress.

Specs sound better than any device introduced within the last month (G7, OnePlus 6).

How so? This has no headohone jack and like the OnePlus6, no wireless charging. The battery is marginally bigger but will have lesser battery life due to the difference in screens. The OnePlus 6 has a 256gb memory option and 8 GB of RAM. Don't see how these two aren't in the same ballpark in specs, the OnePlus6 has the upper hand at a price point that is much less actually.

U11 has a beautiful LCD screen, and great battery life. I'm about to head home on day two of a charge, and the battery is at 56%. I can do three days if I want.

And I wouldn't be concerned about the USB C headphone jack. There is literally nothing you can plug into a 3.5 jack that can do what USonic does.

Wireless charging is something I would want in a flagship.

The only thing this phone has over the OnePlus is that it's compatible with Verizon.

camera, audio,software. Not from china.

yes, we get it, you're racist

Racist because the phone isn't from China? OnePlus acknowledged tracking user-identifiable data phones recently.

Exactly. Not all Chinese companies are bad, Huawei, xaomi are two good examples of good Chinese electronics companies (contrary to MURICAN beliefs)….However one+ has been caught on numerous occasions stealing personal data for profit, as well as using customers credit cards as well. NO THANKS!

It is sad to watch HTC to continue to wither away, but it is their own doing. I cannot help but wonder who at HTC thinks they can sell devices for $800. Short of a diehard HTC fan, I do not know who is buying this phone.

People who want a better phone than an S9?

I was hoping this phone would go for $599. Hard to justify purchasing this phone when the OnePlus 6 is out there at $529. I guess there is just too much competition nowadays for HTC to compete.

You're comparing completely different devices. Like.. Why is this maserati more expensive than this kia. They both have power windows.

and the one + being the Chinese copy of the KIA.

I like that the U12+ is slightly smaller than the iPhone 8 Plus, not as big as the U11+ and Note 8.
Android Central Newsletter
Thank you for signing up to Android Central. You will receive a verification email shortly.
There was a problem. Please refresh the page and try again.