From HTC One M7 to HTC 10 — a specs showdown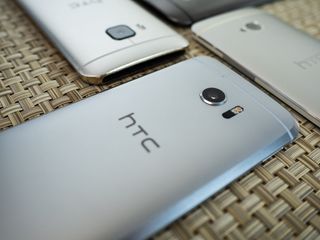 The road leading to the HTC 10 is long. And full of metal. And codenames. From the HTC One M7 in 2013 all the way to today's HTC 10, you can easily see the growth in design, and overall look and feel. And along with those more organic differences, you also can see how the basic specs have increased in three or four years. A lot has changed, for sure.
So let's take a look at how the specs stand up between the HTC 10, HTC One M9, HTC One M8, and the HTC One M7.
Category
HTC 10
HTC One M9
HTC One M8
HTC One M7
Operating System
Android 6.0.1
Android 5.1 (with update)
Android 5.0 (with update)
Android 5.0 (with update)
CPU
Qualcomm Snapdragon 820
2x1.6GHz + 2x2.1GHz
Qualcomm Snapdragon 810
4x2GHz + 4x1.5GHz
Qualcomm Snapdragon 801
4x2.3GHz
Qualcomm Snapdragon 600
4x1.7GHz
RAM
4GB
3GB
2GB
2GB
Display
5.2-inch QHD Super LCD 5
5-inch 1080p LCD
5-inch 1080p LCD
4.7-inch 1080p LCD
Rear Camera
12MP Ultrapixel + OIS, f/1.8 lens
20MP, f/2.0 lens
4MP Ultrapixel, f/2.0 lens
4MP Ultrapixel + OIS, f/2.0 lens
Front Camera
5MP Ultrapixel + OIS
4MP Ultrapixel
5MP
2.1MP
Storage
32GB + SD
32GB + SD
16GB/32GB + SD
32/64GB
Qualcomm QuickCharge
3.0
2.0
2.0
1.0
Battery
3,000mAh
2,840mAh
2,600mAh
2,300mAh
SIM
nanoSIM
nanoSIM
nanoSIM
microSIM
Audio
HTC BoomSound Hi-Fi Edition
HTC BoomSound (headphones + front speakers)
HTC BoomSound (headphones + front speakers)
Beats Audio (headphones + front speakers)
Connectivity
USB-C 3.1 Gen. 1
microUSB
microUSB
microUSB
IR Blaster
No
Yes
Yes
Yes
NFC
Yes
Yes
Yes
Yes
Size (mm)
145.9x71.9x9.0
144.6x69.7x9.61
146.36x70.6x9.35
37.4x68.2x9.3
Weight
161g
157g
160g
143g
Wow looking at the specs like this, it seems like HTC was going upward and perfecting their formula until the hiccup of the M9. I'm glad they finally bumped the screen resolution and size up, but I wish they would've kept the IR blaster. It was kinda useful Posted with my awesome Gold S6 Edge+

The M9 was choked by its camera and the fiasco that is the Snapdragon 810. The way I see it, the 10 is a striking return to form.

Still not sure if i want to upgrade my One M7 yet. Does the 10 have an FM receiver like the M7?

Unfortunately NO! Posted via the Android Central App on my Galaxy S3 Neo Dual Sim which thankfully doesn't have S-pen and does not have a horrible metal body.

If my M7 didn't have the terrible purple camera issue, I'd be perfectly content on my m7 too. Great phone!!!

Who is your phone carrier? I'm on my 3rd M7 with T-Mobile - I'm not ready for change because this phone is perfect. My first two M7s had the purple issue, but third time is apparently the charm. My phones had other issues (the 1st one started sending 8 texts at a time 2 years after I got it and the 2nd one looked like it wasn't even finished being put together by the factory when I got it) and T-Mobile replaced them for $5 each time. I've had this one since August of last year, and it's finally perfect :). Just FYI. Years ago, I read that HTC would replace it because of the pink problem, since it was a known issue, but when I asked HTC - they said I had to send the phone in and blah blah blah. So I guess it worked itself out.

U.S. carriers have done away with that.If you could play the radio for free,you wouldn't be streaming and using data and making them money. Posted via the Android Central App

My M7 didn't even have an FM receiver - well, it was there but Verizon disabled it to, um, help people use more data. Which was a major slap in the face coming from the DInc which had an FM tuner.

Buy An A9 if you want it will be cheaper that will be for sure !

Claiming 700 US $ for this phone, did HTC really just forget about Xiaomi Mi5?? Posted via the Android Central App on my Galaxy S3 Neo Dual Sim which thankfully doesn't have S-pen and does not have a horrible metal body.

The Mi5's camera is getting pretty average reviews. On paper and based on DxoMark's review, HTC seems to have a much better camera. Both front and rear.
Mi5 does not have HiFi music playback AFAIK.
These are just off the top of my head.
No doubt the 10's expensive, however I agree with many HTC should've priced it at $649 at launch. And run a sale in a couple of months discounting it by $100.

You also have to live with MIUI, which is pretty much a love it-hate it Android skin since it changes so many aspects of the Android experience, like EMUI on Huawei devices. The Mi5 is not a bad phone. It's a bloody good one, especially at the price. I just think that there are small difference between the 2 that can actually sway one person to either side.

Yep. I think the Mi5 is great too. The 10 is better (loving the sound of "The 10" lol).
Also, the 10 has a QHD display, earbuds and QC 3.0 charger in the box. Mi5 has FullHD, no earbuds and QC 2.0 charger

I think at the price point of the Mi5, QHD isn't really a big deal. 1080p still looks mighty fine on the size of the Mi5. But yeah, the HTC 10 has some stuff that justifies its higher price tag like better audio, faster software updates, camera performance (in theory), QC 3.0, etc. PS: You sure that the HTC 10 has a QC 3.0 charger in the box? Because that would be awesome. PS #2: The HTC 10 in India has a Snapdragon 652 instead of the 820, and has a GB less RAM. Not a big deal, since the SD652 is still a very capable processor that's basically a massively improved SD810 in terms of thermals and performance, and the phone will still perform well thanks to HTC's optimizations, but it's just something to point out, especially since you mentioned at one point that you're based in India. Just a point of interest.

What worries me more is how SD 652 will handle QHD display. Posted via the Android Central App on my Zuk Z1. Loving it.

I think it would handle it fine.
I would've loved if the Indian model had FullHD display instead of the QHD. Then with the lesser resolution display, 1 less gig RAM and SD652 HTC could've priced it $100 less especially since India is a price sensitive market. Posted via the Android Central App

Yeah not saying the Mi5 is a bad phone. It's incredible at that price. Just mentioning the key differences for the OP who was comparing their prices. Also, I think QHD on a phone is overkill if you're not interested in VR.
#1 I think I read that in the full release press of the phone in one of the articles here on AC.
#2 Yeah, I saw that. I'm fine with SD652 since it's a great processor. Posted via the Android Central App

The One M8 is on Android 6.0

Daaaeeem....that's not a very fair comparison Posted via the Android Central App

No IR blaster, negligible bump in battery size from the M9, with a bump in screen size and a huge bump in screen DPI. Toss in some camera upgrades and they got a phone that is sounding like what the M9 should have been only with still crappy battery life and now no IR blaster or FM radio. HTC is now a whole year behind the competition, IMHO. The only thing that makes it relevant is the SD 820, +1gb of RAM, and possibly the camera or USB type C if you're into that. No upgrade for me, I'm sticking with my M9, the screen is good, has an IR blaster, it's snappy, and I could care less about USB type C right now. Thanks for nothing HTC Posted via the Android Central App

But is there financing for this phone?!? Posted via the Android Central App

Why is having no IR Blaster such a big deal? Seriously.

Because some people, such as myself, enjoy using it.

I wasn't trying to sound like a *********, but more curious as to what you use it for to make me so important.
Android Central Newsletter
Get the best of Android Central in in your inbox, every day!
Thank you for signing up to Android Central. You will receive a verification email shortly.
There was a problem. Please refresh the page and try again.