HTC One A9 versus M7, M8 and M9: Spec comparison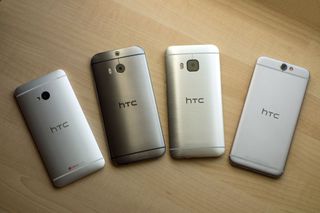 With today's announcement of the A9, there's a new member joining the HTC One family. The HTC One A9 isn't a performance powerhouse like the M9, but it is a tempting prospect for buyers looking at a smartphone purchase around the $400 mark. To see how the A9 measures up against the three previous HTC Ones — the M7, M8 and M9 — check out our comparison table below.
Category
HTC One A9
HTC One M9
HTC One M8
HTC One M7
Operating System
Android 6.0
Android 5.1 (with update)
Android 5.0 (with update)
Android 5.0 (with update)
CPU
Qualcomm Snapdragon 617
4x1.5GHz + 4x1.2GHz
Qualcomm Snapdragon 810
4x2GHz + 4x1.5GHz
Qualcomm Snapdragon 801
4x2.3GHz
Qualcomm Snapdragon 600
4x1.7GHz
RAM
3GB/2GB depending on market
3GB
2GB
2GB
Display
5-inch 1080p AMOLED
5-inch 1080p LCD
5-inch 1080p LCD
4.7-inch 1080p LCD
Rear Camera
13MP + OIS, f/2.0 lens
20MP, f/2.0 lens
4MP Ultrapixel, f/2.0 lens
4MP Ultrapixel + OIS, f/2.0 lens
Front Camera
4MP Ultrapixel
4MP Ultrapixel
5MP
2.1MP
Storage
16GB/32GB + SD depending on market
32GB + SD
16GB/32GB + SD
32/64GB
Qualcomm QuickCharge
2.0 at launch, 3.0 with software update
2.0
2.0
1.0
Battery
2,150mAh
2,840mAh
2,600mAh
2,300mAh
SIM
nanoSIM
nanoSIM
nanoSIM
microSIM
Audio
HTC BoomSound (headphones only)
HTC BoomSound (headphones + front speakers)
HTC BoomSound (headphones + front speakers)
Beats Audio (headphones + front speakers)
IR Blaster
No
Yes
Yes
Yes
NFC
Yes
Yes
Yes
Yes
NOW READ: HTC One A9 preview
Alex was with Android Central for over a decade, producing written and video content for the site, and served as global Executive Editor from 2016 to 2022.
Less is more. Just worried about battery life

Hope the 617 is more than enough for everything (except games, of course)

I was returning my Moto x until I say that pitiful battery. 2175 isn't enough on android in 2015, even with Doze.

We knew this already. A9 has Amoled, OIS, a dwarf battery and an untested but promising mid range SoC.
You pays your money...

battery is the biggest let down...It's not like the device is small either... AC@OPO

You guys do realize that the battery in the iPhone 6 is much smaller . I think this phone should be OK my old m7 would get me through the day Posted via the Android Central App

iPhone 6 does not have Android though lol. So, you shouldn't compare the two.

Would've given it a shot if it had a bigger battery. Why, HTC!? Moto does it all the time. We know it's possible.

2,150mAh battery? Nope. Nope. Nope. Nope. Nope. Nope. Nope.

The A9 is about the same physical size as the iPhone 6, which has a smaller 1,810 mAh battery.
It's not always about size though, as the Note 5 has a 3,000 battery versus the M8's 2,600 mAh battery. The M8 battery life is so much better.

The note 5 has a 5.7 2k display with a more power hungry cpu and gpu than the m8 which has a sd 801 CPU and a 5' 1080p display. So battery does count.

@Aram Karagadyan - You are correct, but I was not saying that the battery does not count. I was pointing out that some devices are more efficient, and that can compensate for a smaller battery. The HTC One Mini had a little 1800 mAh battery, and still had a 20 hour talk time and a crazy 692 hour standby rating. The Mini had no problems making it through the day with moderately heavy use (I had two of them). Interestingly, the Exynos 7420 was touted as being more power efficient when it was introduced.

I would like to see a comparison on the dimensions as well. I would imagine without the front speakers it would be more compact but the top and bottom bezels look about the same or more on the A9. Posted via the Android Central App

The bezels are bigger than the M9, a hair smaller than the M8.

Here, this should help. The numbers in order according to screen ratio, with the largest screen/smallest bezel first. M9: 68.4
A9: 66.8
M8: 66.7
M7: 65.0 For kicks, the iPhone 6S has larger bezels than all but the M7, at 65.8% screen to body ratio

Small battery worries me. Though it should last a day with all the Marshmallow improvements.....hopefully.

If only it had stereo speakers...

Just get the Meizu Metal with a much nicer design, good display, large battery, super fast fingerprint and fast processor for $199

Chill out everyone! It has an AMOLED screen which uses a lot less power.

MY M8 HK STILL THE BEST OF THE PACK AND I HOPE THE ULTRA PIXEL COMES BACK NEXT YEAR BECAUSE IT IS REALLY GREAT IN MY OPINION. AND GEE I WONDER WHY APPLE AND EVEN SAMSUNG COPIES HTC SO MUCH IF THEY ARE SO BAD. HTC RULES AND ITS BEEN SEVERAL YEARS NOW AND EACH ONE GETS EVEN BETTER JUST NOT WILLING TO GIVE UP MY ULTRA OIXEL WITH NO OTHER GAIN.
Android Central Newsletter
Get the best of Android Central in in your inbox, every day!
Thank you for signing up to Android Central. You will receive a verification email shortly.
There was a problem. Please refresh the page and try again.