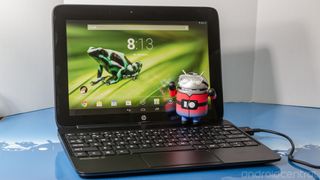 For some of us, the allure of having an ultra-portable computer and a tablet built around the same device is the future. It's not anything new, as we've seen ASUS and others do this very thing for a while now, but when done right, a hybrid device can be the perfect piece of equipment for work and play.
That's part of the idea behind devices like the HP SlateBook X2. You start with a Tegra 4 Android tablet, and with a quick snap you're transformed into a laptop sized to fit perfectly with the current generation of ultra-portables we see from everyone who bought a Windows 8 OEM license.
The key is doing it right. See if HP did that, after the break.
The X2 (I'm skipping the SlateBook branding for this review) is a well built hybrid device, where both tablet and laptop use cases have been considered. As a stand alone Tegra 4 tablet, it's solid, has decent balance and feels like a quality piece of equipment. As a laptop, it's equally solid, and while it's slightly cramped keyboard takes some getting used to, it's a tough little workhorse. It reminds me a lot of one of HP's smaller Windows 8 laptops when all put together and closed up.
That's not to say there aren't some areas for improvement. For starters, both the volume and power buttons are on the rear of the tablet portion of the X2, and it seems like they are exactly where my hands want to rest when holding it. This equates to unwanted bumps of both. While hitting the power button and blanking your screen isn't such a big deal, it gets aggravating.
It's also a little on the heavy side, checking in at just about 3 pounds. That doesn't sound like much compared to other laptops, but it's heavy enough to notice the difference when carrying around the X2 while docked compared to something like the Nexus 10. I won't call it too heavy, but it is enough to be worth mentioning.
The screen leaves a lot to be desired as well. There's nothing "wrong" with it, it's just not the quality we're used to seeing from the latest round of Android devices. The 1920 x 1200 screen can be a little dim, and colors don't have the pop and level of detail that you would see from high-end displays. The 224 ppi IPS LCD is good enough, but we've seen better.
Last on my list of complaints would be the external speakers. They're tiny. They're quiet. They're a little fuzzy, and all around not very good. You'll want to invest in a good set of headphones or an external speaker with this one if you want decent sound.
Don't take these criticisms as meaning I didn't find a lot of good with the X2, though. The thing is one beastly performer, running on Nvidia's Tegra 4 platform and 2GB of RAM. Other than a few software quirks — a couple of program errors and crashes, much like you would find in an HP Windows laptop — the X2 has performed well. It's fast, it's fluid, and you can tell there is some serious muscle under the hood. Hopefully HP can get the minor kinks worked out. It's worth noting that our unit stays in suspension just fine while docked and closed, though a couple folks have said theirs likes to come back to life while sleeping. This could be a software bug, or a hardware bug, or just horrible luck — we've no idea because we just don't see it.
The keyboard and trackpad will take some adjustment time. Especially if you're used to something like the Chromebook Pixel or a MacBook. The keys are on the small side, and touch typing will lead to errors until you get used to it. The trackpad is fairly smooth and also works well once you're properly adjusted. Neither is amazing or at the pinnacle of human input innovation, but both are satisfactory and will work just fine for most users. For getting any work done, like let's say writing a review of the SlateBook X2 using the SlateBook X2, it's miles better than no keyboard or most Bluetooth offerings.
The Specs:
10.1-inch IPS LCD at 1900 x 1200 (224 ppi)
Android 4.2.2 Jelly Bean
Tegra 4 CPU @ 1.8GHz
2GB RAM
16GB storage; microSD card slot (tablet); SD card slot (keyboard)
2MP rear camera; 720p front camera
802.11 b/g/n Wifi; Bluetooth; Miracast
8.3 x 11.2 x 0.8 inches
3.08 pounds
3375 mAh battery (tablet); 2960 mAh battery (keyboard)
During normal usage, the same way I use my personal Android tablet, the X2 fared well. Games and web browsing were fine, a little bit of productivity went off without a hitch, Wifi and Bluetooth had no issues, and I never ran out of battery as long as I charged it every night. I expected better battery life based on the specs, but you would be pressed to get more than 6-8 hours total use out of a full charge.
On the software front, the X2 runs Android Jelly Bean 4.2.2 with very little modification from HP. They did however, fill it to the brim with bloatwa… err value-added software.
Some of it is useful — for example I'm using Kingston office to write out this review. There is also a very nice file manager included to help you find your media files and documents, and the printer software will be especially helpful if you're using an HP printer.
Some of it isn't quite as useful, like the built-in HP Media player or the Wild Tangent games app which let's you play games between sessions of viewing ads. These can be hidden and disabled from the tablet settings, and you're free to pretend that they never existed. I did.
The software will remind you that this is an HP laptop. The OS is as the folks who wrote it intended, but HP was added the things they want you to see at least once before you get rid of them. We're used to that with Windows laptops, and we had better get used to it with Android laptops as well I think.
The cameras are pretty mediocre. We still think a tablet is the last thing anyone should use to take pictures, and a big part of the reason why is the sub-par quality they all seem to deliver. The rear camera is a 2MP model (yes, two) that takes pictures and shoots video about as well as you would expect a 2MP camera to do. Around front is a "720p" camera (no MP count was given, my best guess from the output is 1.2MP) that's actually nice and bright for video chatting. You won't get a lot of detail out of either of these, but the front camera is plenty good for a Hangout with friends. Here's a few examples.
At $479, the SlateBook X2 isn't exactly cheap. At that price you have several great mobile choices, and you're venturing into mid-range Windows 8 laptop territory. Before you run out and spend almost $500 on the X2, evaluate your needs. Because it's a hybrid device, it's not going to be best-in-class as a tablet or as a laptop — there are trade-offs involved, and it's not hard to find a better stand-alone tablet or a better ultra-light laptop in this price range. But when you're talking about hybrid devices, things get a little more competitive.
We haven't yet seen the new devices from ASUS or anyone else who plans to make a tablet / laptop Android hybrid. We can't compare the X2 to any of them, and it's not fair to compare this to the older offerings from last year. This means we have to evaluate the X2 on only it's own merits. That's good and bad — good because we have no bias to contend with in our recommendation, bad because it makes it harder on the reviewer and we hate it when things are harder.
Would I buy an X2? No, I wouldn't. I already have a ultra-portable laptop and an Android tablet I love. If you're in the same situation, where you don't want or need a device that can fit both needs, you'd probably be best to save some money and pass on the X2.
But if you're in the market for a hybrid device that runs Android (which is coming of age as a productivity platform in it's own right), and understand that it means you will have to make some compromises, you could do worse than the X2. I've enjoyed using it, and see plenty of ways where it could fit into a busy life of both work and play.
Image 1 of 19