How's your Pixel 2 battery life holding up?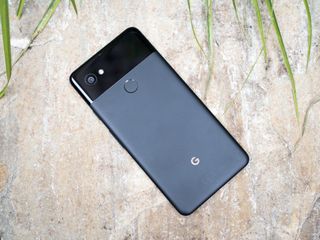 We're just a couple months away from the expected launch of the Pixel 3, and as you could probably guess, a lot of us are stoked to see how Google will improve with its third generation of in-house smartphones.
However, whether you don't have the cash to upgrade this year or simply don't see any need to, last year's Pixel 2 is still one beast of a handset.
Some of our forum users recently started talking about the battery life of the phone so many months later (specifically its standby performance), and this is what they've been experiencing.
Now, we want to hear from you! How's your Pixel 2's standby battery performance?
Joe Maring was a Senior Editor for Android Central between 2017 and 2021. You can reach him on Twitter at @JoeMaring1.
I have a Pixel 2 XL and honestly, the battery life is pretty awesome, better than other Androids I've owned. I can easily get a day's usage when using heavily to a day and a half with moderate usage. Standby time is great in particular. I've started charging my device during the day so I don't leave it overnight. Also I'm running Android P beta 5 and battery life is more or less same as 8.1 stable.

I had an increase in battery life after updating to the first Beta version. Most days I get home from work with a solid 50-60% left.

This has been my experience too. Battery life has been much better with beta.

Same, battery life has improved with the P beta

I could be wrong, I just updated to P a couple of days ago. I'll wait for a few and judge, so far I'm not complaining.

I have a Pixel 2 XL as well, and the battery life for me is also awesome. I NEVER worry about the battery, no matter how light or heavy I use this phone. This biggest drain, of course, is travel and particularly leisure travel, when using Maps and Camera a lot! With previous phones, this necessitated charging up during the day. Not with this phone. In fact, couple of times, made it to the evening of the 2nd day on a single charge. Not a typical use case for me, but was nice to have that ability.

Battery life on my Pixel 2 XL is really impressive and the stand by time is almost as good as an iPhone.

I have a pixel 2xl and oneplus 5t I think 5t last longer but it could be because 5t charges a lot faster than 2xl they are both on there latest beta OS I use the 5t more than 2xl

So how can you say the 5t lasts longer than the Pixel 2 XL? It doesn't, I've seen the battery tests between both phones on YouTube. I bet you don't even own a Pixel 2 XL OnePlus fanboy and before your say anything, I know I'm a Pixel fanboy, I like Oxygen OS but I don't like OnePlus

I definitely have Pixel 2 XL but I use my oneplus 5t more because as a long time smartphone user it is a better phone both have same apps on them and under heavy use 5t last longer now in standby not using phone 2xl is slower with battery drain one thing with using the phones is 5t screen gets brighter so I keep it at 50% with the screen on 2xl I keep at 80% and it's still not as bright as 5t

The Pixel 2 XL is a better phone than the OnePlus 5t with its far superior camera and screen and resolution and battery. I still don't believe you have a Pixel 2 XL.

My pixel 2 XL has perfect battery life. Never had an issue.

There's no such thing as battery life until you try Mate 10 Pro. I bought one last week and I have never experienced anything remotely close to it. I was having to plug my Note 8 in at 3pm after coming off charge at 6am. My Mate 10 Pro is usually at 75 to 80% at 3:00.

D you and Huawei, they suck and I don't care if they have a bigger battery. Their software is horrendous.

Nothing s#cks like the pixel 2xl

Battery life and this phone over all is still fantastic. Period.

Pixel 2 XL here. I always charge this bad boy in the morning (barely takes an hour to get almost filled up), so by the time I'm done with my morning routine, I'm easily good to go for the whole day, and then some. I expect this to easily last another 2-3 years at least.

I charge my Pixel 2 overnight and it's my bedroom clock and alarm. Hardly ever have a need to charge during the day. I use Datally when I'm out and it seems to keep heavy usage under control without affecting app performance too much.
Looking forward to Android P as I won't be changing phones in the next 12 months. If I was, I would almost certainly go for Pixel 3.

I've had my Pixel 2 XL for nearly 5 months now, and the performance and battery are just as solid as day one. I plug it in only once or twice a day - but that's because I only charge it a little at a time - and when I tested the battery's overnight idle consumption, it only lost 1% (34 beginning, 33 ending) in 7 hours with Ambient Display. Oh, and I'm running Android P beta 5.

My pixel 2 xl has a 3 year battery life before charging. it's the fasteeeesssst phone. the bestest phone, has the perfect screen, 60tb of storage 512gb of ram and its made of unobtainium. Says beno!
Android Central Newsletter
Thank you for signing up to Android Central. You will receive a verification email shortly.
There was a problem. Please refresh the page and try again.