How to use Samsung Health to build better habits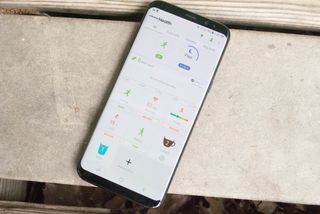 The hardest part of making real changes to your lifestyle, comes when you realize you need to build better habits. Whether this involves ensuring that you get enough sleep every night, or cutting down on your daily caffeine intake, Samsung Health can help you in this endeavor.
Use the Tracker
The first big way that Samsung Health helps you out in building better habits is by delivering a Tracker that you can customize. There are 11 different options for your Tracker, from a daily step counter, all the way to your daily Blood Pressure.
You can enable any of these at any time, and the only default tracker that you cannot remove is the step counter. Some of the trackers will allow you to enter your information manually, while others will need a compatible accessory to take a reading.
How to add a Tracker
Open Samsung Health.
Tap Manage Items.
Tap the toggle next to the habit you want to track.
How to manually input information into a Tracker
Open Samsung Health.
Tap the Tracked activity that you want to input information into.
Tap the plus sign to add information.
How to input measure information into a Tracker
Open Samsung Health.
Tap Measure on the Tracked activity you want to measure information for.
Place your finger on the sensor to left of your camera on the back of the phone.
Wait while the sensor measures an activity.
Set a status for more information about the activity collected by the sensor.
Tap Save.
See your progress
After you've started to track your habits, the next step is seeing your progress towards better habits. To this end you have two different options. You can view your overall insights from the home page of Samsung Health, or view information specific to a tracked activity.
View your overall Insights
Open Samsung Health
Tap the green lightbulb icon in the upper right corner of your screen.
Tap Set Up Insights.
Type in a nickname and double check your information.
Tap Next.
Set goals that you want to track.
Tap Next.
View Trends on a Tracked Activity
Open Samsung Health.
Tap on the Tracked Activity you want to view Trends for.
Tap on Trends to view a graph of information of that activity.
Have you tried Samsung Health?
The first step is building better habits is having a good look at all of your information. Between tracking your information, and seeing Trends in how these habits change from day to day, it's easier to see where you're doing well along with where you still need to improve. Have you tried using Samsung Health to build better habits? Let us know about it in the comments below!
Get the Android Central Newsletter
Instant access to breaking news, the hottest reviews, great deals and helpful tips.
Jen is a staff writer who spends her time researching the products you didn't know you needed. She's also a fantasy novelist and has a serious Civ VI addiction. You can follow her on Twitter.
I love my S8 this phone is king out there.

I use Samsung Health with my Gear S3. The app looks different on my Pixel XL. I don't have the experts tab. It looks like it is a tab exclusively to the Galaxy S8 since the app came preloaded with the phone.

Not exclusive to the S8. I have the Experts tab on my S7.

Is there any way to add Swimming? I swim 2500yds twice a week. Would be great to be able to log this.

What about adding it to "Other Workout"?

Other workout doesn't track heart rate or mileage. Just calories and steps.

Get a Garmin watch (fenix 5) and a swim heart rate strap. Will track perfectly. Everything else is a toy.

I used it on my S7 and just set it up on my S8. Mostly just the step counter

I just used the "Star Jump" (jumping jacks) counter on my Gear S3. It was set for 3 sets, 10 reps so I went with it. It didn't correctly count my jumps. I tried clapping my hands at the top, crossing my wrists at the top and it still missed. Then I moved on to crunches. It recorded those perfectly. Most of the time I simply use the "Other Workout" option since I'm just looking for calories burned and the length of the workout. I would love to see deeper integration with My Fitness Pal. With my Garmin Fenix 3hr, MFP took into account my exercising and steps and caloric burn and added those calories into my equation for the day.

I also use SH to input my meals and snacks. I would like the ability to customize my daily carbs, fat, protein and sugar levels. SH doesn't set the percentages to my preference. The MFP app that is available on the Gear S3 is pretty much a waste. I don't want to be looking up how many calories are in a meal, to have to turn around input that into the app. If MFP would sync with my Gear S3, I'd drop SH in a "heartbeat"... :)

Just bought a Gear Fit 2 to use w_ my S8, I need help sleeping properly. But for some reason, it didn't record last night's sleep, but it did the previous Two days.

I've used this application for about a year now to monitor my progress well before, during and after surgery. Also throughout Chemotherapy (six months). It has proven effective and helpful in keeping track of post-op healing and the longer term treatment I received. If I was starting again I would buy an on body tracker like a SmartWatch or fit bit style device, to streamline gathering data. I tracked Activity duration, walking (a regular daily activity for me), blood pressure and weight. Some of these are critical for monitoring chemotherapy anyway. I'm still using an old Note 3 alongside my Lenovo P2 I used Samsung health because I already had it. But now run it on a non Samsung phone. It works fine and I can swith off active step counting on one or both devices easily. Quite a useful application.