How to use the new app switcher in Android Pie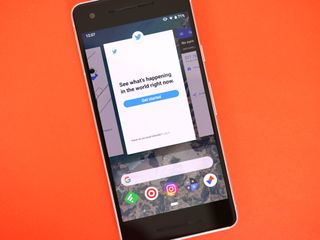 Switching back and forth between apps is something most of us do on our phones each day. It's a pretty simple task that's seen some minor improvements over the years, but with Android Pie, Google gave this a huge overhaul both aesthetically and functionally.
If you want to learn more about the app switcher UI in Android Pie, keep on reading.
How to open/close the app switcher
Rather than tapping the Recents button to open the app switcher, Android Pie requires you to do a small swipe up from the bottom of your screen.
Once you do this, you'll be taken to the new UI for viewing your recent apps. You can scroll left and right through all of the apps that show up here, and when you want to open one, either tap on it or slide down on it as if you're dragging it to the bottom of your phone.
If you hop into the app switcher and then realize you want to exit it, either swipe down from the dock (the shaded area near the bottom) or tap the back button that appears to the left of the home pill.
How to copy text
One brand new feature that comes to the app switcher in Android Pie is the ability to copy text directly from the app previews in the switcher UI.
After opening up the app switcher, hold your finger down on any bit of text in one of the previews. When you do this, you'll be able to drag your two handles around to precisely select the text you want and get quick buttons for copying it or sharing it with another app.
It's a pretty small feature, but one that's proven to be incredibly useful more times than not.
Learn how to turn this on/off here
How to clear apps
Last but not least, let's talk about how to clear apps in Android Pie.
From the app switcher, you can remove apps one by one by just swiping up on them as if you're flicking them off the screen.
Alternatively, you can keep swiping right until you see the Clear all text at the very end of the list. Tap this and all of your recent apps will disappear in a snap.
That's it!
With that said, that's everything you need to know about using the app switcher in Android Pie.
Have any questions or concerns? Sound off in the comments below!
Joe Maring was a Senior Editor for Android Central between 2017 and 2021. You can reach him on Twitter at @JoeMaring1.
Why do you call it Android Pie? Is the name official?

Yes officially announced and released today.

I can't get the copy text thing to work, it's definitely on in settings

What about devices with hardware keys? Like Nokia 8.

Swipe up? BlackBerry10 style?

This is exactly like BlackBerry 10.

I'm THRILLED they are using the gesture to close an app from the BlackBerry PlayBook! Was my favorite way to close an app ever! Does it get smaller as if it's becoming more distant?

PlayBook OS was pretty nice!

Yes, PalmOS was pretty nice.

I still don't like the gesture nav and I tried to use it on the betas. I don't see how it is better. It saves no space and does the same thing only slower and not as well as the buttons.

Kinda sounds kind of like how webos handled it back in the day. They called them cards IIRC.

Yep, from the old Palm Pre days. Loved that phone and it's little keyboard.

The clear all should be available at all times and not just when you swipe all the way over to the right. I want ease of use.

You can swipe away each individual cards one at a time also.

Is there any way to change the color of whatever they call the things on the bottom of the screen? Killing my dark motif!!

Navbar apps can set it to any color you want.

I gave it try but they are still bright white! Has it worked for you?

I have bad news https://www.androidpolice.com/2018/08/06/pixel-3-will-gesture-navigation... Could be a deal breaker for me

Thank goodness for Samsung's Goodlock. I really don't like the look of those big blocky windows and having to swipe all the way right to clear all is ridiculous. And how is multi window handled?

yea I'm loving good lock on my s8 too

Sooo......no more split screen? If there is I can't seem to be able to do it.

Disregard, I figured it out. However, a simple task became unnecessarily complicated.

Took me a while to figure out how to undo it after I had gone into split screen mode. How is this an improvement??

How do you do split screen now?

You have to go to the overview, click on the program icon and then select split screen. Very un-intuitive.

I'm enjoying Android Pie on my Pixel 2 XL and I've already adjusted to the gestures. They're way better than the rubbish ones on the iPhone X.

I have that the took away the ability to perform actions from the quick menu. I used to use it to switch WiFi networks, Bluetooth gear and access do not disturb directly. Why take away features for no reason?
Android Central Newsletter
Thank you for signing up to Android Central. You will receive a verification email shortly.
There was a problem. Please refresh the page and try again.