How to use Google Home with Chromecast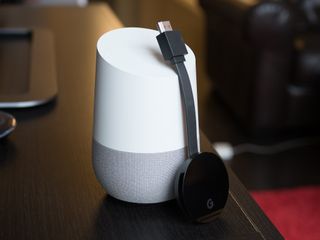 (Image credit: Android Central)
Google Home sits in an interesting place. Not only can it operate independently to answer questions and stream its own media, it can also work with the Google Cast protocol in two different ways. You can Cast audio to from one of hundreds of apps directly to Google Home, but Home itself can also work as a controller to have other Cast-enabled devices start up their own streams.
If you have a Google Home and are looking to integrate it smoothly into your existing set of Google Cast devices — whether those are Chromecasts, Cast-ready speakers or Android TVs — we have a few great tips for getting started and making the most of your connected media streamers.
Using Google Home as a Cast target
The simplest way to use Google Home as a speaker is to just talk to it directly, saying "OK Google, play Christmas music" or "OK Google, play the latest Android Central podcast." But Home is also a simple Cast target for audio, just like any other device — you can select your Google Home in any audio app that supports Google Cast, and it'll start playing right away.
When you're Casting audio to Home, devices that have the Google Home app (opens in new tab) installed and linked to your Google account will see a notification indicating what's playing on the Home and give you options to pause, stop or mute the stream. The Home will still respond to audio cues — including "OK Google, pause" or "OK Google, next track" — and can have its volume adjusted by using your finger on the top of the speaker.
Because Google Home is just another audio Cast target in this respect, it can also function as one of many Cast devices grouped together for multi-room audio streaming. You can mix and match Homes and other Cast-ready speakers as you see fit without any distinction.
Using Google Home to Cast to another device
Here's where things get a little more complicated: Google Home can also initiate Casting of audio or video content on other Cast targets. This is a bit more ambiguous because it's a different interaction system to tapping a Google Cast button in an app, but it works similarly nonetheless.
The first thing to remember in this situation is that the names of your Cast targets — Chromecasts, Cast-ready speakers and Android TVs — matter, because you'll be prompting Google Home to initiate streams purely with your voice. Having your Cast devices named by their place (i.e. "living room speaker") or a more descriptive device name (i.e. "bedroom TV") will help if you have a lot of Cast targets. You can rename them in the Google Home app (opens in new tab).
To use your Google Home to send content to another Cast target, just tell Home what you want to watch or listen to, and what device should play it: "OK Google, Cast [thing] to [Cast target name]." That could be "OK Google, play cat videos on the bedroom TV" or "OK Google, watch the Fantastic Beasts trailer in the living room." When it comes to music, things work the same way. Simply say "OK Google, play [music] on [speaker name]" and the stream will start up on that device, like "OK Google, listen to Beastie Boys on the kitchen speaker." The Home will use your default music service unless otherwise specified.
Google Home can also initiate multi-room audio streaming on its own. Once you have your Cast-ready speakers grouped by name, just say "OK Google, play [music] on
You can also continue to use audio commands with Home to control the playback that you started on another device, such as "OK Google, pause" or "OK Google, volume 6." The link between Home and the device that's playing the media will remain until the Cast session has ended — just say "OK Google, stop Casting" to explicitly break the link. Just like when streaming media directly to the Google Home, your phone will also display a notification about the ongoing Cast session. You can pause, stop or mute whatever device is currently playing the media, no matter what device initially started the Cast.
Keep exploring Google Cast
This is really just the tip of the iceberg when it comes to Google Home, Chromecast and other Cast-ready devices, with tons of potential possibilities depending on how many devices you have and what media sources you prefer. Google is also constantly adding to and tweaking the list of available commands and services that are Google Cast-ready.
To keep up with the latest and follow along with what other Android Central members are doing with Cast, be sure to join the discussion in our Google Home and Chromecast forums!
Android Central Newsletter
Get instant access to breaking news, the hottest reviews, great deals and helpful tips
Andrew was an Executive Editor, U.S. at Android Central between 2012 and 2020.
It gets even better (and more complicated) when you factor in the aspect of the HDMI standard known as CEC. If your components use this standard, then a call to Google Home can initiate the power on sequence of your amp, then the power on sequence of your TV all before streaming the video/music. Unfortunately, I've got older gear, so it can't do this, but my Harmony remote makes it relatively easy to turn everything on with one touch.

Can't get it to cast Google Play Movies

Awesome. The only thing i dont like is the command. Ok google. I hope we can customize this in the future.

You can use "Hey Google".

Have a Roku 3 and got a Google Home. Was thinking of getting Chromecast 2 since only $25 but then read it doesn't output dolby digital, is this correct? I want to go hdmi to switch then to receiver. I don't want to mess with optical out on tv, etc. Just straight hdmi like Roku. Is this possible?

I have several Chromecast Audios that I've been using for multiroom audio, and when the Home launched, I got one to try out using voice to control playback. Getting music to play on the Home itself always worked. And starting music on a particular CA or multi-room group seemed to work OK. But something I had trouble with adding or transferring playback to a Chromecast. One time I had a situation where the Home was playing one playlist and while trying to get it playing on one of my Chromecast audios I got a different playlist (one that I had listened to before on my phone) playing on that device. Then I was able to use voice control to stop the music on the Home, but I couldn't get it to stop playing the other playlist on the Chromecast. I don't know if I was just using the wrong commands or if the Home lost track of the fact that it had started casting to the other Chromecast, but at that point I was frustrated and hunted down my phone to stop the other cast. It was still in Google's return window, so between that experience and the lackluster state of Assistant, I decided to return it. (Well, I also found 'OK Google' or even 'Hey Google' to be annoying to say repeatedly. I don't mind 'Google' as a name or talking about 'Googling' something, but I find repeatedly saying that name in a conversational sense awkward/grating.) Hopefully everyone else will keep using it and it'll get better over time, and then I'll reconsider when it's perfected :)

With the sale going on I almost want to buy this and just use it for casting music and podcasts and not even use the assistant.

It's amazing for that.. And the assistant just adds to it... It's been great

But can I say "OK Google cast from Netflix Black Mirror season 1 episode 2 in living room"? Can you be that specific?

Best Buy has Google Home today for $99 and an additional $24.75 off if you use Visa Checkout. Just picked up two google home's for $77ea after tax (shipping is free). I also picked up a few Google Chromecasts at their current $25/each to work with my existing tv's and speakers. Pretty cheap way to get multi-room audio/video setup, not to mention the other features that come with home.

If I have a Chromcast Ultra hooked up to a display can I sync the video playing through the Chromecast Ultra with the audio from that same movie on a Google Home? Said another way, I want to use the Google Home as a speaker for a movie playing through Chromecast Ultra (hooked up to a pico projector). Is this possilble?

I had the darn chromecast casting just just fine, but now I cannot get back to my directv to watch my hockey game. What did I do wrong? I ended up unplugging it and still no tv.
Android Central Newsletter
Get instant access to breaking news, the hottest reviews, great deals and helpful tips
Thank you for signing up to Android Central. You will receive a verification email shortly.
There was a problem. Please refresh the page and try again.