How to use Google Cardboard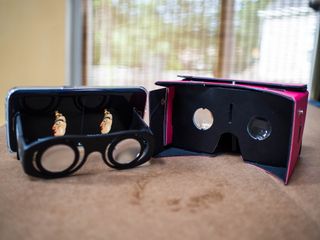 One of the great things about Google Cardboard is how portable it is. While not every version of Cardboard is fully collapsible, even when fully set up these accessories don't take up a lot of space, and for the most part you can just pop your smartphone in and get up and running. It's the perfect platform for quick VR experiences, and is simple enough that you can pass things around to the group and not have to worry about a learning curve for use — which makes comparing it to full immersion platforms like the HTC Vive-powered Steam VR platform easy.
Here's a quick intro to using Cardboard, as well as a few tips for getting the most out of the platform.
All you really need to get started with Google Cardboard is the accessory and your phone. Once you've installed the Cardboard app you're walked through a simple set up process, which varied depending on what Cardboard accessory you are using. The app will ask you to scan the QR code near the orange Works with Cardboard sticker on your accessory if you're using something made by an official Cardboard partner, and doing so will calibrate any apps using the Cardboard SDK to match the lens type and fit in your box. You can always use the default Cardboard settings, but the sticker calibration method ensures you're getting the whole picture through your accessory.
Once you've got the Cardboard app running and held to your face, you can choose what apps you want to use and jump from one virtual environment to another. Outside of the official Cardboard app, there are tons of apps that support this same split-screen visual format and work great within Cardboard. Many of these experiences are highly visual, or include some simple and addictive gameplay mechanic, but nearly all of them are made better with the addition of a decent set of headphones or earbuds. Audio completes the immersion, and while your phone's audio jack is exposed through most Cardboard variants not all of them give you convenient access to your volume rocker, so set your audio before getting yourself ready to play.
And that's it, you now have everything you need to be that guy on the bus, that girl with the awesome VR thing over there, or the person who quietly enjoys this setup at home when no one is looking.
Android Central Newsletter
Get instant access to breaking news, the hottest reviews, great deals and helpful tips
Just ordered a cardboard today. Maybe you can make a list of top apps to use with vr Posted via the Android Central App

I just ordered mine also. I can't wait. Posted via the Android Central App

Same, never experienced vr so can't wait to see what it's about. Been hearing a lot of good things about cardboard so thought might aswel get one considering they are very cheap. Posted via the Android Central App

Where do you order the new Google Cardboard announced at IO 15? please

When I click on the link for Google Cardboard, http://www.androidcentral.com/google-cardboard
it says : "Access Denied" You are not authorized to access this page.

me too Posted via AC app on my X 14

Got one the other day...apps seem kinda lacking at this point.

Youtube is great with the new VR mode

Where do you find the one shown in the picture that look like plastic glasses without the box? Do those work well without the cardboard box? Posted via Android Central App

Right here: http://goggletech.net/index.php?route=product/product&path=33&product_id=30 I just started looking into getting a cardboard kit, and just found this one. I seem to remember AC did a review of them. Time to search... Edit - Found it: http://www.androidcentral.com/go4d-c1-glass-compact-google-cardboard-par...

Thanks, for the info Posted via Android Central App

I want Ac apps that's all

So question how does one select items. So example with my s6 will I have to keep taking the phone out to select a new vr. This is regarding the old cardboard that has the magnetic slider on the side Posted via the Android Central App

Anybody have a good DIY solution for adding a headstrap? Or a model of Cardboard for sale that has one included? I have a few of the Verizon/Star Wars cardboards so far.

I grabbed The free Verizon Star Wars R2-D2 edition a couple days ago :) Sent from my HTC One M9
Android Central Newsletter
Get instant access to breaking news, the hottest reviews, great deals and helpful tips
Thank you for signing up to Android Central. You will receive a verification email shortly.
There was a problem. Please refresh the page and try again.