How to use Easy Mode on the HTC One M9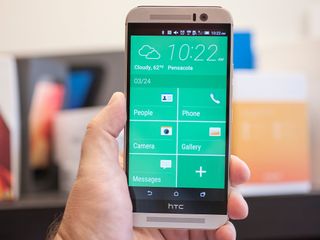 Launchers are powerful things these days. They're your portal to all the apps and widgets and information your smartphone has at its disposal. But for some folks, the options can be a bit too much. And to that end we've seen manufacturers include a more simple launcher on their devices.
That's true on the HTC One M9, which sports an "Easy Mode" alongside the full Sense 7 launcher. And here's how to use it.
Turning on easy mode takes just a few taps. First go to the main settings menu, scroll down a tad and then choose "Personalize." Next select "Change home screen launcher." Then choose "Easy mode."
And that's it. You'll notice that the system fonts get bigger, and you'll now see the Easy Mode buttons in place of the full Sense 7 launcher. From there you can launch any of apps that already loaded on the Easy home screen — your contacts, phone, camera, gallery and messages. There's one free spot on that first main page as well to add an app, and there's a mostly free screen to the right of it, too.
Scroll left and you'll find a blank page for adding frequent contacts. (Note that I put Jerry before my wife. Again. I need to work on my priorities, apparently.) And that's it for Easy Mode on the HTC One M9. It's bigger, it's easier, and it's bigger and easier. The apps themselves don't really change — you'll still have all the features you have in the regular mode. It's just that fonts and touch points are much, much larger.
Get the Android Central Newsletter
Instant access to breaking news, the hottest reviews, great deals and helpful tips.