How to use Desktop Mode on your Kano Computer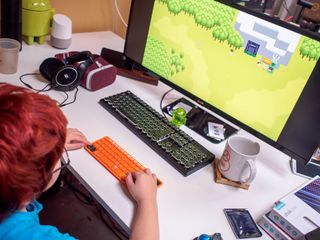 The Kano OS works a little differently than a regular Windows OS. Instead of everything being accessible via clicking the start button in the bottom left-hand corner, you'll instead see that applications are in small boxes, packed on top of one another in different sections with labels like "staff picks" and "make and explore." Ultimately, this can be pretty confusing, but you can switch from this titled mode for your screen into the Kano OS's desktop mode, which looks a lot more like what you're used to.
Products used in this guide
The Guide
Boot up your Kano Computer.
When you've finally logged onto your Kano Computer, it will load into the dashboard menu.
Depending on your Kano OS layout, you will find Classic Mode either at the bottom of your desktop or the left-hand corner. Scroll over to Classic Mode.
Click on Classic Mode
Punch the air in victory because you're now officially done.
Classic mode in the Kano OS is considered its Desktop mode because unlike before, the applications are listed in a neat, linear way. Clicking on the start button (in the bottom left corner) will bring up your menu, as well as your applications and documents. In my opinion, this is much neater than having everything piled on top of one another, so good job you for looking up this guide and having impeccable taste.
Our top equipment picks
These are my equipment picks that you'll need to make all your Kano supremacy dreams come true.
A must have
Kano all the way
While you can access Kano OS on a Kano Computer you made yourself using Raspberry Pi 3, you can have access to the Kano OS through its official kit. It includes all the equipment you'll need, and setting up has never been easier as everything just slots into place. You won't need additional tools, just determination to create something awesome.
As mentioned above, the setup is easy and dare I say, fun. The design of the Kano Computer kit is also visually pleasing, and you'll have everything you need to set up desktop mode for your Kano Computer without needing to go out and buy any other equipment.
Additional Equipment
This smaller program is required in order to make updates to your Kano. Kano without Raspbian is like a cart without any wheels: it just isn't the same.
Raspbian (Free at Raspberry Pi Org)
Without Raspbian, updating your Kano's OS can be tedious. Raspbian also comes with a number of different features, such as the Chromium browser.
Be an expert in 5 minutes
Get the latest news from Android Central, your trusted companion in the world of Android